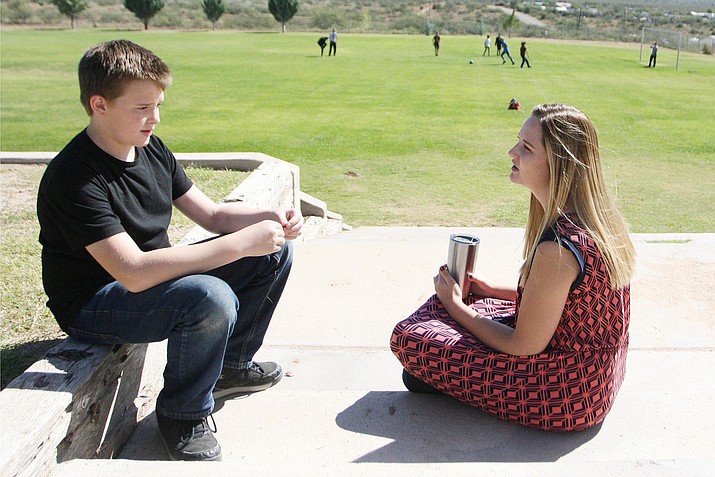 Originally Published: October 29, 2016 1:46 p.m.
CORNVILLE – It wasn't so long ago when Kelsey Cochran attended Oak Creek School.
So maybe it just seems that way for the Cornville resident – now a student at Northern Arizona University in Flagstaff – who is again in the classroom at the Cornville school, this time as a teacher.
At Oak Creek School, Cochran is finishing her post-secondary requirements as a student-teacher, spending her days teaching English to children in grades 6 through 8.
It's interesting that Cochran didn't grow up with a burning desire to teach – as many educators did. But she's "pretty good with people," she says.
"I always enjoyed school and academics, especially English," says Cochran, now 21. "Teaching just made sense."
Helping children improve their reading is a natural component of an English classroom, one that Cochran relishes. Reading has been her pastime for as long as she can recall. And her ability to be "very positive" and "creative with problem solving" are already strengths, says Oak Creek School Principal Christine Griffin.
"She's relatable with the kids, very compassionate," Griffin says. "But very tenacious. When Kelsey sees something she wants, she goes after it with full gusto."
Cochran "took it upon herself" to make sure each student would have an envelope in which to receive positive feedback from fellow students to start each week.
"I think she has touched a lot of the students here," Griffin says.
Cochran shares a classroom each day with Kevin Hutson, the school's language arts teacher and her cooperating teacher. Becoming a teacher late in life after a career in journalism, Hutson remembers having a "great experience" as a student-teacher before his new career started five years ago.
"I've learned a lot from her," Hutson says. "She'll be an amazing teacher. She cares about her students, tries to set up the kids for success."
Cochran's self-evaluation skills tell her that he is a "little more lenient" than the average teacher.
"But I'm structured," she says. "I know the kids are people. One kid might talk out 15 times in class, but he might normally talk out 60 times, so [15] is a great achievement."
Dec. 15 is Cochran's last day as student-teacher at OCS. The next day, she will be a college graduate. Her idea of a perfect situation? Staying where she is.
"I can't tell you how grateful I am to be here at this school," Cochran says. "I love middle school. I love the middle school age. This is something I love. I'm so excited to come to school every day."
More like this story