---
---
SEDONA – Chamber Music Sedona will present one of this generation's most exciting chamber ensembles, the southern California based cello quintet, SAKURA, Nov. 6 at 2:30 p.m. at the Sedona Performing Arts Center, 995 Upper Red Rock Loop Road. The concert is made possible with support from Jan and Loren Haury.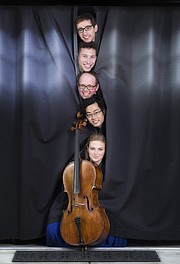 A unique and versatile cello quintet, hailed as "brilliant" and "superb" by Mark Swed in the Los Angeles Times, SAKURA is built on the artistry and virtuosity of its members: Sarah Rommel, Peter Myers, Yoshika Masuda, Michael Kaufman and Rainer Crosett. 2015-2016 seasons highlights included the West Coast premiere of Olli Mustonen's Triptych for three cellos and a performance of Brett Dean's Twelve Angry Men in Walt Disney Concert Hall as part of the May 2016 Piatigorsky International Cello Festival.
The matinee concert will include music from West Side Story by Leonard Bernstein; a set of Renaissance works; Lament, In Memory of Matthew Shepard by Anne Wilson; Nocturne No. 13 in B minor, Op. 119 by Gabriel Faure; Vocalise, Opus 34, No. 14 by Sergei Rachmaninoff: Vocalise; and the world premiere of Fluttering Hearts by Brett Banducci made possible with a financial support from the Tarisio Trust - Young Artist Grants.
"In May I attended the Piatigorsky International Cello Festival at the University of Southern California. SAKURA was programmed on the same concert as other Sedona favorites including the Calder Quartet and Temple professor of cello Jeffrey Solow," said CMS artistic director Bert Harclerode. "I was captured by SAKURA's presence, performance and personality, and began exploring concert dates with them. We're delighted that SAKURA will be performing on the series as well 'Concerts for Youth' Monday."
SAKURA operates as a true chamber ensemble, rehearsing extensively and distilling its interpretations through time, and is named in honor of the great mentor and cellist artist Ralph Kirshbaum, with whom all five members studied: SAKURA (Japanese) and Kirschbaum (German) have the same meaning (cherry tree). Drawing from the rich heritage of a repertoire that spans eight centuries, eclectic and unexpected programs are constructed around conceptual threads, with an overarching commitment to opening new vistas of beauty and expression by showcasing the great warmth and scope offered by the sound of five cellos.
Sarah Rommel is a top George Enescu International Cello Competition prizewinner and the recipient of awards and grants from the Frank Huntington Beebe Fund Grant, Anna Sosenko Trust Grant, and Jack Kent Cooke Young Artists Award. She performed at Music from Angel Fire, the Ravinia Steans Institute of Music and Marlboro Music Festivals. Sarah began piano at age nine and was and the cello at age 12. She is a graduate of the Curtis Institute of Music, where she pursued a Bachelor of Music degree under the tutelage of Peter Wiley. She recently completed her studies with Ralph Kirshbaum at the USC Thornton School of Music in Los Angeles.
Peter Myers is the founding cellist of the Saguaro Piano Trio, winner of the 2009 International Chamber Music Competition Hamburg. He has performed often at the Marlboro Music Festival, tours with Musicians from Marlboro, at festivals worldwide and has appeared as guest principal cellist of the St. Paul Chamber Orchestra. Peter studied at the Colburn Conservatory with Ronald Leonard and completed his graduate studies with Ralph Kirshbaum at USC. He holds a Master of Chamber Music degree from the Hochschule für Musik und Theater in Hamburg, Germany. He is also a composer and arranger and is Co-Director of Music for the American Contemporary Ballet in Los Angeles.
Yoshika Masuda was born in Kobe, Japan and studied at the Sydney Conservatorium of Music. He graduated from the Royal Northern College of Music in the UK where he studied with Ralph Kirshbaum and received the Principal's Prize. Yoshi was awarded first prizes at the National Young Artist Competition in the USA and the Australian Concerto & Vocal Competition and later won First Prize at the 11th All Japan VIVA HALL cello competition and the 'Yumetajima' audience prize. Yoshika has been performed at the festivals of Aldeburgh and Leicester in the UK, Festival Amfiteatrof in Italy and the inaugural Piatigorsky Cello Festival in the USA. Yoshi recently earned his doctorate from USC, studying with Ralph Kirshbaum.
"Michael Kaufman plays with intensity, commitment and deep understanding," said Robert Levin, internationally renowned Mozart scholar and piano virtuoso. Born in New York City, Mr. Kaufman has performed at Zankel and Weill Hall at Carnegie. Michael has worked with composers Thomas Adès, John Adams, Donald Crockett and Stephen Hartke. He is member of the Mühlfeld Trio and has collaborated with Midori and Joseph Silverstein. He has participated in music festivals including the Open Chamber Music at Prussia Cove, Music@Menlo, Verbier, and Kneisel Hall. Michael is the founder and co-director of Sunset ChamberFest. Michael earned his Master's Degree and Doctorate from USC studying with Ralph Kirshbaum.
Rainer Crosett has appeared as a soloist, chamber musician, and principal cellist at Carnegie Hall, Boston's Symphony and Jordan Halls, and the Amsterdam Concertgebouw. He participated at The Perlman Music Program, New York String Orchestra Seminar, Aspen, and Kneisel Hall. Rainer graduated from the Harvard-New England Conservatory Joint Program and was recognized with Phi Beta Kappa membership, a John Harvard Scholarship, and an Artist Development Fellowship. He received his undergraduate degree magna cum laude in Philosophy and his master's degree with honors in Cello Performance. He is pursuing graduate studies at USC with Ralph Kirshbaum. Rainer is a passionate advocate of classical music as a force for social change and he is involved in activism for human rights in North Korea having worked for a North Korean human rights organization in Seoul.
"This promises to be an important highlight during our 34th season," said Harclerode. "Our pre-concert talk will take place from 2-2:15pm when the five musicians will talk about 'Cherry Blossoms & Chestnuts', their careers and the concert program. Then, post-concert, we'll have a Q&A session giving the audience the opportunity to interact with our patrons and music lovers. Then Monday, SAKURA will perform in-school 'Concerts for Youth' at Sedona Red Rock High School and later than morning at Sedona Charter School, made possible with support from the City of Sedona. I encourage all readers to join us for this invigorating program with five remarkable artists."
Concert tickets are $55 reserved and $38 general admission per person and may be purchased on line at www.ChamberMusicSedona.org. Additional information is available on its web site. CMS's next event is Dec. 11 when it presents a Victoria Christmas celebration at the Hilton Sedona Resort at Bell Rock.
Chamber Music Sedona is a 501(c)(3) not-for-profit organization whose mission is "to enrich the lives of northern Arizona residents and visitors by presenting the finest international, national and regional performing artists and to promote a love of the performing arts through arts education programs." Chamber Music Sedona is supported in part by the City of Sedona and more than two-hundred Sedona and regional households.