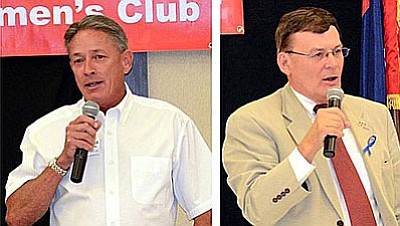 Originally Published: September 2, 2016 7:33 a.m.
PRESCOTT - David Stringer's lead is increasing in the Republican race for Legislative District 1.
The tightest contest coming out of Tuesday's Primary Election is for the two LD1 seats. Incumbent Noel Campbell holds the lead, with 20,446 votes in the two counties - Yavapai and northern Maricopa - that make up the district.
However, Stringer is second with 16,284, and Chip Davis is 342 votes behind, with 15,942 - as of the Thursday evening, Sept. 1, update from the Yavapai County and Secretary of State's elections offices.
The difference was previously 28 votes, with Stringer ahead.
Stringer said Wednesday that he "doesn't know how to interpret" the back-and-forth nature of the race, which, at one time, had him 132 votes behind Davis.
"(The margin) is so razor-thin, it could change on a dime," he said.
Also, Davis' lead in Yavapai County itself has evaporated since Tuesday night; he now is third, behind Stringer by 9 votes. He had previously held a solid lead locally over Stringer.
Davis was unavailable for comment Thursday.
Reaction to this year's Presidential Preference Election, in which voters with early ballots mailed them in, only to see their candidate drop out of the race afterward, drove Tuesday's influx of early ballots being dropped off at the polling place, Yavapai County Recorder Leslie Hoffman said.
"Half of (all the early ballots) came in on Election Day," Hoffman said. "In talking with other Recorders around the state ... everybody has a lot of early ballots that were dropped off" instead of being mailed, which her office refers to as "late earlies."
Yavapai County reported Wednesday it had 11,000 early ballots to count and 100 provisional ballots.
The early ballots take longer to process than the usual ballots cast at a polling place, Hoffman said, because each one has to have the signature verified before they can be tabulated.
The results they are providing, extending some leads, are also affecting others.
Judd Simmons currently has a 1,276-vote lead over incumbent Pam Pearsall in the hotly contested County Assessor race; the Thursday evening update from Yavapai County saw Pearsall close the gap by three votes. That could change further with the additional ballots, but Pearsall isn't counting on it.
"I am hopeful. But mostly, we're continuing to do our work in support of the taxpayers of Yavapai County in the Assessor's Office. This race will end when it ends," she said.
Incumbent Jack Smith holds a 226-vote advantage over second-place candidate Steve Irwin in the three-way race for District 5 County Supervisor, up from a 186-vote lead earlier. Third-place candidate Harold Wise is still in the game as well; he's 721 votes behind Smith, however, his deficit has increased from 470 votes.
"Over the years, I've learned that, if you're smart, you never agree that you've lost on anything until the official vote (is counted)," Wise said.
Hoffman said there's another factor slowing the counting process: "We have a very unusual number of write-in (candidates) - thousands. And every one of those ballots have to be looked at individually by a three-person board."
Hoffman said the tabulation has been going on since Friday afternoon, Aug. 26, and is not expected to wrap up until Sunday, Sept. 4.
"We have had the question - 'what races could (the outstanding ballots) affect?' Well, it could affect all of them."