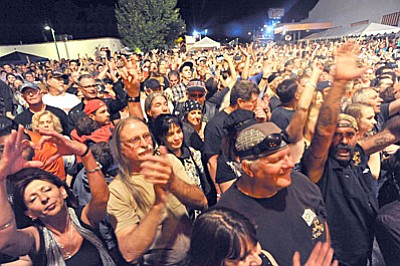 Originally Published: September 13, 2016 3:24 p.m.
Following last year's revelations that Thunder Valley Rally was far from a "Kum Ba Yah" gathering, this year's 16th annual event will be under the microscope of public scrutiny like never before.
Thunder Valley Rally originally was hosted by Cliff Castle Casino and became a City of Cottonwood destination event in 2011.
It has been a success story in terms of drawing people, and their money, to Cottonwood. This week's event is anticipated to bring 10,000 motorcycle enthusiasts to Cottonwood. A study by Northern Arizona University reported Thunder Valley Rally is a $1.7 million weekend boost to the Cottonwood economy.
Along the way, the city has been responsive to concerns and complaints about the event and this year is no exception. There are enhanced clean-up plans to keeps things tidy immediately following each day's activities. Likewise, the city has invested in an outside security service to supplement local police efforts to keep the event from turning ugly.
And that is one of the real concerns about packing 10,000 people into the confines of Old Town with enough alcohol to keep everyone happy. The 2014 event was labeled a "disaster" by some, and the 2015 edition was likewise subject to some very vocal community criticism.
Mayoral candidate and former council member Tim Elinski was the most vocal critic of the event. He said, "It is too many people, condensed into a very small area ... I don't think it works in Cottonwood."
Elinski wasn't alone.
Mike Anderson of Bootlegger's Beer Club in Old Town said security was poor, people were very intoxicated and the bathrooms were terrible. He said his own staff security "collected a bucket full of knives and there were guns" before patrons were allowed in his bar.
Old Town business owner Eric Jurisin said security "was a joke.'"
Despite the claims of TVR's economic windfall, longtime local realtor Phil Terbell said the city has failed to see anything close to a return on its investment in the event. Likewise, Old Town Frame Shop owner Trevor Gottschalk described TVR as a city-financed "party not respectful of Old Town."
The jury is obviously still out on how good a fit Thunder Valley Rally is for Cottonwood in general and Old Town in particular.