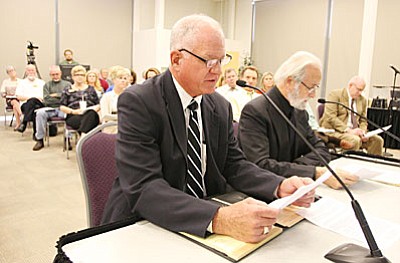 Originally Published: September 15, 2016 1:03 p.m.
The dissolution of Yavapai College's Verde Valley Board Advisory Committee should not come as much of a surprise.
The committee's mission was vague and muddy from the beginning. There was never sufficient effort on either side to build a productive working relationship. Neither side trusted the other.
As for the committee, its members failed at becoming a true pulse of the community. As County School Superintendent Tim Carter surmised, "They really needed to voice the views of the community, not necessarily their own views."
Despite these problems, college board members were wrong in dismantling the VVBAC, and probably even more wrong in the way they went about it. It bears emphasis that when VVBAC members were pushing for a separate Verde Valley administrative college district under the agenda heading "Ownership Linkage," college President Penny Wills agreed with this newspaper that the committee was playing fast and loose with the state's Open Meeting Law. "It's supposed to be clear enough so people will know what they are going to be discussing," Wills said at the time.
Guess what? At their Monday retreat, college board members voted 3-2 to suspend the VVBAC under the very same agenda item: "Ownership linkage." Was that "clear enough so people will know what they are going to be discussing," to use Wills' words. Board member Deb McCasland claimed she was blind-sided when her colleagues moved forward on suspending VVBAC. The agenda did not make it clear that such action was being considered.
Further, the college board should have heeded the advice of Board Member Al Filardo of Clarkdale. Filardo wanted to see the committee continue, but with some new faces. Excellent idea. The current group was not creating outcomes. They pushed an agenda that was not going to fly. Some new faces, new leadership and new ideas would have helped VVBAC tremendously.
When dissolution of the VVBAC was announced during the college board's regular meeting Tuesday, Cottonwood's Bob Oliphant led the charge of protest by saying, "If you want political war, you've got it." That's not surprising as Mr. Oliphant and his VVBAC disciples adopted this very philosophy from the organization's inception. Guess what, folks, history has repeatedly shown that the Verde Valley is not going to win "political wars" with Prescott. We are always going to be out-numbered when it comes to votes. Just look what happened in our most recent election. Chip Davis, arguably the most electable politician in Verde Valley history, fell short against two Prescott candidates in his bid to win one of the two District 1 seats in the Arizona House of Representatives. At the ballot box, as well as at the table of political decision-making, we are out-numbered. It makes no sense to make enemies of those in the majority.
A far wiser political strategy for VVBAC would have been to establish a productive working relationship with the folks from Prescott. Instead, we played ourselves as victims to the big bad bullies from Prescott. It's no wonder District Governing Board member Ray Sigafoos said, "I'm not unhappy to see the VVBAC go away."
Fortunately, the Verde Valley is not completely shut out in terms of influencing policy that benefits Yavapai College offerings on this side of the mountain.
James Perey, the executive dean of the Verde Valley campus, reports that his own advisory committee has been stable and productive. "The committee has been very helpful in providing ideas, information and advice," said Perey. "This committee was instrumental in crafting the strategic plan for the Verde Valley Campus, i.e compiling the data from the SWOT (Strengths, Weaknesses, Opportunities and Threats) analysis and identifying priority areas of focus. As we move forward with implementation of the strategic plan, the committee will assist in helping the college move forward."
Let's hope we will be able to hold on to that voice of influence with the college.