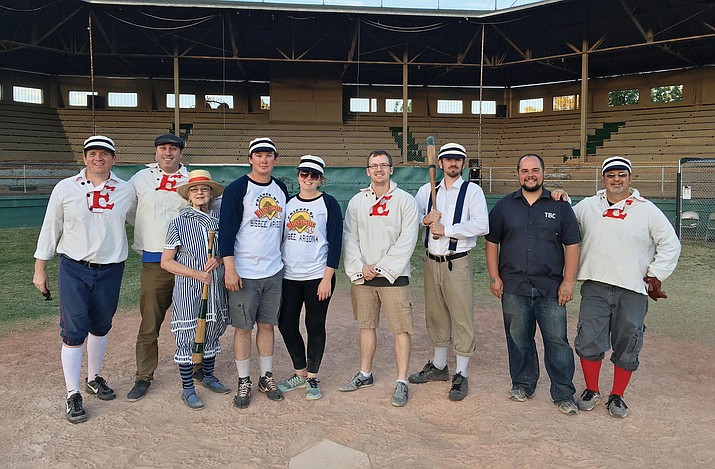 Originally Published: April 13, 2017 8:02 p.m.
BISBEE – Baseball was already more than 100 years old when Boston's Carlton Fisk hit a game-winning home run in game 6 of the 1975 World Series.
In many ways, times have changed since that famous clout.
In 1975, Cincinnati's Pat Darcy started 22 games for the World Champion Reds. Including the homer to the Red Sox catcher, he had only surrendered five home runs all season.
At that time, plenty of baseball players had hit plenty of home runs in the game's history. But few players tried with each swing to hit a ball with all their might. Most hitters knew it was best to just make contact, to "hit 'em where they ain't," as one player from the 1890s so eloquently once said.
Big league time travel
On April 8, Darcy took a trip back in time – to Bisbee – to play in the eighth annual Copper City Classic tournament of Vintage Base Ball.
With games on April 8 and April 9 at historic Warren Ballpark, Darcy suited up with the Central Arizona All-Stars, a team made up of players from the Fort Verde Excelsiors in Camp Verde, as well as Bisbee-area fans from the stands solicited by the team to not only fill out the roster, but to help make a few people's dreams come true.
Said James Clarke, a member of the Fort Verde Excelsiors, both meeting and playing ball with Darcy was an "extra thrill."
"A World Series Champion and a real good guy at heart," said Clarke, who played April 8-9 as a member of the Central Arizona All-Stars. "I was shooting the breeze with him just as I did when I was nine years old with my fellow little leaguers. Listening and telling stories to each other and all the while laughing out loud."
Though Darcy's dream had already come true – he had been a member of a World Champion team – the Central Arizona All-Stars were mostly made up of the ballpark's patrons.
For many, playing on the same field as Honus Wagner and members of the infamous Black Sox of 1919 was worth more than the price of admission.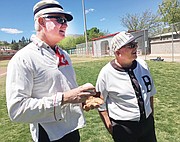 "Playing vintage ball at Warren Ballpark made me feel like we were a bunch of baseball ghosts," said Sierra Vista resident Steve Stockmar, a friend of one of the Excelsiors from Camp Verde. "That style of play, those uniforms, that setting and the spirit in the dugout felt at once like it was a tribute to the past, but also very much like a baseball game in the present."
Stockmar, who had played a bit of recreation softball over the years, says he had played "no organized baseball pretty much since Little League."
Through his job as a sports scribe for his town's publication, Stockmar knew of the league through his work – and by his friend.
"I had written a number of stories on vintage teams over the years," Stockmar said. "I was always aware of the league and admired it from afar, but had never played until Sunday."
Origins
For anyone who loves base ball, there is "no better way to learn how the game actually got started," said Jim Roth of the Bisbee Bees.
The Arizona Territories Vintage Base Ball League was started by a man named John Tenney who grew up in Bisbee.
"He knew the Bisbee Bees were the first professional team in Arizona," Roth said. "That also makes me proud to wear the uniform."
The Bees are actually made up of residents of the west side of Phoenix, such as Peoria.
Rules
Rules seemed to change in baseball each year since its inception. As the passions and interest in the game grew, ways of playing the game better – more organized – evolved.
Most of the teams in the Arizona Territories Vintage Base Ball League observe rules circa 1860. The pitcher, really more of a feeder, was to deliver a hittable, non-deceptive underhand pitch to the striker. There were no such things as balls, or strikes – unless the striker swung and missed, then it was "three strikes and yer out!"
Once a batsman reached base, he could not lead off. Nor could he steal a base.
Fielders did not use gloves to catch the ball, nor any other protective gear. So to retire the noble batsman, the fielder could catch the orb either on the fly, or on one bounce.
Also worthy of note, base ball – as it was then spelled with two words – was a gentleman's game.
A slight modernization observed by Arizona's vintage base ball league is that both the pitcher and the first baseman may wear a glove – a glove made specifically for vintage play.
From reenactor To feeder
Tombstone resident Penny Germain knew nothing about vintage base ball when she read a newspaper story previewing the first Copper City Classic.
"The article said there would be a vintage costume contest, so my husband and I dressed up," Germain said. "A friend was the arbitrator. When he saw us dressed up, he asked if I would harass him. Well, I couldn't turn down such a delicious request. I was really getting into it when he informed me that any crank who harassed the arbitrator could be fined and would have to pay the tally master (score keeper)."
This year, Germain took the field with the Central Arizona All-Stars, and pitched two games.
"I was [also] able to participate last year and pitched a wee bit, just for show. This year, I loved being included on a team for real.  It is absolutely one of my favorite things to do - especially when I got to play with some great team members."
On the sidelines
Recently, Mike Adrian has been dealing with surgical procedures not-so uncommon for a septuagenarian. But the man his Prescott Champions teammates call Ace was with the Central Arizona All-Stars in spirit.
Having moved to Arizona from the Chicago area almost a year ago, the scheduled hurler for the All-Stars said that playing ball the way "men and kids did over 160 years ago [is] absolutely thrilling."
When next season begins in November, Adrian will be 71 years of age.
"And [I] have no intention of slowing down," Adrian said. "Tell those young whippersnappers to look out.
Scoreboard
For the past nine years, Roth has been going to Bisbee for the season's final games.
"I will continue to go until I am no longer playing," He said. "There is no better way to end the season."
Traveling more than five hours one way from the Verde Valley to Bisbee, it was unfortunate for the Central Arizona All-Stars that they were to lose each of their three scheduled games: 8-0, 4-2, then 7-3. But to the modern-day weekend warriors, vintage base ball is not all about winning.
"Both then and now, I remember the many different teams participating with the excitement of the crowd behind us," Clarke said. "It was a great occasion to dress and play ball for the sport of the game. It didn't matter that we played against each other and wore different colored uniforms. In fact, that's what makes it all the better."  
Though a novice to vintage base ball, Stockmar said he will participate "again in the future."
"Standing in the batter's box, running the bases, playing in the infield, communicating with teammates between pitches," he said. "It's just a great way to play baseball on a great afternoon."
-- Follow Bill Helm on Twitter @BillHelm42