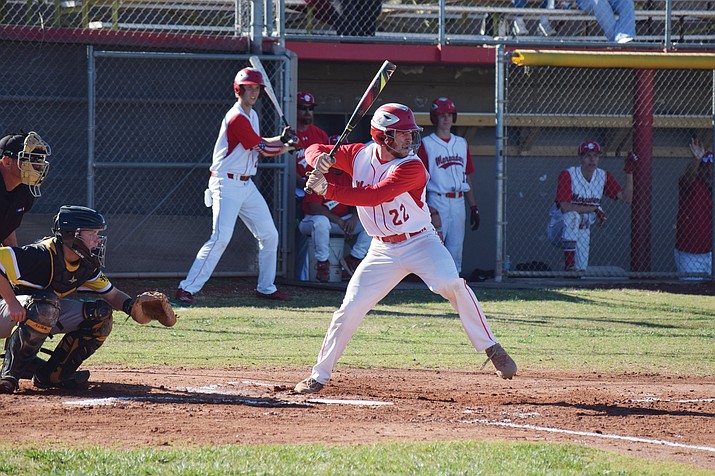 Originally Published: April 13, 2017 7:35 p.m.
Mingus Union multi sport star Tyler Kelly not only leads off for the baseball Marauders, he leads them in home runs.
Kelly is tied for first in state with six home runs for the No. 7 Marauders (18-3, 6-1 Grand Canyon). The junior pitcher/infielder is also fourth in the state in slugging percentage (.844) and batting .414.
"He's had a solid year," said Mingus Union head coach Bob Young. "Even though he's our lead off hitter, he's got six home runs, we've got seven as a team. He's one of the best athletes around, he's fast and he's got some power and he plays the game hard."
Kelly is 1-2 on the mound with a 4.54 ERA.
He has nine stolen bases, a .544 on base percentage, has 20 RBIs and is sixth in the state in runs with 30.
"Usually I have our power hitters batting third or fourth but he's such a disrupting force leading off," Young said. "A lot of times after the first time through the line up, the bottom of our order has been getting on base, so he's had a lot of RBI opportunities so it's kinda worked out really well and as I said, he's really fast, so if we can get him on base he can run."
Last season he was first team All-Section in baseball.
Kelly, who was honorable mention All-State in football, was athlete of the week during the fall for his exploits on the gridiron.
"He's good at both, his biggest future's in baseball because of his size but he's a heck of a football player," said Young, who is also Mingus' head football coach.
VVN: How's the season been going for you?
Kelly: It's been going pretty good. I was hitting really good but I hit a little slump but it's not that bad. We're doing pretty good, we only have two losses, no wait, we have three losses now because we lost to Flagstaff, otherwise we're doing good. But we just need to practice harder than we've been doing but otherwise the season is going pretty good, it's fun being out here with the guys.
VVN: So for 4A you're tied for first in home runs…
Kelly: Oh OK, really?
VVN: Yeah, is that something you guys pay attention to?
Kelly: Kinda but not much cuz the past few years we haven't had that many kids hitting a lot of home runs so it just hasn't been a big thing, but that's good to know, that's cool.
VVN: What's your favorite position on the baseball field?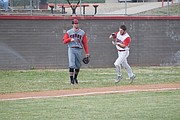 Kelly: Right now it would probably be third base, probably.
VVN: How come?
Kelly: Just because whenever I started playing it last I just liked it the best ever since, ever since I moved from shortstop to third.
VVN: What's been your favorite game so far this year?
Kelly: Probably the one where we beat Bradshaw at home, yeah probably that one. It was just fun. It was good to beat Bradshaw for the last time we're going to play them this season, get on base every time. I went 1-for-1 with a home run and three walks but I mean it's good to hit a home run and just have fun and have a good game and beat Bradshaw again and make coach Young happy.
VVN: What's you favorite sport to play?
Kelly: Baseball.
VVN: How come?
Kelly: Just because I've been around it the longest. Like I love football, the game is just really fun with football there's a lot of action but I mean baseball has just been what I've watched the probably my passion pretty much.
VVN: Who's your favorite baseball player?
Kelly: Mike Trout.
VVN: Favorite team?
Kelly: The Giants.
VVN: What's your favorite subject in school?
Kelly: Right no, this year, it would probably be U.S. history, because the past years I didn't like history, because I don't like learning about like world history, like about the Romans and Egyptians and all that, but U.S. history I like learning about the past in the U.S. and what went on here and like how we got our independence and everything, so that's what interests me the most probably.
VVN: Do you have a favorite movie?
Kelly: I would say American Sniper.
VVN: Do you have a favorite TV show?
Kelly: Probably the Walking Dead.
VVN: Where do you want to be in five years?
Kelly: Well my plan has been to just play baseball as long as I can and my dream is obviously making the major leagues so that would be cool. By five years that would be cool to be in the majors but that would be like unheard of but at least playing baseball somewhere beyond college, like professional, in A, AA, AAA, one of those at least and make my way up to the bigs.