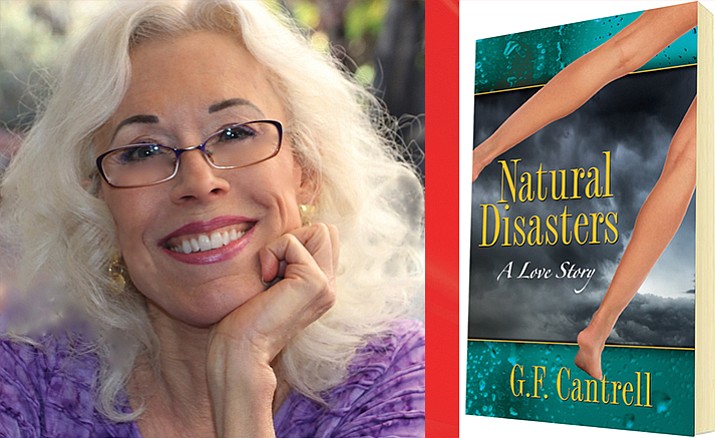 ---
---
Join Sedona author Geraldine (Deenie) Cantrell as she celebrates the release of her debut novel, Natural Disasters, A Love Story. Enjoy a beverage amid red rock views at Sedona's Creekside Coffee & Javelina Leap Wine Bar. Meet the author who will be signing copies of her book and answering questions this Saturday, April 22 from 2 to 5 p.m. Be among the first 40 customers to subscribe to her website and receive a complimentary glass of wine, sangria or coffee.
Cantrell, a licensed psychotherapist in private practice, has written a novel that one reviewer states, "opens the door to a type of love everyone dreams about." Offering insights into the realms of the human heart, Natural Disasters, A Love Story, weaves together the perspectives of two seeming strangers in a page-turning tale of desire, choices, and illusion. Often asked why she chose to write a novel rather than a self-help book, Cantrell responds, "For me, a good novel is an exploration that expands our self-awareness. It's often easier for people to absorb truths about themselves when they're conveyed in an entertaining story."
Specializing in trauma and abuse recovery for more than 25 years, Cantrell has first-hand knowledge of our human potential to rise above our circumstances and discover our capacity for love. Set in Sedona during the time of the hundred-year flood, Natural Disasters, A Love Story is a passionate, unpredictable journey toward self-discovery. "It's through our struggles to love and be loved," says Cantrell, "that we find out who we really are." 
When asked her purpose for writing her book, Cantrell replies, "Our world is in desperate need of love, so I decided to spread a little of it around." For more about the author and her novel, go to www.expansivelife.com.
Come celebrate with her, see some of the best views in Sedona, and receive your complimentary wine or coffee when you're among the first 40 to subscribe to her website. You'll find the Creekside Coffee & Javelina Leap Wine Bar upstairs in the Creekside Plaza, next to Tlaquepaque North. For directions and information about the location visit http://creeksidecoffeesedona.com.