Circus comes to Beaver Creek School
Beaver Creek Kiwanis welcomes Culpepper & Merriweather for April 20 performance

By
Bill Helm
|
BillHelm42
Originally Published: April 18, 2017 2:45 p.m.
RIMROCK – As a precursor to the circus coming to Beaver Creek, Skeeter the Clown visited the children at Beaver Creek School on April 10.
The clown performance "really had a great message about effort and practice," said District Superintendent Karin Ward.
Not only was the clown's visit to the Verde Valley significant in stature, but so is visiting the circus.
Unfortunately, it could be that the circus is going the way of the two-dollar bill.
With Ringling Bros. and Barnum & Bailey Circus announcing that it's riding off into the sunset after its May 7 show, the Culpepper & Merriweather Circus, whose origins are in Queen Creek, could be the Verde's final – and only – opportunity to see elephants, lions and tigers, acrobats – and clowns.
On April 20, Beaver Creek Kiwanis will sponsor two performances by the Culpepper & Merriweather Circus, with show times at 5 p.m. and 7:30 p.m. on the baseball field at Beaver Creek School, located at 4810 E. Beaver Creek Road in Rimrock.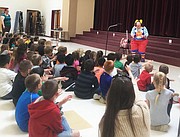 Perhaps they understand that circuses are not as plentiful as in year's past, Culpepper & Merriweather Circus contacted the Beaver Creek resident Janet Aniol about coming to the community.
"Then Janet contacted me," said Carol Keeton, president of the Beaver Creek Kiwanis. "We met, and they asked if we wanted to do it."
Skeeter spent time with the younger children at BCS Monday at 2 p.m., then visited with the elder grades at 2:30 p.m.
"All the kids got into it," Keeton said. "And they gathered around her afterward."
At 9:30 a.m. the morning of the performance, Culpepper & Merriweather will offer all members of the public a free tour of the circus grounds, which includes an opportunity to watch workers raise the tent.
Also at the morning tour, patrons will also be able to meet the animals up and learn about their routine and care, as well as learn about the circus' daily operations.
"I hope people have a chance to experience the circus," Keeton said. "We are also hoping that if people don't want to purchase tickets for themselves, they can purchase for a child. They can either give to a child themselves or return it to Kiwanis or the school to give to a child."
Tickets are available at Beaver Creek School, Kiwanis Clothes Closet, Rimrock Resales Thrift Store, Beaver Creek Traders, Cricket's Restaurant and Candy's Creekside Cottage. Tickets for adults are $10 in advance, $13 the day of the circus. Tickets for children ages 2-12 and senior citizens ages 65 and older are $7 in advance, $8 on circus day.
Children younger than 2 years do not need a ticket to enter.
A portion of the proceeds from the Culpepper & Merriweather Circus will go toward afterschool activities at Beaver Creek School. But advance ticket sales will yield a greater percentage going to Beaver Creek School, Keeton said.
Fifty percent of advance ticket sales will come back to Beaver Creek School; 25 percent of advance children and senior ticket sales will go to the school.
Culpepper & Merriweather has promised 10 percent of all at-gate ticket sales.
For more information, call Beaver Creek Kiwanis President Carol Keeton at 928-606-4050 or visit www.cmcircus.com.
"It is going to be a big event and probably not many of the kids in this area have seen a circus," Keeton said. "There aren't many circuses left."
More like this story
SUBMIT FEEDBACK
Click Below to: