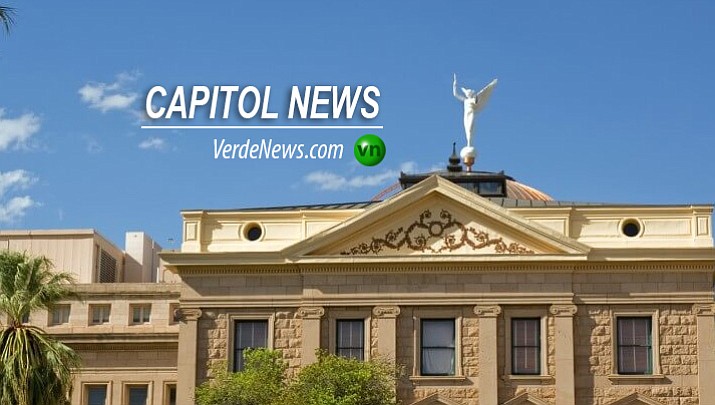 Originally Published: April 19, 2017 10:07 a.m.
Arizonans who want firearms won't be required to purchase "smart'' weapons.
Gov. Doug Ducey on Tuesday signed legislation which blocks any state or local law that says the only guns that can be offered for sale have to meet certain standards.
On the surface, the legislation is aimed at weapons which have GPS capability that enables police to track not only the local of the gun but also to send an electronic notice when it is fired.
But much of the debate centered around technology that enables a gun to know when it is in the hands of an authorized user. That can involve anything from fingerprint recognition to proximity to a special electronic fob worn by the owner.
More to the point, the weapon would be designed not to fire if the trigger is pulled by anyone else.
Privacy issues aside, proponents of the legislation contend the technology is not yet perfected, potentially leading to situations where the weapon does not work even when in the proper hands. Foes argued there is no reason to deter the sale of what they see as a "safer'' weapon that might prevent children from shooting themselves or others.
But Rep. Paul Boyer, R-Phoenix, said nothing in his legislation bars Arizonans from purchasing such weapons as they become commercially available.
Disability lawsuits
People who contend public establishments are violating disability access laws would have to wait before they can file suit under the terms of legislation signed Tuesday by Gov. Doug Ducey.
The new law provides businesses with at least 30 days after being notified to "cure'' violations, ranging from improperly placed signs for handicapped parking to failure to have accessible entrances and bathrooms. Projects requiring building permits would get more time.
Supporters said this is a better alternative to what had been the practice by at least one law firm to find violations, file suit and then agree to drop the action for a cash settlement.
But the idea of delaying access angered some lawmakers who said businesses have had more than two decades to comply with the Arizonans with Disabilities Act. They argued the cure period removes any incentive to fix the problems before someone sues.
Liquor licenses
Residents of some Arizona counties could find some new places to get a glass of beer or wine.
Legislation signed Tuesday by Gov. Doug Ducey would require the Department of Liquor Licenses and Control to issue one Series 7 license for every 5,000 new county residents for at least the next five years. That is twice as much as the current law.
Proponents contend the demand for these licenses is outstripping the supply, which is determined by a quota set by population. That is because beer and wine licenses are being sought not only by bars and restaurants but also barbershops, beauty parlors and spas who want the ability to serve clients who might be there for something else, like prepping a bride and her court for a wedding.
There are Series 12 licenses available which also permit on-premises consumption of alcoholic beverages. But these are available only to establishments that derive at least 40 percent of their sales from food, pretty much limiting their distribution to restaurants.
Moving companies
Customers would get more protection from unscrupulous moving companies under the terms of legislation approved Tuesday by the Senate.
HB 2145 is designed to end the ability of a mover to quote one price to a homeowner, pack up the goods, and then claim later that the move actually cost more. That puts the customer at a disadvantage when the moving company refuses to unload the household items until payment is made.
The measure does account for the possibility that final charges may be more than the estimate. But in those circumstances, the legislation requires the customer to pay only what was in the original estimate to get the items delivered, with any dispute over the balance resolves through negotiation or, if necessary, litigation.
Deadbeat parents
Parents who fail to keep current with child support payments won't necessarily end up losing their driving privileges.
The Senate voted unanimously Tuesday to create an exception to current law which requires a judge to suspend the license of someone who has failed to make payments for at least six months.
Rep. Regina Cobb, R-Kingman, sponsor of HB 2192, said the problem with that is that keeping someone from driving might also keep them from working and being able to pay support. This legislation, which already has been approved by the House, allows a judge to provide a restricted license to go to work or school.
On Twitter: @azcapmedia