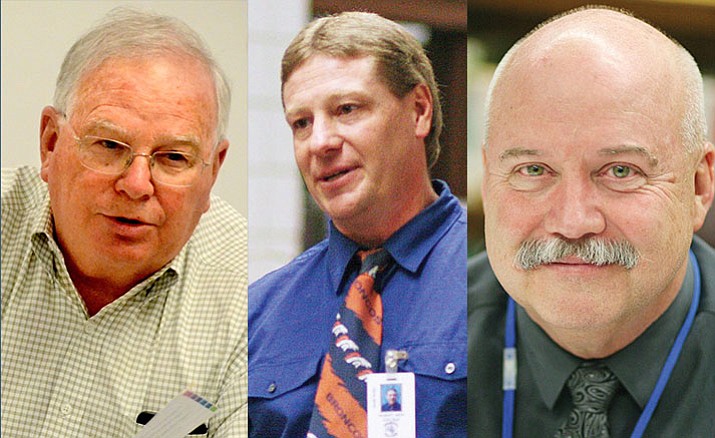 Originally Published: April 27, 2017 1:43 p.m.
COTTONWOOD – On the heels of an annual audit deemed unfavorable, the governing board of the Valley Academy of Career and Technical Education agreed Tuesday to approve an Intergovernmental Agreement with its three primary customers "as a draft," said V'ACTE Superintendent Bob Weir.
With an expiring IGA between the Verde Valley's career and technical education program – known in the familiar as V'ACTE – Camp Verde, Mingus Union and Sedona-Oak Creek high school districts would need some sort of plan in place for the 2017-2018 fiscal year, from July 1 through June 30.
At 11 a.m. Thursday at Valley Academy's Cottonwood office, superintendents from each of the districts were scheduled to "discuss the relationships and the IGAs," as well as "future JETD [Joint Technical Education District] issues moving forward," Weir said.
Not everyone satisfied
At this time, the working IGA for the new fiscal year reads "the same" as the current agreement, Weir also said.
The same, according to Mingus Union's Dr. Jack Keegan, won't work.
"If it's the same as this [year's agreement]," said Dr. Keegan, interim superintendent at the Cottonwood public high school district, "we wouldn't be signing it for next year."
"There are things the district wants in [the agreement] that are not in the agreement now," he continued. "There's got to be changes in it before we would sign it."
Agreeing on the percentage of money each of the schools would receive, as well as "ownership of equipment" are two areas Dr. Keegan said needed to be addressed in an IGA his school would agree to sign.
'Our own IGA'
Camp Verde Unified School District Superintendent Dr. Dennis Goodwin said that the three districts – Camp Verde, Mingus Union and Sedona-Oak Creek – are in the process of creating "our own IGA to submit to" Valley Academy.
"The superintendents are working on the IGAs," Dr. Goodwin said. "We're negotiating it. Then we'll bring it to our boards for approval."
In past years, the majority of Valley Academy's CTE offerings were held at satellite campuses, which were generally the participating high schools.
With Weir taking over in July 2016 for Lois Lamer, Valley Academy now plans to offer more centralized programs, meaning more career and technical education programs offered at a single location for each school to send its participating students.
But offering courses at a single place doesn't work for everybody, Dr. Goodwin said.
Students are required a certain amount of hours in the classroom each day to meet state requirements, and for their schools to receive their fully allotted pay from the Arizona Department of Education.
According to Goodwin, commute time to and from construction classes at a Cottonwood centralized campus, for example, could make it harder for Camp Verde students to make their minimum hours in class on those days.
"How logical is it for us to have kids gone three or four hours each day?" Dr. Goodwin said. "Is there a better way?"
Offering choices
Folks at Valley Academy, as well as their three customers, are focused on what's best for their students. Because each district has uniquely different needs, each sees those needs – and corresponding solutions – from different vantage points.
"What gets kids excited to get up in the morning?" Dr. Goodwin asked. "If it's construction, great. If it's culinary, great. If it's drama or band, also great. They should be able to take what they want. I want our kids to have choices. Not forced to travel a path they don't want to travel. More opportunities, more choices. That's what we're trying to do. That means more CTE programs, and it also means more non-CTE programs."
Which is why Thursday's meeting of the superintendents is an important step toward agreement.
"We hope things all work out, so we can do what's best for the kids," Weir said. "V'ACTE ready to move on with the IGAs and the continued support of CTE in the Verde Valley."
-- Follow Bill Helm on Twitter @BillHelm42