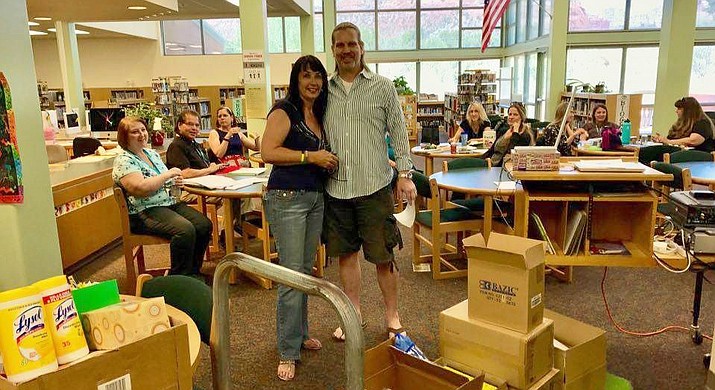 The Village of Oak Creek community once again demonstrated its big heart and overwhelming generosity by helping with two major needs the past three months. The Church of the Nazarene (VOC NAZ) reached out and asked Village residents for funds to buy MUCH-needed classroom supplies for teachers at Big Park Community School and to donate supplies or finances to purchase supplies and then help fill 500 Crisis Care Kits.
This is the third year the community has officially helped the teachers at Big Park as their classroom supplies dwindle about halfway through the school year. The Nazarene church donated supplies, Aletheia church gave a generous donation and several community members donated funds.
Through the combined efforts teachers were provided with whiteboard markers, individual whiteboards for the students, specialty tape, library tape, headphones and speakers for classroom computers, pencils, writing paper, composition books, glue sticks, magnets and more! Without your assistance the teachers would be spending their own money to provide these needed supplies or doing without...to the detriment of our kids!
Crisis Care Kits are ziploc bags filled with necessities like toothbrushes, toothpaste, soap, shampoo, band-aids, nail clippers, towels, and more. These are sent to people who have suffered a natural or national disaster. They may be the victims of a hurricane, earthquake, flood, tsunami, tornado or even war. In past years CCK's have gone to places like Belize, California,, Dominican Republic, Kansas, Haiti, Jamaica, Jordon, Louisiana, Philippines, Senegal, Sri Lanka, Ukraine, and Zambia. The recipients aren't qualified by religion, nationality, economic status, race, or any other criteria...only their need.
Pastor Jim said, "We brag all the time to our friends about the generosity and compassionate hearts of our neighbors! The goal for 2017 was 500 CCK's and with the help of the Village of Oak Creek community we were able to put together 600 Crisis Care Kits. Six hundred people will be given hope and love in the midst of their otherwise devastating circumstances."
The residents of this community should be proud of one another as these are only two of many efforts being undertaken to assist those in need and bring relief where needed. A more generous and compassionate community could not be found. Way to go Villagers!