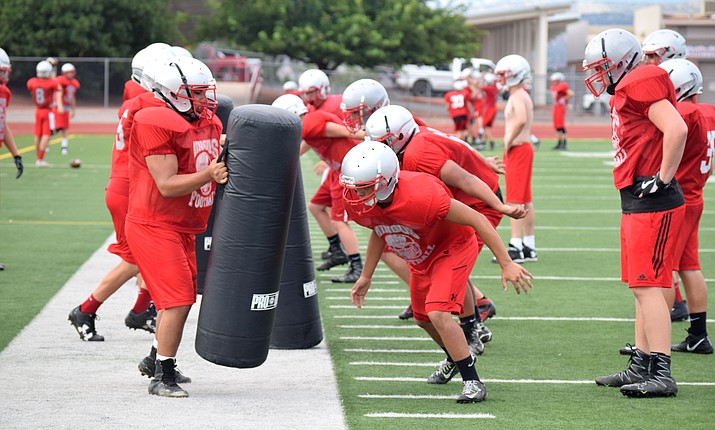 Originally Published: August 3, 2017 1:56 p.m.
After a week in San Diego, Mingus Union football returned to town and began official practices.
The Marauders started official practices on Monday.
"We're working on it, we're struggling a little bit with the heat because we're used to being in San Diego for week (laughs) and then we put helmets and shoulder pads on but they're slowly but surely," said Mingus head coach Bob Young.
The Marauders went to a football camp in San Diego, wearing helmets. This week back in Cottonwood they added shoulder pads.
"They've been pretty good, we're pushing hard," said Mingus Union junior quarterback Antoine Zabala about the first official practices. "We came out really strong to begin with and the coaches had high expectations and I think we're exceeding them every day."
Mingus Union opens the season on August 25 at Higley.
Young said the Marauders are ahead of schedule.
"Actually we're ahead, we're about a week ahead of where we should be right now," Young said. "So we're just plugging away and trying to put a little more in each day."
Young said the trip to San Diego was "excellent" and that it was a good week. The trip is usually to Los Angeles.
"It was amazing, we came together as a team," Zabala said. "Since I've been a freshman in this program, and I didn't get to go my sophomore year but this has been the best year, by far. We came together as a team, the coaches are putting in a new offense, we're really exceeding expectations and the coaches are really proud of us."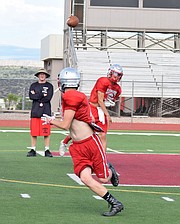 The Marauders got to tour the USS Essex, a Wasp-class amphibious assault ship in San Diego.
"That was neat, we've never done anything like that," Young said. "The USS Essex, which is an aircraft carrier, so a lot of those kids were wide-eyed, seeing the sights and it was a neat experience."
The USS Essex was commissioned in 1992 and is designed to carry a full range of helicopters, jets, landing craft and amphibious vehicles. She's the fifth vessel to carry the Essex name, dating back to one that was launched in 1799.
Usually on their California trip the Marauders go to Knott's Berry Farm or Magic Mountain and the beach.
"The air craft carrier was, man I'm speechless about it," Zabala said. "I didn't realize that that many people could fit on a boat. I may not be the sharpest tool in the shed but it was just a sight to see."
Young said so far the usual suspects have been impressive in the early practices of the fall season.
"It's the same guys from the summer: Kendrew Streck, Alex Nelson, Antoine Zabala," Young said. "Linemen, they don't stand out until we go full pads."
Mingus Union is expected to go full pads on Monday.
Next Friday they will have the annual Red and Gray Scrimmage a week from Friday. Then Mingus Union hosts a four-way scrimmage on August 16.
With the start of games just three weeks away now, Zabala said he is excited.
"But at the same time you're starting to get the butterflies in your stomach and it's one day closer to the first Friday night game, first hit and you know what? That's an amazing feeling but at the same time you're kinda just waiting for it, you're anxious," Zabala said.
More like this story