Mingus football senior Justin Link wins STEM scholarship
Mingus Union senior 'honesty speechless'

Originally Published: August 5, 2017 12:08 p.m.
Mingus Union senior football players Justin Link wasn't expecting to win an academic scholarship while in San Diego for a football camp but instead walked away with one that has special significance.
At Navy's STEM (science, technology, engineering and mathematics) event in San Diego aboard the USS Essex (LHD 2), Link received the STEM scholarship courtesy of the National Naval Officers Association. Link was surprised with the honor while the Marauders toured the aircraft carrier.
"I was honestly speechless," Link said. "I had no idea. I didn't even know there was going to be a scholarship but once my name got called, I was just in shock really. It was amazing."
The scholarship is extra special for Link because his grandfather served in the Navy.
"It's a scholarship for wherever I want to go, and having my grandpa thrown in there and it being from the Navy just meant the world to me," Link said.
There were four schools at the California Football Camp in San Diego and each team picked a student athlete to compete for the scholarship.
"Each coach was asked to nominate somebody and he had to type up a little thing, so it was a neat deal," said Mingus head coach Bob Young.
Link went in and talked to the head of the camp about the colleges he is considering, his GPA, and his high school classes.
By the time they went on the tour of the USS Essex though, Link admits he had forgotten about the scholarship.
"I didn't think anything about there being a scholarship, so when I went on the ship, I actually forgot about doing all that," Link said. "Once the admiral's wife said something about it, I was like 'oh maybe I might get recognized' and next thing I know I'm holding a $500 scholarship."
Link hasn't ruled out any schools yet but he is leaning toward the state public universities.
"I'm thinking I'm probably going to go in state," Link said. "I haven't really pushed any out but really I'm looking NAU, U of A, ASU, those bigger colleges."
The Navy's STEM day also included the Blue Heart Foundation, students from Crawford High School in San Diego, Point Loma Navy JROTC and the Sea Scouts.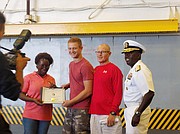 The STEM event was not just about showing the kids Navy, Marine Corps and Coast Guard career opportunities but to show what it's like a Navy warship and the vital role that STEM plays in the life of a ship.
"The STEM program is a way for us to showcase what we do," said retired Cmdr. Katrina Pringle, the retired representative for NNOA, in a press release. "You can always go and talk to the students at the schools, but it's so much better for them if they can see what the Navy does up close. This event gives students the opportunity to talk to folks who wear the uniform; learn from their experiences."
Link said his teammates were very excited to see him win the scholarship.
"It was actually kinda crazy," Link said. "Colby Fanning, when the admiral's wife said something about a scholarship he was like 'hey maybe you can win it,' next thing I know my name's being called and it was absolutely crazy and all the guys were really supportive of me and they all thought it was awesome."
With less seniors than normal, Link said he does feel the need to lead even more.
"Justin is an all-natural leader," said Mingus junior quarterback Antoine Zabala. "He's all heart and he's all will and he busts his butt every day. I've never seen a kid work harder than him and he's one of our top leaders on this team and I respect him greatly."
Young said Link is a "good kid" and that he's smart.
"He's competitive, he's consistent, you always know what you're going to get with him," Young said.
Link is a running back and linebacker who also played baseball for the Marauders.
He said he is thinking about a STEM career.
"I do excel in STEM qualities, science, technology, engineering and math but I've actually been looking into physical therapy because being in sports, I've been around it so I've kinda had a passion for that," Link said.
Link has been a fixture on the honor roll and has won accolades like Student Ambassador of the Month from the Rotary Club.
"He's one of the best student athletes that I know," Zabala said.
More like this story
SUBMIT FEEDBACK
Click Below to: