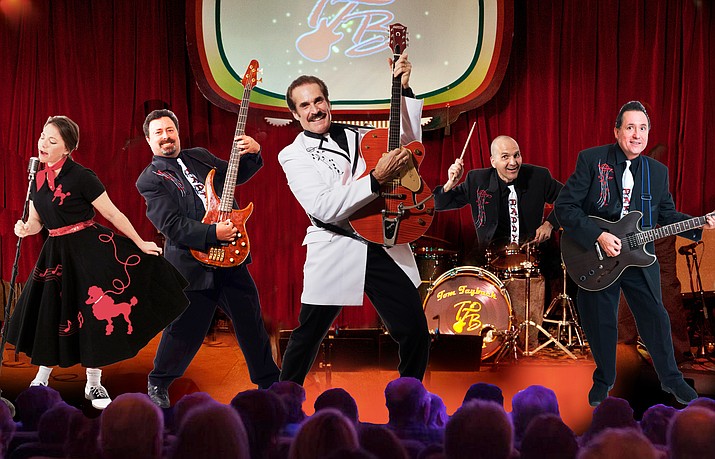 ---
---
Tom Tayback and the Daddy- O's Graffiti Gold Classic Rock 'n Roll Production is ready to take you for a stroll down Memory Lane on Saturday August 12th from 7-9 P.M at Sound Bites Grill Sedona. This authentic 50's and 60's golden oldie show will have you singing, clapping, and reminiscing about the good ole days!
If you're a fan of the Golden Oldies from the mid 50's to the mid-60's, you'll love this authentic Blast from the Past, recalling the good ole days of Sock Hops and Soda Shops with juke boxes playing 45 records.
Tom Tayback will guide you on this trip with tributes to Rock 'n' Roll legends like Elvis Presley, Bill Haley, Chuck Berry, Jerry Lee Lewis, Buddy Holly, Ritchie Valens, The Big Bopper, Little Richard, Fats Domino, Dion and the Bellmonts, Bobby Lewis, Johnny Lewis, Sam the Sham and more.
If you want to "Rock around the Clock" this is a nostalgia show you need to see! Grab your best dolly and sit back and enjoy dinner and a Vegas style production of the music you remember back when rock was young. Doors open at 5:30 pm for dinner and show starts at 7pm.
Dinner packages are available or you may order off the menu. You may call or go online to purchase tickets. Great souvenirs from the show are also offered at the meet and greet after the concert.
If you enjoy tribute shows another great weekly show on Thursday evenings is Anthony Mazzella's legend of guitar production. This is a tribute show to famous guitar players and their music. The show features world renowned guitar virtuoso Anthony Mazzella who plays it all live!
The Legends of Guitar Show starts at 7pm with doors opening at 5:30 for dinner. This is a ticket event. There is a meet and greet after the show where you can purchase cd's and mingle with Anthony.
Sound Bites Grill is an entertainment restaurant that features live music 7 nights a week. Whether there is someone on the piano or playing an acoustical guitar to live bands on Friday Nights for dancing.
This Friday Aug 11th the Robin Miller Trio performs for Flashback Friday.
The trio is Robin Miller, Troy Perkins and Ed Barattini. They play classic 60's, 70's and 80's rock that gets you dancing. Cover charge is $10
Sound Bites Grill is located at the Hyatt Shops in uptown Sedona. The are open for lunch and dinner 7 days a week from 11:30am to 9pm and Friday and Saturday Nights until 10pm. Visit SoundBitesGrill.com or call 928-282-2713 for reservations, tickets and info.