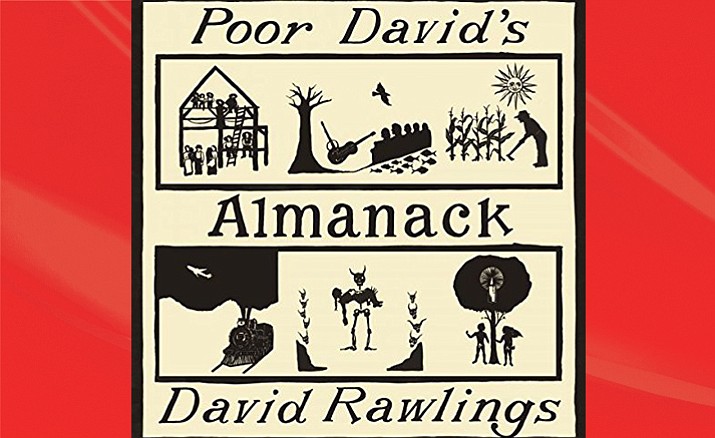 ---
---
David Rawlings – Poor David's Almanack
Acony Records
Guitar man David Rawlings leaves the Machine moniker behind for his third album, Poor Davids Almanack, a wry mixture of acoustic and electric performances rich in ageless American vernacular.
The 10 new songs took shape in a rollicking weeklong session at Woodland Sound Studios in Nashville, where Rawlings and longtime compatriot Gillian Welch joined with Willie Watson, Paul Kowert, Brittany Haas, Ketch Secor, and Taylor and Griffin Goldsmith to produce an album for all seasons.
Tracks include: Midnight Train, Money Is The Meat In The Coconut, Cumberland Gap, Airplane, Lindsey Button, Come On Over My House, Guitar Man, Yup, Good God A Woman, Put Em Up Solid.
Kesha – Rainbow Clean
Rise Records
Kesha reclaims her place in the music world with her new song, "Praying" - the initial advance track from 'Rainbow', her first album in nearly five years.
Kesha wrote "Praying" with Ryan Lewis, Ben Abraham, and Andrew Joslyn; Lewis (Macklemore & Ryan Lewis) produced the track.
'Rainbow' will be released August 11th on Kemosabe Records/RCA Records.
The music video for "Praying," is directed by Jonas Åkerlund. 'Rainbow' marks a new beginning for Kesha, one based around inner strength and musical exploration as she achieves her vision for the album by enlisting a roster of collaborators ranging from Eagles of Death Metal to Dolly Parton. Ben Folds produced the title track with Kesha, while Ricky Reed produced and wrote numerous tracks as well.
Tracks include: . Hymn, Praying, Learn To Let Go, Finding You, Rainbow, Hunt You Down, Godzilla, Spaceship, Let 'Em Talk.
Downtown Boys – Cost of Living
Sub Pop Records
The position of Downtown Boys has been clear since they started storming through basements and DIY spaces with their radically-minded rock music: they are here to topple the white-cis-het hegemony and draft a new history. Downtown Boys began by combining revolutionary ideals with boundless energy and contagious, inclusive fun, and their resolve has only strengthened as their sound and audience have grown. Cost of Living is their third full-length, following a self-released 2012 debut and 2015's Full Communism on Don Giovanni Records. They recorded it with Guy Picciotto, one of indie-rock's most mythological figures, in the producer's chair. Picciotto fostered the band's improvisational urges while pulling the root of their music to the forefront.
Tracks include: A Wall, I'm Enough (I Want More), Somos Chulas (No Somos Pendejas), Promissory Note, Because You, Violent Complicity, It Can't Wait, Tonta, Heroes (Interlude), Lips That Bite, Clara Rancia, Bulletproof (Outro).
5 Billion in Diamonds – 5 Billion in Diamonds
100% Records
Legendary alt-rock producer and Garbage drummer Butch Vig has a new band called 5 Billion In Diamonds, and it also features members of groups like Spiritualized, Goldfrapp, Alpha, and the Free Design.
Featuring Ebbott Lundberg from Soundtrack Of Our Lives, the psychedelic 'Gravity Rules' is the first taster from their self-titled debut album, due for release on Aug. 11. The album features the all-star line-up of guitarist Alex Lee (Goldfrapp, Strangelove and Suede), bassist Sean Cook, drummer Damon Reece (Spiritualized, Massive Attack and Elizabeth Fraser) – and guest vocals from Helen White (Alpha), Sandra Dedrick (from The Free Design), and David Schelzel (The Ocean Blue).
Tracks include: Gravity Rules, Better If, Traveling in Time, Broken Wing, I'm Becoming You, Moonbeams, Glider, Lost in the Sea, Paraphernalia, Close the Door.