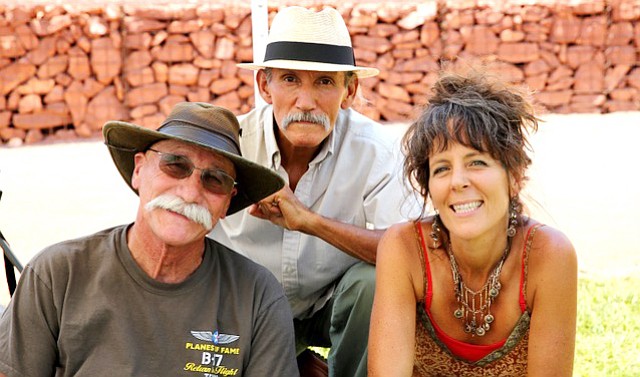 ---
---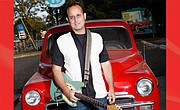 Vino Di Sedona is the place to be on a Wednesday night listening to rock and country tunes by Rick Busbea, August 9, 7-10 PM. Rick is known for his outstanding covers of favorite songs by Kenny Chesney and Jimmy Buffett. "Rick adds his own flavor to the songs that he covers, and is one of Sedona's favorite entertainers," says Vino Di Sedona owner Wes Schemmer. Rick performs covers by other well know singers, and also performs originals songs he has written. Check the Vino Di Sedona calendar for Rick's dates, he's there a few times every month!
Rock n' Roll with Life is Beautiful (KB and Dwight) at Vino Di Sedona on Thursday August 10, 7-10 PM. KB is a Sedona resident with a life-long music career. In the 1990's and early 2000's KB played with well-known bands, such as Grateful Fred and Cold December. KB will be playing his new originals, and old favorites with a few covers mixed in.
Randy J entertains at Vino Di Sedona on Friday August 11, 7-10 PM. Randy is famous for his 50's and 60's style surf guitar. Born in Orlando, Florida, Randy J moved to Los Angeles in 1987 and shortly thereafter began composing music for film trailers and TV spots. He returned to Orlando and formed his band the Tarantulas in 1995; now a Sedona resident, Randy performs as a solo artist and with The Tarantulas as the guitarist and lead singer.
Saturday Wine Tasting at Vino Di Sedona on August 12 is accompanied by Paolo 3:30-6:00. Paolo is an accomplished vocalist/pianist known for putting a delicious twist of romance back into jazz. His audience loves to hear his new arrangements of the great romantic songs of the past. His musical style is a modern blend of breathy vocals, rich harmonies and soulful rhythms. His "best musical friend" is his keyboard, and his "favorite song" is the one he is singing each moment. After Paolo's performance, stick around for night-time entertainment by local favorite David Harvey, 7-10 PM. Harvey performs classic rock covers and originals, including songs from his CD Ten Years Running. Harvey always delivers quality entertainment that keeps his audience toes tapping. According to Harvey, "Music is a catalyst of expression, it can touch you, but you cannot touch it. Experienced only through the moment of sound. What music means is still yet to be discovered."
Formed in Sedona, Saffire is quickly becoming a name everyone knows, and they are performing at Vino Di Sedona on Monday August 14, 6-9 PM. Saffire is a straight-up quality Rock & Roll trio with a wide and far-reaching repertoire. Their sound is authentic and driving ~ featuring complex rhythms, soulful melodies and spirited contrapuntal intricacies. The music consists of a unique variety of tunes, from classical composers such as JS Bach, Leo Brouwer and Isaac Albeniz to R & R legends like Fleetwood Mac, Queensryche and Santana. People are amazed and often comment on the original and mesmerizing flavor and continuity this wide array of music has.
Though Gina Machovina (classical concert guitarist and singer-songwriter) has only known TJ Brennan (percussion/harmonica/sax) since October of 2016, the musical symmetry between them is unmistakable.
"I couldn't have been more happy than the day TJ walked into one of my performances, began beating the table to an original of mine, and asked where my drummer was. I told him that he (TJ) was a bit late, but could jump in anytime."
A week later, the duo played a gig and people thought they'd been jamming together for years! The show ended an hour late as the encores kept coming.
Of TJ, Gina says he is an incredibly talented and intuitive player.  "He senses what I'm going to play even before I do! And did I mention how fun this is?"  
Over the past few months, it has become blatantly evident that Saffire needed a bassist. Al Hinojoza boldly stepped-up, bought a bass guitar, and began learning the instrument, under the gruelling and often brutal instruction of wife Gina ~ and moving at Mach 3 none-the-less! Thanks Al, we needed you!
Sedona's best Open Mic night, hosted by Dan Rice is every Tuesday, 6-10 PM, at Vino Di Sedona. Each musician is allotted an amount of time, or number of songs, and every week brings a variety of new talent along with regulars like KB Bren, Randy J, Zack Mack, Rick Busbea, Greg Williams, Vickie Moyer and Dave Rice who frequently play at Open Mic. Whether you're on vacation or just looking for a fun night out, this is an event you will not want to miss!
Vino Di Sedona Fine Wine and Craft Beer, is a Wine and Beer Bar, and Wine Shop, with nightly entertainment. Located at 2575 W SR 89A in West Sedona. For more information or to see the full calendar of events, visit www.VinoDiSedona.com. 928-554-4682