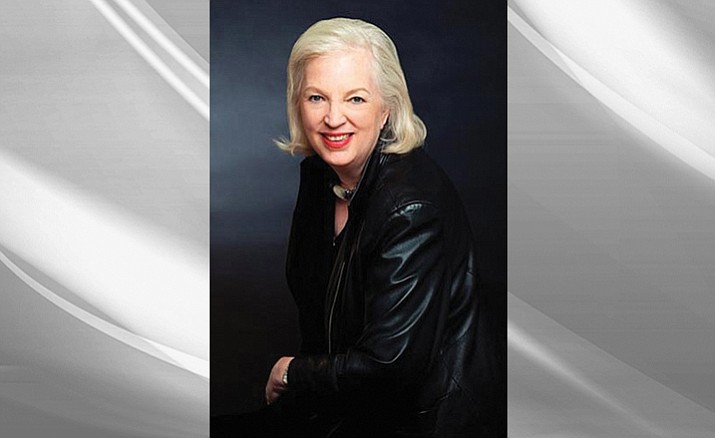 Originally Published: August 8, 2017 10:38 a.m.
Popular author J.A. Jance comes to Camp Verde Community Library
Friday, Sept. 15, 7 p.m., meet J.A. Jance, New York Times bestselling and award-winning mystery author with more than 20 million books in print. Jance will talk about her latest J.P. Beaumont novel, Proof of Life, scheduled to release on Sept. 5.
Sponsored by Friends of Camp Verde Library, this event will include a one-of-a-kind author talk and book-signing. Copies of the book, Proof of Life, will be available for sale starting at 6 p.m. before the talk. Arrive early to get your copy and enjoy refreshments provided by Friends of Camp Verde Library.
Jance's writing career spans three decades and includes more than 50 books in four different series -- Ali Reynolds, J.P. Beaumont, Joanna Brady, and the Walker Family.
Friends members will receive a $3 discount on all titles. All others will pay full retail price. To learn how to become a Friend of Camp Verde Library visit http://www.cvlibrary.org/friends, stop by the library at 130 Black Bridge Road, or call 928-554-8380.
Pop-up food pantry coming to local retirement center
Manzanita Outreach, a local non-profit organization, plans to bring its Pop-Up Pantry Program to Verde Valley Manor residents starting in September.
The eight units of the Verde Village, surrounding and adjacent to Cottonwood, have the largest population of any community in the Verde Valley and more than 2,000 of its residents live in poverty. Additionally, the Verde Villages are among Arizona's many food deserts where a significant number of people are low-income; don't have ready access to healthy food; and may have limited or no access to a vehicle.
The Verde Valley Manor is a non-profit corporation located amidst the Verde Villages. Established in 1976, the Manor is central Arizona's first federally funded housing development and most Manor residents meet the three criteria listed above. The Manor's mission is to develop and operate affordable rental housing for program-eligible tenants and provide and promote services to assist in maintaining independent living.
Manzanita Outreach recently became a partner agency of St. Mary's Food Bank Alliance in Phoenix. Through this collaboration, Pop-Up Pantries will provide perishable and non-perishable food items to those in need in targeted areas within the Verde Valley.
"Basically, we pop up tables and/or tents, fill them with food and feed the hungry!" said Mike Newcomb, Executive Director of Manzanita Outreach.
The process begins with Manzanita Outreach identifying an area in which a significant number of people are food insecure and/or struggle to get food from another emergency food provider. Manzanita Outreach secures a location and spreads the word in the community. On the day of the event, St. Mary's Food Bank Alliance delivers the food to the location and Manzanita Outreach's volunteers facilitate the food distribution process.
Newcomb continued, "We are blessed with several emergency food providers in the Verde Valley and they all do great work. Unfortunately, when you look at the Verde Valley as a whole, there are gaps in the total supply of emergency food and many of our residents are missed or forgotten. Filling those gaps is the focus of our organization."
According to Newcomb, one glaring gap is that the Verde Villages do not have a food bank or pantry. As a result, Manzanita Outreach plans to hold two pop-up pantry food distributions a month. The first one will be specifically for the approximately 250 Verde Valley Manor residents starting in September. The second one will start in November and will be open to the general public. Date and location information will be coming soon.
If you are interested in volunteering at one of the food pantries, go to ManzanitaOutreach.org or send an email to info@ManzanitaOutreach.org.
Report Card on Arizona Legislature 
The August Voter Education Program of the League of Women Voters Greater Verde Valley will be a "Legislative Report Card Panel" consisting of leaders from The Sierra Club, The Arizona School Boards Association, Arizona Advocacy Network, and Children's Action Alliance. Each organization publishes a Report Card on how our Arizona Legislators voted in their 53rd Session on issues related to the Environment, Education, Voters' Rights and Children respectively. The panel will also address what to watch for in the 54th session which begins in January 2018. 
 The program will take place on Monday, August 21, 12:30-2PM at Yavapai College, 4215 Arts Village Dr., in Sedona. The program is a partnership with the Osher Lifelong Learning Institute and is free and open to the public. 
According to Barbara Litrell, President of the local League, "The report cards show how all Arizona legislators voted on bills in these 4 areas . With all Arizona state senators and house representatives up for election in 2018, this is a great way for voters to determine which issues they care about, find out how our representatives voted, and maybe decide who they want to see remain in office and who they want replaced. The goal of the League is informed voters." 
The speakers for the panel include Sandy Bahr, Director for the Grand Canyon Chapter of the Sierra Club; Christopher Kotterman, Director of Governmental Relations for the Arizona School Boards Association; Alison Marciniak, Deputy Executive Director for the Arizona Advocacy Network; and David Lujan, Director of the Arizona Center for Economic Progress, an initiative of the Children's Action Alliance.  
The League of Women Voters is a nonpartisan political organization dedicated to public service in the field of government. It is a national organization -- open to both men and women -- whose purpose is to encourage political responsibility through informed and active participation in government. The League influences public policy through education and advocacy. The League never supports or opposes political parties or candidates for elective offices. For more information about League of Women Voters programs, contact Barbara Litrell 649-0135 or blitrell@aol.com. 
Cottonwood 2017 Citizen Satisfaction Survey
The City of Cottonwood recently mailed the 2017 Citizen Satisfaction Survey to residents via their water utility bills. The city started surveying our citizens in 2010 with the intent of receiving information about the needs and concerns of our residents. We also wanted to know what was working well for residents and what needed improvement. The information obtained through the past surveys have guided the City Council in developing priorities as they create their strategic plan for the year. In the first survey results, there was much concern expressed about roads and sidewalks which led to the reconstruction of several roads and the installation of many new sidewalk sections. In 2014, concern was expressed about the condition of sports facilities and the business friendliness of the city. That input led to greater maintenance attention at our sports facilities and further development of the Business Assistance Center that provides assistance to small or at-home businesses.
In past years, approximately 10 percent of the surveys are returned. We would always like to see that return rate improve so we get the widest span of feedback. It is also important to state that the survey is sent through the water bill so citizens who live outside the city boundaries also have the ability to provide feedback as they are regular users of our facilities and community. The survey also allows space to ask a question or express a concern and the city makes every effort to contact that person when contact information is provided.
Surveys can be dropped off at any of the City of Cottonwood offices or it can be enclosed in the envelope when mailing back your water/sewer utility bill. Results of the survey will be presented later this year to the Cottonwood City Council and will be available via the press or our website at www.cottonwoodaz.gov. If you have any questions, please contact City Hall at 928-634-5526.
Hot August Nights at American Legion Post 93
Join the fun at the American Legion Post 93 286 S. 3rd St. in Camp Verde for "Hot August Nights," Friday, Aug. 18, 6-9 p.m. with DJ Bill Hand as the "Damad Monk"
Dance the night away with music from the 50's, 60's, 70's & 80's.
Dress up in your favorite era. Come out and have some fun! More info, call (928) 567-6154
Cottonwood Recovery Day Celebration
Come join the Voices of Recovery and celebrate. Matforce is putting on the Cottonwood Recovery Day Celebration September 30th from 11 am to 1 pm at Garrison Park in Cottonwood.
There will be free food, drinks, a live band, some resource information and testimonies.
The Electric Swamp Poets will be present at this event along with success stories to express that recovery is possible.
Quail Country Quilters
Quail Country Quilters business meeting will be held August 10, 9 a.m. at the Cottonwood VFW, 705 E. Aspen.  Visitors welcome.
Legion Post 135 supports StandDown 2017
Hot and sticky – well, think cool and about the annual winter clothing drive sponsored by the Cornville American Legion Post 135 and Auxiliary. The drive recently kicked off and runs through Sept. 16th. The majority of the clothing will be distributed at the 2017 Northern Arizona Homeless Veteran StandDown held for the third year in Prescott on Sept. 22 and 23. The StandDown is sponsored by U.S. VETS, a non-profit organization; however, some selected items will be distributed locally.
Drop-off locations for the drive in Cottonwood are Super Clean Laundry (Maytag) located at 790 S. Main St. and Georgie's at 517 N 12th St.; and in Cornville, the Old Corral Bar located at 11375 Cornville Rd. Collection boxes in each business will be clearly marked.
Post 135 Cmdr., Jeri Strande, stated that "even though the emphasis for the drive is on the vets in Prescott, some selected coats and other warm garments will be held back for local distribution." She went on to explain that in the past three years, the post has partnered with the Clarkdale Elks in participating in their (Elks) Distressed Veterans Christmas lunch by suppling winter garments given to our local veterans.
As further explanation, she went on to say, "we used to donate huge amounts of good clothing to the Prescott VA Hospital, but two years ago, they changed their policy and now will only accept new clothing."
For more information concerning the drive, please call Auxiliary President, Phyllis Kennedy, at 928-300-7411 or Cmdr. Strande at 928-649-3374.
Call for Entries: Juried Art & Craft Show and Sale
Call for Entries! 122  Juried Art & Craft Show and Sale. Fundraiser!
Paintings, Quilts, Collage, Weaving and More!  Saturday, October 28, 2017 during the
Fall Festival at the Verde Valley Fairgrounds, 800 E Cherry St. in Cottonwood, AZ.
122 is Art and Craft in a small space (3 x 4") And is open to any media any skill level.  Any age 14 through 144!   Rule #1 – Have Fun!   $5 Kit includes entry fee, easel and canvas or similar supports for weavings and quilts.
All Entries MUST use VVFair supplied supports.  
Every paid entry supports an Entry Kit for a Student!
Sponsor Students – your $20 sponsorship will supply kits for 10 Students.
Call Trish at the Verde Valley Fair Office, 928-634-3290 for information.  Or email sponsors@vvfair.com
Sponsored by S. Taylor and Sons Hauling, Taylor Waste and the Verde Valley Fair Association. .  www.vvfair.com  
Fall Adult Co-Ed Volleyball Registration
Camp Verde Parks & Recreation announces registration for our Fall Co-Ed Volleyball season. The season will start September 24th in the Community Center Gym at 51 E. Hollamon Street. Games will be played Sunday afternoons with the tournament finishing November 19th. This league has expanded rapidly thanks to effort of volunteers to assist with equipment set-up.
The post season tournament is a single elimination with tough competition. Some players have been honing their skills with open volleyball sessions at the Gym over the spring and summer. Contact Parks & Rec about open volleyball dates before the season. Registration cost is $175 per team and is due by September 15.
Gather your friends, form a team and have some fun. For more information contact Shawna Figy at Parks & Recreation (928)554-0829.
Christmas Craft Bazaar Vendor call
Camp Verde Parks & Recreation is accepting crafter registrations for our annual Christmas Craft Bazaar. This year's bazaar will be held on Saturday December 9th from 10 am to 4 pm in the Community Center Gym on Hollamon Street. We are looking to showcase locally and regionally made quality products for this show. If you are a crafter of gifts or Christmas decorations don't miss this opportunity to show off your talents. This is a chance for local residents and visitors alike to browse a selection of unique gift and decorating ideas.
The Town's annual Parade of Lights will also be held that evening at 6 pm just outside the Gym. After the parade Santa and Mrs. Claus will be in the Gym to meet children and hear their Christmas wishes. Crafters will not be required to provide individual liability insurance.
Booth space is $25 per vendor with limited electric availability and includes two 8 foot tables in an L shape. Vendors can contact Camp Verde Parks & Recreation to apply or with questions at 395 S. Main St. or (928)554-0829 or Shawna.figy@campverde.az.gov.
Camp Verde opens gym for Monday night basketball
Camp Verde Parks & Recreation announces the start of open Gym for Basketball on Monday nights beginning August 14. The Community Center Gym at 51 East Hollamon St. will be open from 7-9 p.m. on Monday nights for anyone wanting to drop in. Volunteers will be hosting the activities with basketballs available. "We are excited by this new opportunity and not exactly sure what the participants will want to do during this time" says Parks & Recreation Manager Michael Marshall. "People can shoot hoops or play pick-up half court games depending on their interest and who shows up". "Activities will be driven by the attendees and moderated by our volunteers" according to Marshall.
Currently Parks & Recreation has one volunteer for this activity and is hoping to attract more willing to take ownership and help this be a success and asset for the community. The Gym is normally accessible after hours until 10 pm by key card holders but there have been some issues with vandalism during these unsupervised times. With volunteer staff present they can monitor and coordinate activities while keeping the Gym available. The Gym will still be available before and after these times for casual use by key holders.
Combined with Volleyball on Wednesdays and Pickle Ball on Thursday nights this will give people three nights a week of organized activities in the Gym, all made possible with volunteers. Pickle Ball is also available on Wednesday and Sunday mornings. Volleyball may expand or move to Sunday afternoons depending on the availability of volunteers. All these activities are free for attendees but donations in support of equipment and supplies are accepted.
Anyone willing to assist in volunteering for these or other activities is encouraged to contact Parks & Recreation at (928)554-0828 or stop by the office at 395 S. Main Street.
Celebrating solar eclipse at Camp Verde Library
Monday, August 21 at 9:00a join Miss Nadia to learn about solar eclipses and how to safely view this unique event. Get your free solar glasses and then go outside and witness the eclipse as the moon passes in front of the sun. Camp Verde will see a partial solar eclipse, between 60 percent and 70 percent of the sun will be covered by the moon at about 10 a.m. 
Bring your cellphone or tablet to participate in NASA's Global Learning and Observation to Benefit the Environment (GLOBE) program. Globe is a NASA-supported research and education program that encourages citizen scientists to collect and report data. Globe Observer is a free app that we will download and use to guide us in collecting cloud and temperature data. 
"No matter where you are in North America, whether it's cloudy, clear or rainy, NASA wants as many people as possible to help with this citizen science project," said Kristen Weaver, deputy coordinator for the project. "We want to inspire a million eclipse viewers to become eclipse scientists."
Meet in the 1st Floor Terracotta Room to celebrate the solar eclipse with us. Besides viewing the eclipse in our area, we will live-stream the full eclipse on our big screen throughout the day. For information about this or any other program at Camp Verde Community Library http://www.cvlibrary.org, stop by the library at 130 Black Bridge Road, or call 928-554-8380.​
Retailer of the Year Award
presented to Old Town business
Pawz On Main, an independently owned pet store at 918 N. Main Street in Old Town Cottonwood, was honored on July 26, 2017, by Pet Product News International magazine with the 2017-2018 "Retailer of the Year" award for excellence in the "Lifestyle & Boutique" special recognition category!.
These awards are sponsored by the World Pet Association and are designed to highlight the industry's best independent specialty retailers. The Pet Product News magazine editors honor only 12 pet specialty retailers across the country who have shown outstanding creativity, dedication, and commitment within the industry. Owner Denise Strong feels very privileged to have been honored with this specialty award.
Northern Arizona Rock, Roll and Ride – American Roots Festival
Steps to Recovery Homes is holding its 2nd annual Rock, Roll and Ride Benefit at The Collective Sedona on October 7. This year we are expanding our efforts and making it a Roots Music Festival. The event will start with a clean and sober motorcycle run in the morning and follow with 5 or 6 bands playing. There will be exhibit booths and food available throughout the day.
We are looking for businesses and organizations to sponsor this event and get involved. The money raised will go to help with food, advertising, securing the facility and entertainment. Your sponsorship creates a win-win for all of us. Your business will be promoted in our advertising and at the event showing your support in creating a safer community for everyone and Steps to Recovery Homes will be able to continue providing a valuable resource in the community for individuals who otherwise would not be able to afford treatment for their addiction issues.
Sponsorship can range anywhere from $250 to $2500. It includes your name on all advertising we do for the event, on banners at the event and on our website. More importantly, sponsoring this event will give your business the opportunity to be part of the solution for an issue that affects our community at a deep level.
Addiction is a disease that affects our schools, neighborhoods, jobs and homes. 129 people a day die of an overdose. Many of these people can't afford the treatment they need. Steps to Recovery Homes provides treatment at an affordable rate for people who would otherwise fall through the cracks.
Parkinson Support Group
The August 11th meeting of the Verde Valley Parkinson Support Group offers individuals with Parkinson disease the opportunity to gather together and learn more about PD and its impact on sleep from an expert.
The Parkinson & Movement Disorder Alliance video, Sleep with Dr. De Ocampo, Sleep Specialist, will be shown. Jose "Joel" De Ocampo, MD, who is board-certified by the American Board of Psychiatry and Neurology and the American Academy of Sleep Medicine. His practice includes sleep disorders for people with neuromuscular disorders, movement disorders, as well as various sub-specialty areas from check-ups to treatment. In practice since 2001, Dr. De OCampo possesses a special understanding of the profound issues facing people with PD and other movement disorders, as well as their care partners.
Dr. De Ocampo discusses REM sleep disorder, restless leg syndrome, frequent nighttime urination, sleep study, sleep apnea, over the counter remedies and prescribed medications, blood pressure, insomnia, safety and other issues related to sleep. Those attending will then discuss personal experiences, share questions, answers and practical tips with each other.
The group meets the second Friday of every month, 3:00-4:30 PM, at the Verde Valley Medical Center, Conference Room B, 269 S. Candy Lane, Cottonwood, AZ. For more information, please contact group facilitator and Parkinson & Movement Disorder Alliance Program Director, Judy Talley at (928) 202-7952 or judy@PMDAlliance.org.
More like this story