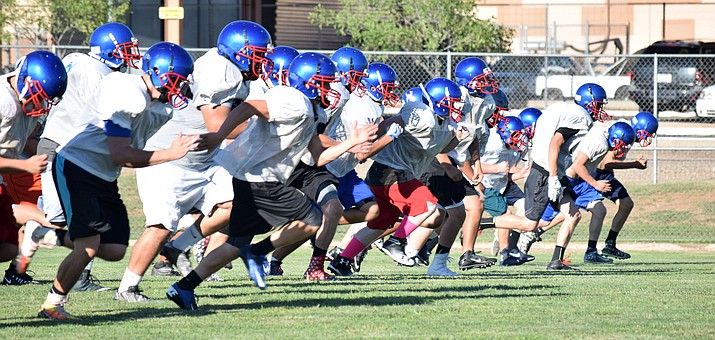 Originally Published: August 10, 2017 1:05 p.m.
As Camp Verde High football nears the start of the season, their focus has become clear.
The Cowboys have a promising roster, but it's a small one with 26 players.
"Our dilemma is numbers," said Camp Verde head coach Jerome Rhoades. "We don't have the numbers to really get lots of things done in practice so right now our main focus is getting in shape because we're going to have a lot of guys that go both ways."
In addition to having lots of Cowboys play offense and defense, the Cowboys don't have a scout team.
"It really hurts us when we go to team periods," Rhoades said.
On the bright side for Camp Verde, after dropping down to two coaches after other ones quit at the start of fall practices, the Cowboys have added two.
Rhoades is especially exciting about adding Camp Verde alumnus Jake Spleiss. He was first team all-state earlier in the 2010s and played linebacker and tight end before going on to Sterling College in Kansas.
"They're offensive guys, they'll help us," Rhoades said. "This one's been a big addition, coach Spleiss is his name and he's really gonna help us condition wise."
After the Cowboys started practicing on July 24, the coaches quit and not at an ideal time.
"We're right in the middle of the season and to get guys that have any kind of playing experience or any kind of coaching experience is difficult," Rhoades said. "They're out there, but we don't know how to contact them, we don't know how to get ahold of them to see if there's any interest at all."
The Cowboys open the season at home on August 25 against Chino Valley.
Rhoades said the Cowboys have done well in learning the offense and defense but that their execution leaves something to be desired.
"We've got some stuff in," Rhoades said. "We've actually been able to teach and learn very, very nicely. We're not executing very well and I'm wondering if that's because we're trying to get too much in but we've got some time before our first game and that's all we're going to focus on the next two weeks is execution."
Moving on up
Cowboy fans won't have to wait nearly as long to see Camp Verde face an opponent.
The Cowboys' scrimmage at home against Scottsdale Prep on August 18 has been moved up to 6 p.m. from 7 p.m.
"Who knows what the weather is going to be," Rhoades said. "It just kinda seems that when storms move in, they kinda move in late so we gonna kinda see how it goes."
The Cowboys won't have a Blue and White Game this year because they don't have enough players to.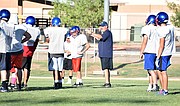 Zeroing in on start date?
This week saw the first high school football scrimmages of the season as teams playing in Zero Week scrimmaged.
The AIA is considering making Zero Week the first week of the season and adding an extra bye.
"They haven't made a decision on that or at least I haven't gotten wind of that," Rhoades said. "But they did kinda move, at least for smaller schools, move the season up a little bit."
With practices being able to start earlier, maybe a move is in the works.
"They made it so you can open up a week earlier and I don't know how many teams took advantage of that or if anybody did but they didn't move the game week up, they just moved the practice week up and maybe that's in anticipation of moving game week up next year," Rhoades said.
Next year is the start of a new two-year scheduling window.
This year there is 54 Zero Week games. The 2017 football season kicks off when Sunnyside hosts Nogales in Tucson on Thursday August 17.
Mingus Union and Sedona Red Rock also open the regular season on August 25.
Rhoades isn't in favor of moving the season up.
"It's too hot, it's too hot, especially if you've got to play down in the Valley," Rhoades said. "It's almost so hot that the kids can't get focused but it wouldn't help us any to add an extra week in there."