Mingus football 'wins' Red and Gray scrimmage

Originally Published: August 12, 2017 1:33 p.m.
Mingus Union football shined under the Friday night lights for the first time this season.
The Marauders varsity and freshmen split off into teams wearing red jerseys or white shirts.
Mingus Union head coach Bob Young said he liked some of what he saw at field level.
"We'll see on film (Saturday)," Young said. "I always wait til we watch film but I saw some really good things. Offensively we moved the ball well, defense I thought the guys moved the ball so we'll watch film and see what we nee to correct and we'll correct it."
The Red and Gray teams were mostly split up according to class, the large junior class against a side mostly made up of seniors and sophomores.
"It went pretty well," said Mingus junior quarterback Antoine Zabala. "We came together even better (Friday). We competed, that's the most important part, our coaches want us to compete and get better every day. The scrimmage was a success in my eyes and I think the coaches' eyes as well."
Mingus Union opens the season on August 25 at Gilbert Higley. Their first home game is September 1 against Cave Creek Cactus Shadows.
"It went good, we got along good and it was really fun," said Mingus junior middle linebacker Kendrew Streck about the Red and Gray Scrimmage. "I think it was a good practice and we just need to get better for Higley you know?"
Friday starts a string for the Marauders where they will have a game or scrimmage every week until at least late October. The home stands were mostly full for the first night of Friday action of the school year.
"It's really cool," Streck said. "It's a good feeling. It's a great feeling, I'm happy to be back playing football."
The freshmen team opens the season on August 23 against Phoenix Alhambra at home at 5 p.m.
Zabala said the rookies were impressive.
"The freshmen did more than expected honestly," Zabala said. "We expect freshmen to come out wide eyed and look in the lights, deer in a head lights kinda look but most of them kept their legs moving, kept their heads on a swivel and they did really well."
Young said for the most the guys that were impressive over the summer have done well in fall practices.
"Antoine's looked really good at quarterback," Young said. "I thought he had a good (Friday) night. I'll have to look at the film to see on the line because that's our biggest concern, our biggest question mark, is we have to replace everybody on the line so I'll watch film and see what we got. Alex Nelson looked good, Chaz Taylor looked good, so the guys that have looked good in the summer, they're continuing to improve."
Young said his biggest concern in scrimmages is staying healthy.
"No and I don't care," Young said when asked if he knew who won the scrimmage. "We won, nobody got hurt, that was the big thing, as long as nobody gets hurt then we all win."
Four-way play
Next week Mingus Union will host an eclectic mix of teams in a rare four-way scrimmage.
On Wednesday at 6 p.m., the Marauders will welcome Central, Winslow and Chino Valley to Cottonwood.
"Last year it just kinda came together, the coaches started talking and we just said 'hey why don't we do this,'" Young said. "It is a good little mixture, Central's a big school and Winslow and Chino are a little bit smaller than us so we'll see different things and it will be a good little scrimmage for us."
Photo Gallery
Mingus Football Red And Gray Scrimmage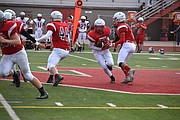 On Friday night, Mingus Union football hosted its annual Red and Gray Scrimmage. The junior dominated red team won. (Photos by James Kelley)
Most Arizona teams play three-way or two-way scrimmages.
Central is a 6A in Phoenix with 48 players on their varsity team. Last year they went 6-4.
"It's amazing honestly, most teams don't get a four-way scrimmage," Zabala said. "You get to see teams that you normally don't play, different talents, different looks, it's great opportunity for us and this team to get better and I think we will."
Chino Valley is a 3A team. Last year they went 5-5 and they open the season at Camp Verde.
Winslow is also a 3A team. They went 7-5 last year before falling at Tucson Sabino 48-0 in the state quarterfinals.
"The four-way scrimmage is really fun, last year it was," Streck said. "We'll finally have a chance to hit some other teams and I think that's gonna be a really good learning experience to get us ready for Higley."
Higley's wiggly running back
Last week was an eventful one for a familiar face for Mingus Union fans.
USA Today named Gilbert Higley senior running back Draycen Hall to its preseason All-American team and he received a scholarship offer from Arizona. He was the only Arizonan on the All-American team.
Last year in the season opener, he ran for 344 yards and four touchdowns against the Marauders.
"Well he ran for about 300 yards against us so (laughs) so he's really good, we got to see first hand," Young said. "So we'll try to keep him a little under that if we can. He's really good."
He scored 40 touchdowns last year, six receiving and five returning kicks.
He was named Gatorade Arizona Football Player of the Year.
"The Stanford (assistant coach) texted me back after Draycen tweeted he got offered by UA," said Higley head coach Eddy Zubey to the Arizona Republic. "It's funny how you get one, they all get going."
More like this story
SUBMIT FEEDBACK
Click Below to: