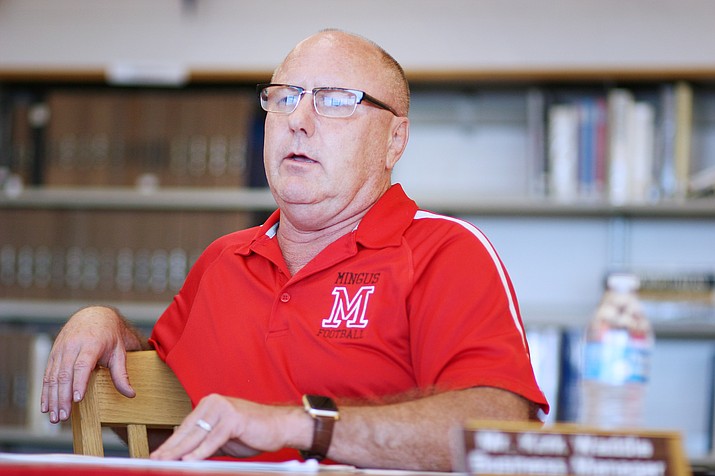 Originally Published: August 14, 2017 11:24 a.m.
COTTONWOOD – Four years ago, Kirk Waddle considered leaving his post at Mingus Union High School District for a similar position near San Diego.
But Mingus Union had just hired Dr. Paul Tighe as its superintendent, and Waddle, the district's business manager, decided he should stick around as part of the transition team.
Since Dr. Tighe left the Verde Valley a year ago to become superintendent at Saddle Mountain Unified School District, Mingus Union employed two interim superintendents before selecting Dr. Penny Hargrove as Dr. Tighe's permanent replacement.
In a few weeks, Waddle will leave Mingus Union, and he will join Dr. Tighe at Saddle Mountain Unified, a district with schools in Buckeye and Tonopah.
"Kirk has the opportunity to follow Dr. Tighe and work with him, again," said Mingus Union governing board member Jim Ledbetter. "They have a very good working relationship, and Kirk is excited about pursuing this opportunity."
Similar styles
When Saddle Mountain started to look for a new business manager, Dr. Tighe called Waddle, not for an interview, but for a recommendation.
"Paul called me, wanting to know if I [knew] anyone who might be a good fit," Waddle said.
Of their time together at Mingus Union, Waddle said that both he and Dr. Tighe "really clicked."
"We have similar management styles, similar personalities. We're both conservative managers," Waddle said. "When this [position] became available, I asked if he would consider interviewing me."
Family first
A chance to again work for Dr. Tighe is not the main reason that Waddle will leave Mingus Union after 11 years. As he stated in a letter Thursday to the district, moving south and working at Saddle Mountain will allow him "to be physically closer to a family member who needs some assistance."
Other than a step-mother in the Verde Valley, the majority of Waddle's family is in the Phoenix metropolitan area. One family member, a sister, will benefit from Waddle being closer, he says.
"All my siblings are really close," Waddle said. "My sister has some health issues. She hasn't been well, and she cannot drive right now. This is an opportunity to be down there."
Family ties, professional ties
Had it not been for his decision to stay at Mingus Union a few years back, Waddle would not have formed the relationship with Dr. Tighe that led to his upcoming move to the Buckeye/Tonopah area.
As he plans to leave Mingus Union, Waddle will also leave behind the relationships of his time spent in the Verde Valley. Anita Glazar, Mingus Union's governing board president, said she "understand[s] his reasons for leaving."
"I was disappointed. I'm going to miss him," Glazar said. "I think of his loyalty to Mingus. He went to Mingus. He loves Mingus. He's a true Mingus loyalist."
"It has been a blessing to work with a staff that truly serves the youth of the Verde Valley," Waddle said. "I owe Mingus a lot."
Moving forward
On Aug. 10, Waddle accepted the job offer from Saddle Mountain. Later that day, he told Glazar of his plans. Then, both Waddle and Glazar told Mingus Union Superintendent Dr. Hargrove.
Next step is for the Mingus Union High School District governing board to vote on whether to release Waddle from his contract.
Once Waddle is freed of his commitment at Mingus Union, the district will then look for his replacement.
But Waddle said he plans to help the district transition from him to his replacement.
"Kirk will support us through the transition," Glazar said. "He would never leave Mingus without taking care of Mingus."
According to Glazar, Waddle "still has to negotiate" his last day at Mingus Union.
Waddle said he would like to be on the job at Saddle Mountain the first week of September.
-- Follow Bill Helm on Twitter @BillHelm42