Originally Published: August 17, 2017 12:26 p.m.
Mingus Union football prepared for its tough season open with a successful four-way scrimmage on Wednesday at home.
The Marauders scored often and on long touchdowns and on defense shut down opponents and forced turnovers.
Mingus Union scrimmaged against Central, Winslow and Chino Valley.
"We did really well, our first team did, they stepped up, did what they were supposed to," said Mingus junior running back/linebacker Alex Nelson. "Everyone's getting better by the day and we're just doing the best that we can because we got a tough first game."
Mingus Union head coach Bob Young said he'd have to watch the film before forming an opinion on how the Marauders did on Wednesday but liked things he saw from field level.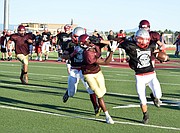 "I thought our first unit did well I mean that's kinda been the theme all summer with the first unit offense and defense, I thought controlled the line of scrimmage," Young said. "The second defense they've got to do a better job tackling. The second offense I thought did pretty good."
Mingus Union opens the football season on August 25 at Gilbert Higley. Led by preseason All-American Draycen Hall, the Knights are among the favorites to win the state title.
"I think we did pretty good," senior outside linebacker Tyler Kelly said about the scrimmage. "I mean obviously we have stuff to work on, but as a team, coming out as our first scrimmage, I think that was a good step for us. The line did well, I was proud of that, we ran the ball good, we swarmed to the ball, as long as we keep working hard every day we should be good."
Nelson, who scored a handful of times on Wednesday, some on long runs, said he thought he did well on Wednesday but gave credit to his teammates, especially the Marauders' young offensive line.
"I could tell they were a little nervous, they're going to be nervous for the first game, but when they strap it up and work together and do what they can, they're a really good group," Nelson said. "I'm very proud to have them as my line and they're improving everyday and I'm proud."
Since the Marauders have had to replace their whole offensive line from last year, it was a concern, but Young said he was happy with how they did upon his initial impression.
Young said the guys who have been with the team all summer have continued to impressed but says the returns of Kelly and senior running back/linebacker Lucas Svoboda will help. Kelly has been playing baseball and Svoboda has been the first three phases of military police training at the 787th Military Police Battalion -- Fort Leonard Wood, Missouri.
Svoboda is also a wrestler who finished second at state.
"Those will be two big helps as they get in shape," Young said.
Central is a 6A in Phoenix and went 6-4 last year. Chino Valley is a 3A team. Last year they went 5-5 and they open the season at Camp Verde.
Winslow is also a 3A team. They went 7-5 last year and made it to the state quarterfinals.
"You could tell everybody's early season rust," Young said. "I thought Central had some really good athletes, Winslow was hard hitting and Chino's young but Chino's scrappy, so it was good to scrimmage all those teams."
Kelly said he thought the Marauders were the most physical of the four.
After having this Friday off, Mingus Union has games every Friday until at least the end of October. Wednesday was their first chance to hit someone else.
"It feels great," Nelson said. "I feel like this is the right time of year for me, it's my favorite time of the year always and it just feels good hitting other people and not your teammates and that's what it's all about."
Murderers' row?
Mingus Union is ranked in a preseason 4A poll but the bad news is almost their opponents are ranked high.
Higley is No. 3 in the Arizona Republic's preseason rankings. Sunrise Mountain, who Mingus Union plays to close the season is fourth, followed by another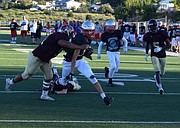 Marauder opponent, Cactus at fifth.
Bradshaw Mountain is No. 10 in their preseason rankings.
All of Mingus Union's non-region opponents are ranked in the Arizona Varsity preseason poll, with the Marauders coming in at No. 12. Higley is second, Cactus No. 4, Sunrise Mountain fifth and Cactus Shadows is No. 7.
"It's tough, it's legitimate, so we've got to be ready to strap it on starting next week," Young said.
In the 2A ranks, according to the Republic's rankings, Camp Verde will face No. 6 Scottsdale Christian, No. 7 Gilbert Christian, No. 8 Paradise Honors and No. 9 Tonopah Valley.
In the Arizona Varsity rankings, Cowboy foes Paradise Honors is 5th, Scottsdale Christian No. 8, Gilbert Christian No. 10 and Parker 14th.
More like this story