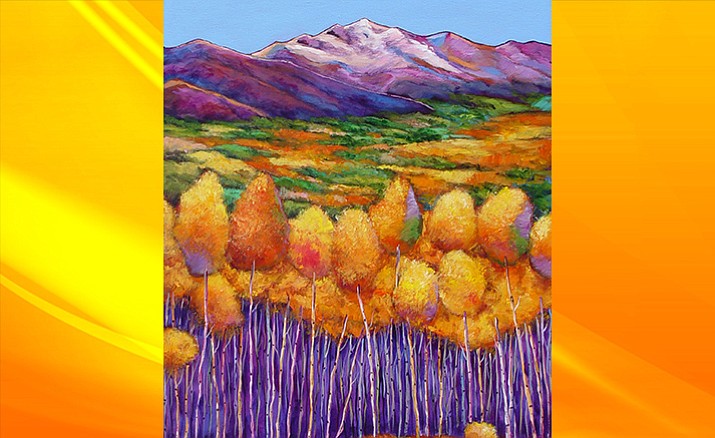 ---
---
Lanning Gallery in Sedona, Arizona opens the new exhibition "Russ Vogt & Johnathan Harris: The Structure of Color" with a 1st Friday reception, September 1st, 5-8 p.m.
Exciting new indoor/outdoor ceramic sculptures from Russ Vogt will be unveiled including a three-foot high mosaic dog, a contemporary art totem of stacked circular ceramic elements entitled "Big Giant Marble" and tall reed sculptures that are always favorites with collectors, whether placing them in a foyer or along a garden path.
The landscape paintings by Johnathan Harris that are featured capture, in unrestrained color, the emotions of each of Harris's compelling scenes from autumn aspens to purple skies to Sonoran cacti.
Linking these two artists together is their artistic absorption into the world of color. Not merely a tool for literal depiction, color brings with it a symbolic vocabulary, a visual translation of emotions. Color, in skilled artistic hands, becomes not only an element but an idea.
For Russ Vogt it is a joyous love of color that distinguishes his work. Intense patches of saturated jewel tones color his ceramic elements in drips and patterns, with solid color blocks of primary and secondary colors married together on single extruded, wheel-thrown, and hand-built earthenware forms.
For his tall groupings of "reeds" Russ Vogt intersperses free-style shapes with predominant, albeit irregular, stacked tube-like shapes; his free-form "totems" may be completely contemporary in form or combine with unexpectedly familiar shapes.
The contemporary mosaic art of Russ Vogt includes life-sized and larger-than-life-sized animals: a life-size dog stands inside Lanning Gallery and a giant dog sits in the courtyard. When imagining his work placed outdoors it is the interaction of his sculptures against the colorations and forms of a natural landscape that particularly excites Russ Vogt.
For artist Johnathan Harris it is the process of painting from dark to light, leaving dark borders around lighter forms that allows him to add dramatic impact to his landscapes' presentation of light and color. The effect thoroughly captures the immediacy of his heartfelt interaction with nature. "When I look at Southwestern landscapes, I see the stark contrast of earth and sky . . . mountain and valley . . . sand and sage," Johnathan Harris notes. Harris captures realism then departs just enough to convey the emotions the scene evoked in him. His bold colorations and singular vision and execution allow Johnathan Harris an undeniable power to draw viewers in.
This exhibition runs through September 10th.
For additional Lanning Gallery information and photos see LanningGallerySedona on Facebook, follow on Instagram, or visit the gallery on Pinterest. Lanning Gallery, 928-282-6865, mail@lanninggallery.com, www.lanninggallery.com. Located at Hozho, 431 S.R. 179.