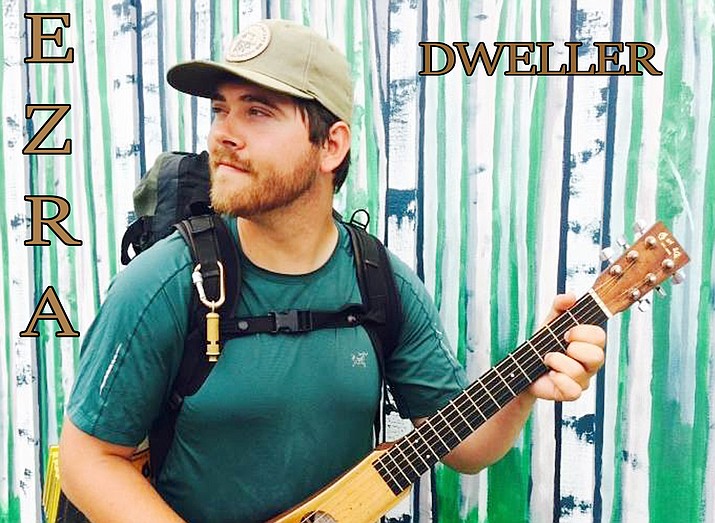 ---
---
Ezra Anderson was already something of a local legend when he was just 10 years old.
Most every weekend, without fail, he could be seen standing out on the sidewalk in front of the Old Jerome High School playing his saxophone.
Nonstop. For hours on end.
By his early teens, Anderson was playing guitar and finding his way into every jam session in the Verde Valley. He carried a dog-eared Bob Dylan songbook with him everywhere he went and notebooks full of his own song-writing efforts. From Jerome to Camp Verde and most all points in-between, Anderson became a regular on the local open mic circuit.
By the time Anderson graduated in 2015 from Sedona-Red Rock High School, he could hold his own as a guitarist with some of the most seasoned musicians in the Verde Valley. While his classmates were contemplating future college choices, Anderson was clearly established as a song-writing prodigy with one full studio album already to his credit.
All of which brings us to the present. Anderson is now a sophomore at Portland Bible College. He has written nearly 100 songs. And, he just released his fourth full-length CD, Dweller, a collection of a dozen songs that shows a level of musical maturity seldom seen from a 20-year-old.
Dweller features two instrumental compositions – one each on piano and guitar – and two cover songs: Helen Lemmel's Turn Your Eyes Upon Jesus and Bob Dylan's Gospel classic When He Returns.
The other eight songs on the disc were all written by Anderson, most of which came together during a four-month, 400-mile hike he took on the Appalachian Trail, a trek he called "my last hurrah before I went to college." He has since also completed a two-month, 250-mile journey on the Oregon Coast Trail.
"I wrote a good six, seven of these songs on the first hike and these are the songs I wanted for this CD," he said. "It's a good environment in which to write. My mind is more creative when I'm out in nature like that, plus you just have a lot of time to think."
Those songs were woven together with an enhanced musical skill-set Anderson has acquired since he began attending college. In addition to his Bible studies in Portland, Anderson has immersed himself in music theory classes.
While growing up in the Verde Valley, Anderson would often joke that his specialty was playing songs with three chords. Just one listen to Dweller and it's abundantly obvious that Anderson's musical acumen has grown by leaps and bounds. The instrumentation on this disc is textured and layered and full of space, and, outside of percussion, it was all woven together by Anderson. He laid down all the tracks on acoustic and electric guitar, bass, piano, harmonica and even added an ethereal sound by plucking the piano strings with his fingers.
"All that I've learned in college has really revolutionized the way I write," Anderson explained. "My understanding of music theory was next to nothing. I'll put it this way, when I started college I didn't even know what a treble clef was. I was just feeling my way through songs. Now, I have learned the rules of my craft."
There is also ample evidence of growth and maturity in Anderson's vocal skills on Dweller. While he's still yet to have taken any formal voice training, Anderson has full command of his voice on this CD, and a full grasp of the importance of being patient with a song.
"I've grown as a vocalist," he admits, "and it's really just practice and doing lots of worship services. It's all been application, interactive and listening to and working with others."
As for the songs on Dweller, they all reflect the Christ-focused concentration that punctuated his journeys along the Appalachian and Oregon Coast Trails.
"Unlike my other CDs," Anderson explained, "there is a real purposed message to this one that points more toward Christ and the songs all collaboratively work together."
This album also benefits from the working relationship Anderson has with Seattle-based recording engineer Evan Schiller. Dweller marks the third consecutive CD Anderson has done with Schiller. "He has worked with my songs in the past so he understands my sound and knows the instrumentation we are looking for. It gets easier every time I work with Evan. We have context from the past. We know what works and what does not."
With all the growth and change that is so obvious with Anderson, one thing has not changed since he was that 10-year-old kid playing a saxophone on the sidewalks up in Jerome. He loves what he does and he's always learning. As he told The Verde Independent in 2015, "Every person I've ever played music with has taught me something new. I'm always learning."
His mantra in 2017 is much the same. "I'm working my craft. I'm always doing my homework."
Anderson will return home to the Verde Valley for his Christmas break. He will perform – and hopes to sell copies of his new CD – during the Jan. 6 1st Saturday Art Walk in Jerome at the New Motor State Building from 5-8 p.m.
And, not so surprising to those who know him best, Anderson said he also plans to drop in on a few open mics during his visit home.
"I hear they have a new, really good open mic at the Red Rooster in Old Town. I plan to check it out."