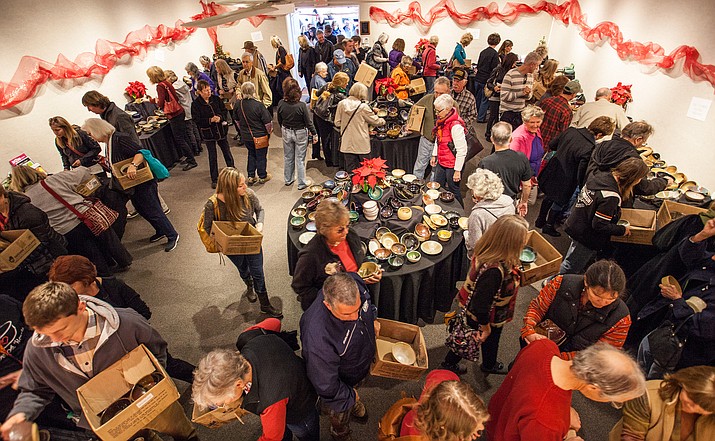 ---
---
Sedona Arts Center presents its annual Loving Bowls charity fundraiser on Dec. 9 from noon to 3 p.m. at the Historic Art Barn in Uptown Sedona.
This fantastic fundraiser offers a beautiful selection of Loving Bowls for your purchasing pleasure, plus loads of food and fun. Over 1,100 bowls have been made and lovingly glazed in a variety of finishes by professional volunteer potters. Bowls are $10 each and come with wonderful chili, bread and desert.
"This will be the best Loving Bowls ever as we kick off our 60th Anniversary Celebration," says Ceramics Department Head, Dennis Ott. "Once again we are blessed to have hand-blown glass bowls from our friends at The Melting Point that will be a part of the 1,100 bowls that we created right here in the Sedona Arts Center studio."
As one of Sedona's favorite local charitable events, the Arts Center's creative Loving Bowls fundraiser is right around the corner in Uptown. This year, the event's proceeds will go to the Sedona Food Bank, Sedona Community Center, Humane Society of Sedona and the arts and educational programs at Sedona Arts Center. A wonderful collection of 50 handmade glass bowls, courtesy of our partner The Melting Point will also be featured along with 200 pet bowls in support of the Humane Society of Sedona.
Loving Bowls began as a small event and a tribute to Sedona Arts Center's magnificent ceramics community. Today, Loving Bowls is a major gathering of creative people. Join hundreds of other local arts supporters for a unique annual event that offers a beautiful selection of handmade bowls.
Executive Director, Vince Fazio says, "The entire community looks forward to Loving Bowls each year, benefitting the non-profits that provide needed services to the community with a beautiful event that also provides a chance to get together and enjoy delicious chili, shopping for bowls, and camaraderie with friends. It is a beautiful experience. We are very grateful to all the volunteers that made bowls all year long, The Melting Point that provided an entire day of production to create 50 glass bowls and the Sedona Community Center that makes all the chili!"
Visit Sedona Arts Center at noon on Saturday, Dec. 9 for chili, desert, community fellowship and a veritable medley of ceramic goodness and a thousand beautiful objects waiting to find a new home. The event only lasts for three hours, so arrive early, bring cash or credit card, select an armful (or box full) of gifts and unique items and support our 2017 Loving Bowls.
For more information, call Sedona Arts Center at 928-282-3809.