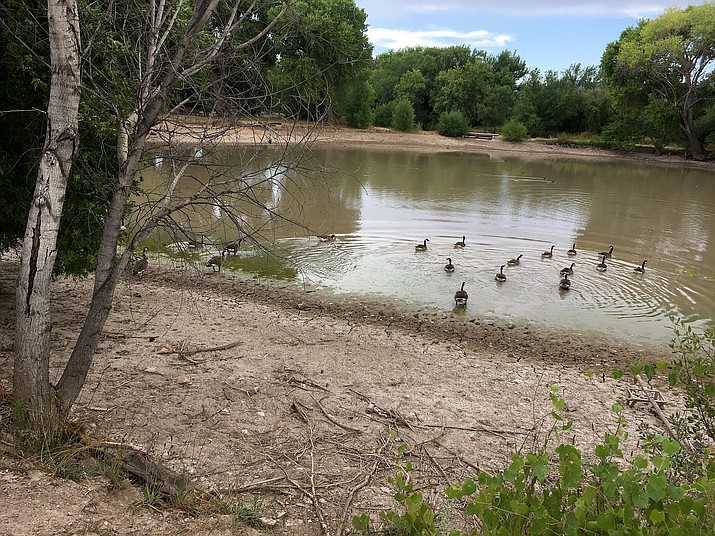 Originally Published: December 5, 2017 3:39 p.m.
CAMP VERDE – Folks connected with the Verde Lakes Ponds say that the historic park belongs to the community.
Wednesday, the Camp Verde Town Council could decide once and for all whether that 6.8-acre parcel on Aspen Drive in Verde Lakes will become a public municipal park.
With the Camp Verde Sports Complex an immediate priority – both financial and otherwise – it's possible that council could like the idea of acquiring the Verde Lakes park, but say no based on the timing.
But Town staff – specifically Town Manager Russ Martin – will recommend that council move forward with the acquisition.
"It will take several years for the pond and the park to be at the quality that many of our other parks are at," Martin said. "It would be something we work towards."
Last time council discussed the possible acquisition was Oct. 18. Issues brought up at that time include short-term repairs and immediate needs, and long-term incremental improvements.
Short-term repairs and immediate needs
Once the park actually belongs to the Town of Camp Verde, a survey of the park boundary would need to take place, according to the Dec. 6 agenda.
Once the parcel has been surveyed, the Town would prepare a park improvement plan, make the park as safe for the public as possible, clean up undergrowth and remove poison ivy and weeds by summer 2018.
By summer 2018, the Town's short-term repairs and immediate needs plan also includes posting signage, implementing security, outreach and pedestrian safety plans.
Beginning no earlier than fall 2018 and probably not finished before 2019, the Town would also like to install picnic tables, benches, garbage cans, and port-a-johns; remove large-felled or leaning trees; install perimeter fencing where necessary with gates to control access, protect children and inhibit wild and domestic animals from entering the park.
Long-term incremental improvements
Should the Town acquire the Verde Lakes Ponds, its two-year, eight-year and 10-year plans include the construction of a parking lot, dredge and line the ponds to reduce water loss due to infiltration, improve water supply, provide a connection to the pond for fire trucks to draft water for firefighting purposes, improve water quality, and develop a recreation plan and construct amenities.
"As far as amenities, we'll get to that," Martin said. "If we take a slow approach and there's an understanding that we take it that way. As a long-term asset, it would be a good thing. Whatever council decides. I respect that there are two good answers."
At 6:30 p.m. Wednesday, Camp Verde Town Council will meet in council chambers, located at 473 S. Main St., Suite 106. A copy of the agenda can be found at www.campverde.az.gov/town-council-agenda-2017.
-- Follow Bill Helm on Twitter @BillHelm42