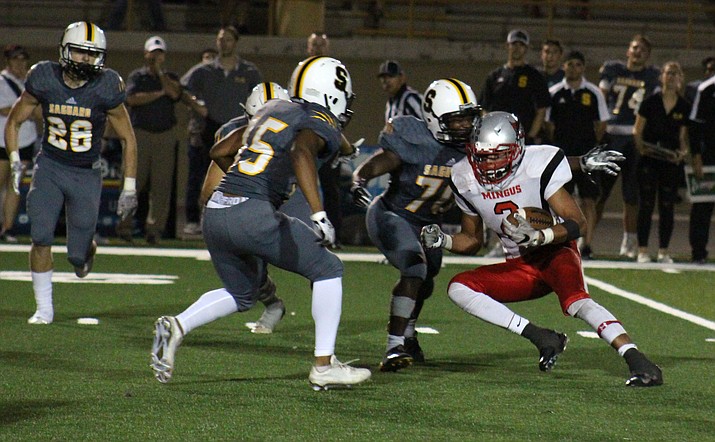 Originally Published: December 7, 2017 1:29 p.m.
A familiar face won another AIA football championship.
On Saturday at the Arizona Stadium at the UA, Scottsdale Saguaro won the 4A state championship, being Tucson Salpointe Catholic 28-7. The Sabercats knocked Mingus Union out of the playoffs in the first round.
It was Saguaro's fifth straight state title, an Arizona record. Saguaro has won 11 state championships, seven since 2010.
In the 5A ranks, Centennial beat Notre Dam Prep 42-21 in the state championship game. In the 6A, Chandler beat Perry 49-42 to win the title, their second in a row.
Don't say bye to the bye?
At Monday's board meeting, AIA executive director David Hines said they've received positive feedback about the week off between the semifinals and championship game for 4A through 6A football.
The week off allowed players to heel and give the 2A and 3A games more of a spotlight.
However, the bye meant that the season for teams that made it to the state championship game ended December 2, almost a month after the tournament began on November 3 and long after winter sports started.
Coaching cap
Hines also said he wants the AIA's sports advisory committee to look into limiting the number of coaches and postseason players for football.
Many schools move players up to varsity for the playoffs and there is concern that the sidelines and locker rooms are getting too crowded.
"It (coaches on teams) is getting out of hand," Hines said. "I don't think all of the districts know all of their (assistant) coaches."
Hines said capping the number of players and coaches can help level the playing field.
"We can't get all of the kids in the locker room," Hines said. "Let's be reasonable."
Expansion
The AIA approved full membership to three schools.
Scottsdale Cicero Preparatory Academy and Laveen Heritage Academy will join 2A and Litchfield Park Canyon View the 4A starting in 2018-19.
The Gilbert North and Queen Creek Ironwood campuses of American Leadership Academy also got full membership but with a provision.
They will not be allowed to participate in the playoffs their first two seasons.
They will not be allowed to during its first two seasons as an AIA
Mingus warned
Mingus Union's activities program received a warning.
An athlete practiced twice before the athletic office cleared him.
A warning could mean the school is placed in probation if another rule is broken.