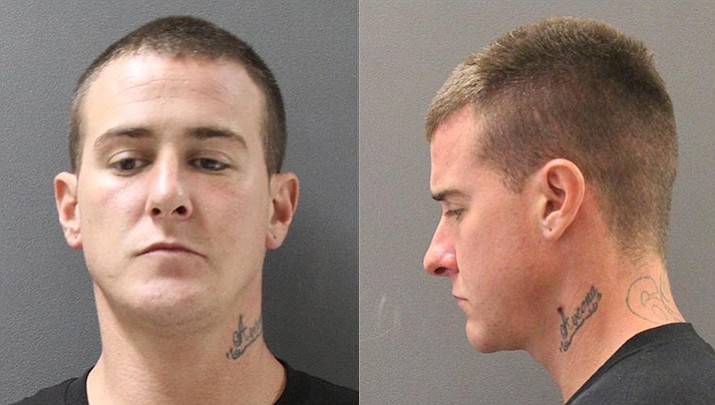 Originally Published: December 8, 2017 2:12 p.m.
BLACK CANYON CITY – Law enforcement is searching for a man who fled after driving the wrong way on I-17 in Black Canyon City Thursday afternoon.
Jonathon Bracher, 26, of Dewey, is also wanted for theft of a firearm in an unrelated Yavapai County Sheriff's Office case.
Just before 4 p.m., a YCSO deputy was driving north on I-17 in Black Canyon City when he saw a gold four-door sedan traveling excessively slow and drifting across the fog line. While following, the deputy saw the driver check his left side mirror and make eye contact with the marked sheriff's vehicle, according to a YCSO news release.
A check of the license place record identified the registered owner as Bracher, who has an active missing person classification. YCSO said the driver matched the description of Bracher. A passenger was also visible.
The deputy initiated a traffic stop on north I-17 at Bumble Bee Road. The car failed to stop and proceeded northwest on Bumble Bee Road. The sedan then gained speed and entered southbound I-17 while driving northbound and passing "Do Not Enter" signs, according to the release.
For safety reasons, the deputy did not follow and issued a law enforcement radio broadcast alerting area patrol vehicles.
A short time later, Arizona Department of Public Safety officers located the suspect vehicle near Bumble Bee Road on I-17 and indicated the driver had fled. The deputy arrived at the location and saw the suspect vehicle backed into the guardrail facing north in the south lane of I-17.
The passenger remained on scene. He was hitchhiker who was picked up earlier in Anthem by the suspect and did not know him otherwise, said YCSO.
Bracher is being sought on endangerment and failure to stop for law enforcement charges. He is also wanted for theft of a firearm on an unrelated case.
He is 6' 02" tall, 170 pounds, with brown hair and eyes and tattoos on the side and back of his neck.
If anyone has information on the whereabouts of Bracher, you are urged to call the Sheriff's Office at 928-771-3260 or Yavapai Silent Witness at 1800-932-3232. A tip to Silent Witness that leads to Bracher's arrest becomes eligible for a cash reward.
More like this story