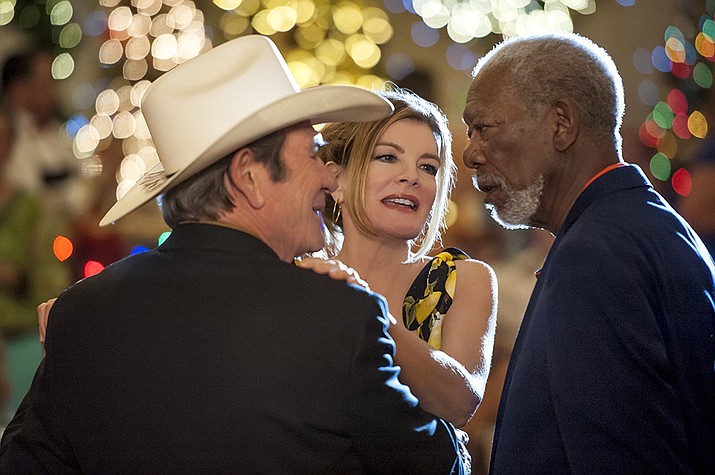 ---
---
Morgan Freeman as Duke, Tommy Lee Jones as Leo and Rene Russo as Suzie star in Just Getting Started, a quasi-comic film that, while not a complete flop, has a bit of entertainment value. But just a bit.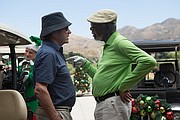 Duke is the manager of a high-tone resort in Palm Springs California. He is known and loved by everybody around him. That includes a bevy of saloon beauties and a group of oddball men as his assistants. Duke is an excellent golfer, poker player, dancer, etc.
Along comes a stranger, Leo. We never know what his resumé shows, but it is obvious that he is set on taking Duke out of his top spot at the resort. He matches Duke's skill at every pastime including chess.
Suzie is a corporate investigator assigned to evaluate Duke's performance and to audit the finances of the business. Leo is immediately and completely smitten with Suzie. Duke finds her attractive also. That conflict leads to a minor conflict in the plot of the film.
Along the way we watch as Duke and Leo compete in various games and their attempt to woo Suzie. Suzie, meanwhile, finds all sorts of questionable expenditures made by Duke. But none of that matters when it becomes clear that there is a plot to kill Duke.
That is revealed when his car is blown up by a planted bomb. It seems he has been in the federal witness protection program. He was a lawyer for a mob and betrayed them when he realized the crimes they were committing.
Leo is a former federal law enforcement officer. His hostility to Duke turns to friendship and he attempts to find the would-be assassin.
Along the way, there is some humor as Duke's cohorts, unaware of the assassination attempt, do silly things and the saloon girls make faces and flip their skirts to show how sexy they are. Some of the interaction between Freeman and Jones is amusing, but not enough.
Most of the attempts at humor here fall flat. There is little originality in the plot or the script. The theme of Just Getting Started is an old one, rivals come together in common cause. A recent example is The Hitman's Bodyguard, from earlier this year!
Just Getting Started is at Harkins Sedona 6 Theater.