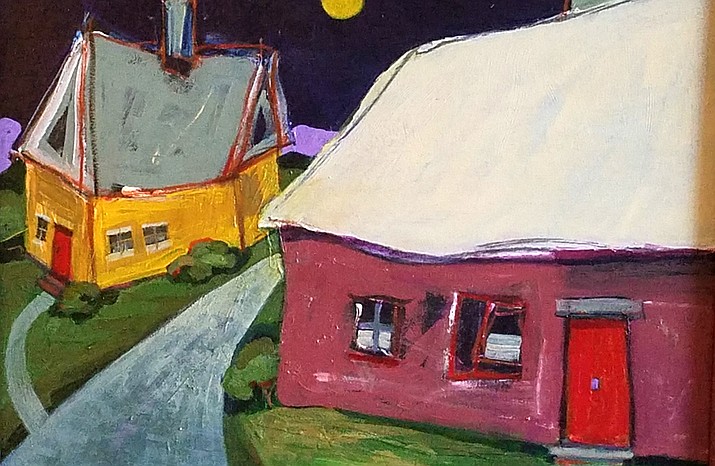 ---
---
We all know that the beginning of every New Year, many of us make New Year's resolutions.

Sometimes these completely replace certain habits with new more useful habits. And some involve keeping parts of the old habitual beliefs and adding or subtracting a word here and there to completely revise the meaning of the belief/habit.

James Ratliff Gallery is pleased to invite the public to enjoy a reception on Friday, Jan. 5 from 5 -8 p.m. both to appreciate the new artworks of gallery artists while Joining Jim and Pat to celebrate Jim's 80th birthday. The address is James Ratliff Gallery, 671 State Route 179, Hillside Sedona, 86336.

James Ratliff Gallery will feature the new art of established artists Cary Henrie and William Crook. Additionally the gallery will exhibit paintings by Marlene Rye whose work, although juried into National shows by esteemed jurors from the Whitney Museum of American Art and the Guggenheim, have not been seen by many in this part of the country.

The paintings in this show are from a series Marlene did based on the way dancers in her studio were moving. These paintings have a sense of lightness, childlike joy and a graceful effervescence about them. According to Marlene, "The world of the child will always belong to children but I invite you to visit it with me anew."
Cary Henrie has always "pushed the envelope" where his own art is concerned. So even though there's been constant evolution within his art, Cary has as his underlying desire to bring a 'window of calm' to people's lives through his work which has, as its basic quality, a classic sensibility.
Cary Henrie has often incorporated the old color palettes, aged qualities and sense of peacefulness into his new works. And most recently Henrie has moved in a completely new direction with bright colors, and a metallic look which gives a sense of being from a contemporary era with more geometric abstraction as well.
William Crook does very whimsical paintings in acrylics. They are always somewhat quirky and whimsical. His houses exhibit decided personality. Crook also paints portraits which can be very intriguing or disconcerting and sometimes "cut to the quick." Crook is an award winning poet as well. Ask for a copy of one of his poems.
Bill was a special ed teacher in a high school for much of his teaching career. To ease the stress of this job, he replaced the daily "old" with something "new" to him. And thus became the start of a very nice art career for Crook during his current retirement.
As we enter 2018 please remember that James Ratliff Gallery provides a service where Jim comes to your home, and working with you, helps you revitalize your home or special room by rearranging your current art/furniture and/or selecting some new art to brighten a particular area to become a focal point or just simply add year round enjoyment. James Ratliff Gallery hopes to see you for this celebratory event.