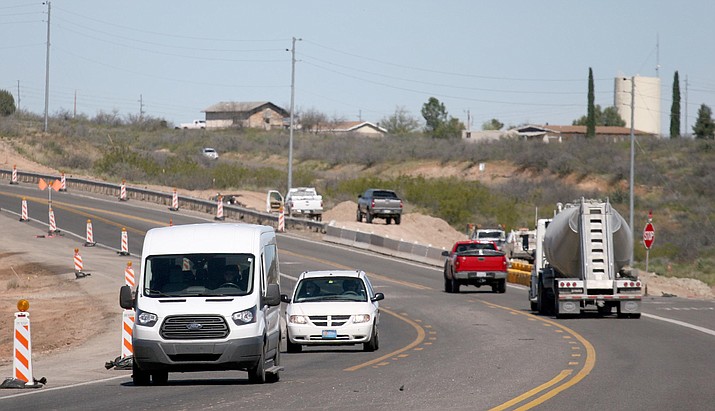 Originally Published: December 26, 2017 2:10 p.m.
CAMP VERDE – Nine miles. Seven roundabouts. At more than $60 million.
And how many years was this in the works?
A few years back, the Verde Valley's communities shook hands on a plan for Arizona Department of Transportation to widen SR 260 from I-17 to Thousand Trails Road. Mostly two lanes, in some places three lanes, the nine-mile stretch of road will be four lanes – two on each side – in another year.
Several months back, ADOT began work on the project and recently released a press release to proclaim it is "on schedule" and that the project is "40-percent complete."
"Come fall 2018, this stretch of SR 260 will be a divided four-lane highway with seven roundabouts at major intersections, improving traffic flow while increasing capacity and safety," the press release states.
With the road widening and safety project, there have been "several development projects that have added more sewer collection lines to new businesses and sleeves installed under SR 260 for future sewer collection lines," says Camp Verde Public Works Director Ron Long.
Though the SR 260 road work is located in Camp Verde, the realignment is "huge for the Verde Valley," says Camp Verde Mayor Charlie German.
The Town of Camp Verde is also "pursuing with the Yavapai Apache Nation a plan to improve old HWY 279 through an industrial area of Camp Verde's business locations," German says.
German also says that the HWY 279 improvement "would also provide alternative access in the event of an emergency on SR 260 that would require an alternative route to avoid the emergency."
At the end of the day, widening and improving the artery between Camp Verde and Cottonwood "sends two messages," says Camp Verde Town Manager Russ Martin.
"One, we want to see quality development and jobs in Camp Verde," Martin says. "And two, we are willing to put the resources in to back that message up."
With a fatality in front of the Wendy's on SR 260 earlier this month, Martin says that "challenges continue to be ensure proper public safety on roads both on 260 and locally."
"Our public safety officers, including Fire and EMS are challenged to keep everyone safe during often chaotic driving conditions," Martin says. "It is an increasingly difficult job for all of them."
-- Follow Bill Helm on Twitter @BillHelm42