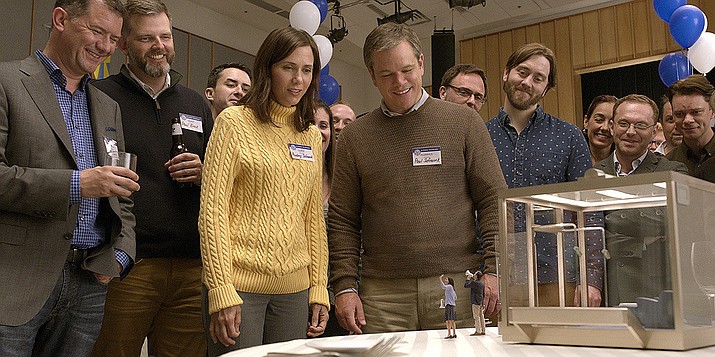 ---
---
Downsizing is a film that uses a sci-fi theme to portray the odyssey of a man who is trying to make more sense of his life.
That life isn't really so bad to begin with, but he wants more.
Paul (Matt Damon) is an occupational therapist, happily married to Audrey (Kristen Wiig), living a middleclass life in Omaha.
Their finances are about adequate, but they want a bigger, nicer house. That's out of the question now, and they feel the frustration.
They learn of a scientific treatment, invented in Norway, that shrinks a human to a size of about 5 inches.
When they attend a seminar about this, they see that there have been many — thousands — of people from all over the world who have subscribed and now live in communities where houses, machines, appliances are built to accommodate the diminished size of the people.
A major benefit is how far their money goes on smaller versions of everything, from doughnuts to diamonds.
A broader, more important benefit is the vastly reduced burden this life style puts on the earth.
That is important because the phenomenon of general pollution is getting close to destroying life on earth.
Paul and Audrey sign on, but Paul ends up doing the process alone.
He gradually blends in with the society of deliriously happy small people.
A neighbor in his apartment complex is always partying and Paul finally meets him to complain about the noise level.
But Dusan (Christoph Waltz) brings Paul into the party circle and they become friends, along with Dusan's friend, author Konrad (Udo Kier).
From there, Paul meets Dusan's housecleaning team, headed by a Vietnamese woman, Ngoc Lan Tran (Hong Chau).
Paul befriends her when he tries to help her with a disabled leg problem.
She is very strong willed and smart.
She and Paul become a couple and when Dusan and Konrad announce they are going to Norway to the origin of the Downsizing process, Ngoc Lan insists on going along.
They meet and merge into the community that started the whole process.
It is a suburban-like village that is along a fjord in northern Norway.
All the people, from many countries, are welcoming and warm.
The scenery here is a special plus for the film.
The waterways and the mountains make a beautiful backdrop for the story.
There is a tunnel from the village that seems to have no end.
They are told it goes to a place where they will be safe from the earth's destruction and it is open to all the downsized people.
Apparently, the apocalypse is near!
The interaction between the small people and the unchanged humans is emphasized in several early scenes.
Later on, after Dusan and Paul meet, there is less and we are in the 5-inch world almost exclusively.
The acting in Downsizing is very good, especially by Matt Damon and Hong Chau (who dominates all her scenes). Some of the activities provide a touch of humor to the film.
The first time Paul attends one of Dusan's wild parties, he is persuaded to take a pill, a narcotic of some kind, and he drifts off into la-la-land. It is a new experience for him.
Downsizing holds our interest as the main characters go through the various trials and events they experience.
Paul learns more about the meaning of life as he passes from one situation to the next.
Downsizing is at the Harkins Sedona 6 Theater.