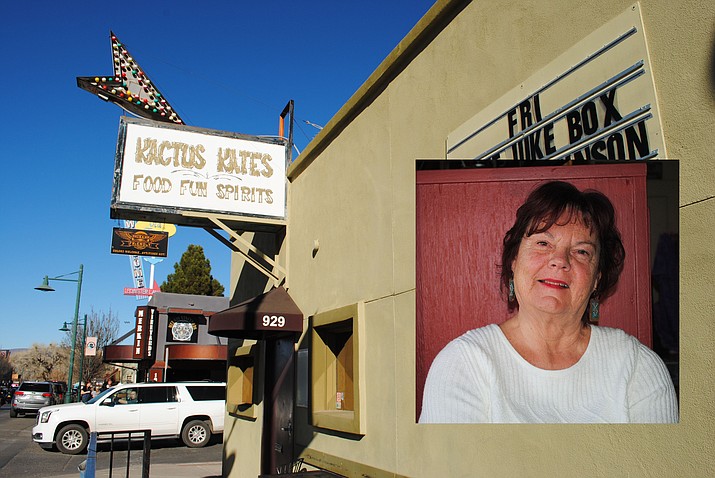 Originally Published: December 28, 2017 12:26 p.m.
COTTONWOOD – Katherine Woods, owner of Kactus Kate's Saloon in Old Town Cottonwood, sat down with us and gave us a glimpse into her life.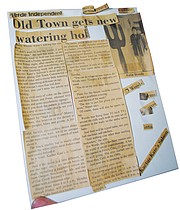 Where are you originally from?
Des Moines, Iowa.
How did you come to be in this area?
Well, I was in Frisco, Colo. at 9,000 feet. And we had 25 feet of snow. I looked out the window and said, "I don't have to be here."
I opened a map, and said, "I've never been in Arizona." Flew into Phoenix. Rented a car. Ended up in Prescott for eight days, and there just wasn't anything there that floated my boat in the beginning. I went over Jerome, came over here, and I just liked the Verde Valley. It was just beautiful. There was hardly anybody here in those days.
What year was this?
It was 1996. And then I bought a house. Went back to Colorado. Moved back here and hung out for like three years. One day I was driving, got to where Circle K is and said "Oh, I wonder what's down there." That was the first time I saw Old Town. And it was completely empty. There were about maybe five businesses here. I started volunteering for the Old Town Association, which was just beginning.
What was Old Town like back then?
Just pretty quiet. A lot of people lived in their buildings. In the olden days, they had living quarters in a lot of the buildings.
You live in Cottonwood now?
I live Bridgeport now, which I found out, after I bought there and went to go vote for the first time, that I lived in the county, and could not vote on the city issues.
Kactus Kate's Saloon used to be called The Buckaroo?
It was. And Buzz Allen had this bar for 35 years, off and on. He was an off and on type of guy. I was delivering newsletters, came in here, and he said "I'm gonna sell you my bar today."
And I go, "I've already had two, and I'm done."
Needless to say, about 4 o'clock in the afternoon, we had a handshake deal. And then it began.
What did you do before Kactus Kate's? You had two other bars?
Yes. I had a bar in Frisco, Colo. in the '70s. And then I ended up on the ocean in Morro Bay, Calif. I loved Morro Bay. We were there for 10 years with a bar there. And then all the money started flowing into California and all the people on the central coast. So, I said "It's time to leave."
Why did you decide to say, 'OK, I'm going to do it a third time?'
Well, I liked the corner. I liked Old Town. It reminded me of our little place in West Des Moines, Iowa which was pretty slow, like this was. They got it started again by galleries and antiques. That was kind of the antique area. Where there were a lot of people in the Midwest, etc., and it just reminded me of that. I actually wanted to do an antique place down here. I can't remember his name, he was a former mayor, and he had a big building down the road, and I was going to do the whole antique thing. And I made the mistake of parking down here one day just to see if anybody ever came to the six stores that were here. And that didn't look so good.
So it had been a bar. He has a lot of history here. And it just kind of had to stay that way. I know a little bit, but what I knew were tourists coming to ski in the mountains, and tourists coming to the ocean... So, we didn't see too many tourists here. And I didn't know a soul. Didn't know anybody. So it's been a pretty good experience, especially in a small town. Because, my other two places had tourists and people, so this has been a long ride.
What's rewarding about having a bar here?
I just think meeting all the different kind of people. I'm a pretty good people person. And I didn't know anybody and I was never in just a plain small town. So that's been an experience, meeting people who never leave their little town. Because I was a 10-year-and-out person. Taste 10 years and then I got the itch. "Gotta go somewhere else." And needless to say, after 20-some years, I'm pretty situated here. And I love the Verde Valley.
Do you ever get a day off?
Only when a take a vacation. I hop a plane, and come back, and go right back to work. But I get enough vacations in that I can handle it.
Where do you like to go?
Belize, every other year, since 2004. And Mexico; my Colorado friends have a nice big house down there. And if I'm on my best behavior, I get invited. My kids live in California, so I got back to California a lot.
What are your hobbies and interests?
Reading. A lot of reading.
What are you reading right now?
James Patterson books, which you can hardly find in paperback anymore. I haven't graduated to the E-reader yet. But I feel it closely in my future.
Anything new for the bar's future? New music?
We started off with Combo Deluxe when they were just starting out in Jerome, way back in '96. And they played here every Thursday for ladies' night for six years. And it was a wonderful thing to meet everybody. Then I went into more music on the weekends. Then we had no music when we had those dead years. Which, there were about three years that were really bad.
What years were those?
I thinking 2008. But they all run together, so that's a guess.
Around the recession?
Yeah, we do good recessions here. So then I didn't have any music, and we did the free jukebox thing, and the free pool thing. We're pretty ensconced right now in the music because the young kids or any of the tourists that stay in our local hotels down here come right over, and look at the board, to see what the music is. And so I said, "Well I guess I'll try two nights and see." So we kind of go back and forth with free jukebox and free music or bands.
Why do you think your bar's so popular and has stayed in business for so long?
I think because I worked it all the time. Mostly, I was kind of a fixture here every day for umpteen years. And that helped because I was young enough to work all the time. Then everything started growing, and we have a really good group of people that come in, from the retirees to the young kids. And of course you have all the restaurants and wine places down here that the young kids like to meet and have fun. And there's a lot of them and they're all good kids and good workers. So we have a pretty good local downtown group.
Are there any challenges in owning a bar?
Every day is a challenge. Because no day is ever the same in this town. Ever. [pauses] Ever. Ever. And it's still like that; whatever years I have in. Up. Down. Up. Down. With my other two bars, we were busy Monday through Friday and then we had tourists. We had a construction thing going on in both states. There were people that made money and also wanted to work. You know, so it's a big difference here. And has been. That's been my big surprise. That and keeping a good staff.
What advice would you give someone who wants to be a bar owner?
Don't. [pauses] It's just a lot of hard work. Very hard work and you really have to pay attention to every day. Because it's different every day. It's a hard job. But once you get in it, you're pretty much obsessed.
And believe me, people want to open bars all the time. I have people talking to me all the time, and I go, "Are you nuts?!" That's what I say.
What's next for you? Do you want to open an antique store later on?
No. No. I'm growing out of the antique stage and becoming one myself. So I don't need to have any furniture to remind me. [laughs] But I have a lot of antiques everywhere. I got grounded from it because they're all packed away.
But I feel that I should be retired, but I don't feel that I'm going to be because I've worked so much that - I can't read every day. You know what I'm saying? I just like it here so that's really the only decision I've made is that I'm going to stay in the Verde Valley.
And I love the weather. Once you get over the intense heat. But we always cool down. So it's a good thing.
So no retirement in sight for you yet?
No. I don't think so.
Do you have any family here in the Verde Valley?
No. My kids live in California. I took them there when they were in fifth and sixth grade. They're California kids and they are used to the world over there. And that's about it.
So I would say, no I do not.
But everybody is my relative here. Believe me. In one way or the other. [laughs]
Related Stories