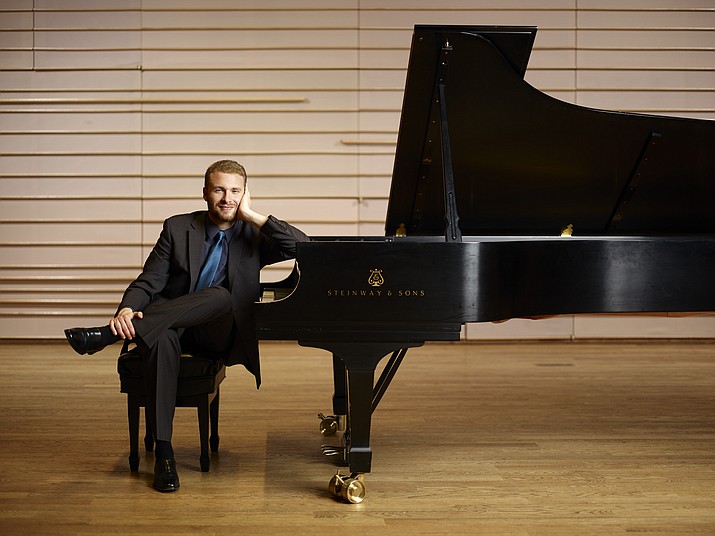 ---
---
The fifth Sedona Winter Music Festival will take place Wednesday, Jan. 10 through Sunday, Jan. 14 featuring four of this generations most respected artists performing nearly a dozen activities including the 2:30 p.m. concert finale at the Sedona Performing Arts Center. The Festival concert is made possible with support from Birgit Loewenstein in memory of Werner Loewenstein, and Ann and John Steinbrenner.
"We're really excited to return to Sedona for our fifth festival," said clarinetist and co-artistic director Alexander Fiterstein who recently accepted the post as Coordinator of Winds at the prestigious Peabody Conservatory – a faculty filled with renowned artists and brilliant teachers including Grammy and Pulitzer Prize winners, MacArthur and Guggenheim fellows, Avery Fisher award recipients, performers, scholars, and leaders at the top of their fields.
"The festival is something we look forward to each January when Alex and I collaborate with CMS artistic director Bert Harclerode to bring great music to Sedona," reflected co-artistic director and cellist Nicholas Canellakis who recently made his Carnegie Hall debut as soloist with the American Symphony Orchestra. He is a graduate of the Curtis Institute of Music and New England Conservatory, where his teachers included Peter Wiley and Paul Katz. Mr. Canellakis is on the faculty of the Brooklyn College Conservatory of Music.
"Alex and I are very excited to announce that violinist Arnaud Sussmann will be returning to the series, and we are delighted that pianist Adam Golka will be anchoring the series of concerts with us. Both men are brilliant artists, human beings and most importantly friends," said Canellakis.
The second of five truly world-class concerts in Chamber Music Sedona's 35th Anniversary Season and the first of two community residencies, the residency begins Wednesday, 4 p.m. at the Mary D. Fisher Theatre in partnership with the Sedona Film Festival when the Festival presents "Music of Strangers," the Grammy-nominated documentary that follows Yo-Yo Ma and the Silk Road Ensemble, as they gather in locations across the world, exploring the ways art can both preserve traditions and shape cultural evolution. "Music is more relevant than many might think," said Canellakis. "Yo-Yo was my inspiration for beginning cello studies and this film provides important messages particularly in our day and age."
Thursday and Friday the Festival Quartet will perform three Concerts for Youth in Sedona public schools. "Our objective is to build audiences for the future," according to CMS artistic director Bert Harclerode, now in his 25th year of service. "We've presented Concerts for Youth each year of my tenure, and with each concert we make life-long impressions on Sedona youth. Personally – the fringe benefits of presenting and hosting these concerts is deep. Frequently an individual in their early 20s will recognize me, and will ask if I'm a teacher or another community leader. It is at that point that I ask where they went to school when they recognize me for the concert series. A truly heartwarming experience!"
Thursday at 5:30 p.m. the Festival Quartet will perform a Salon Musicale – an intimate evening of music-making at a beautiful private home set among Sedona's red rocks in the Village of Oak Creek. "This is always a fun evening for us, and a wonderful way to meet patrons," reflected Arnaud Sussmann who first performed for Chamber Music Sedona with the Chamber Music Society of Lincoln Center, and later as a member of the SWMF 2015 artist roster. Arizona wines, non-alcoholic beverages and appetizers will be served. The evening comes to a close with hot beverages and chocolates. Tickets must be purchased on-line and the evening sells out early.
Saturday from 9:30-10:30 a.m. a free Open-Rehearsal will take place in the music rehearsal room at Red Rock High School adjacent to the Sedona Performing Arts Center (SPAC). Open to the public, and the first segment of the Musical Explorations and Discoveries (MEAD) young musicians training program, the rehearsal gives music lovers a first-hand glimpse of how chamber music is rehearsed and performed. "We expect nearly thirty young musicians from around central-northern Arizona to participate ranging in age from 13-19 who will be participating in the Arizona Regional Auditions in preparation for the Arizona Honor Orchestra and Band program," said Harclerode. The MEAD program will include individual coaching, master classes, ensemble coaching and to a degree individual private lessons. Registration for the program is required and application forms and information is available at www.ChamberMusicSedona.org.
Sunday at 2:30 p.m. at SPAC the Festival comes to a close when the Festival Quartet performs its program Triumvirate. "Patrons will want to attend the concert to understand our musical concepts," said Canellakis. "We'll perform Ludwig van Beethoven's Trio, Op. 11, for Clarinet, Cello and Piano; Paul Schoenfield's Trio for Clarinet, Violin, and Piano; and the concert comes to a close with Antonin Dvoák's Trio in F minor, Op. 65, for Piano, Violin, and Cello. Alex, Arnaud and I are delighted that Adam Golka will be at the keyboard – he's one of the most engaging and exciting pianists today," added Canellakis. Immediately after the program and on-stage the traditional "Conversations with Bert" will take place when all four musicians will join in for an engaging, uninhibited and candid conversation. For complete information visit www.ChamberMusicSedona.org or call 928-204-2415. The season continues Feb. 4 with the Zukerman Trio, March 11 with the Dublin Guitar Quartet, and the final residency with the Faure Piano Quartet of Germany April 5-8.
Chamber Music Sedona's 35th Anniversary Season is made possible in part by the Arizona Commission on the Arts which receives support from the State of Arizona and the National Endowment for the Arts, the City of Sedona, and the Arizona Community Foundation of Sedona.