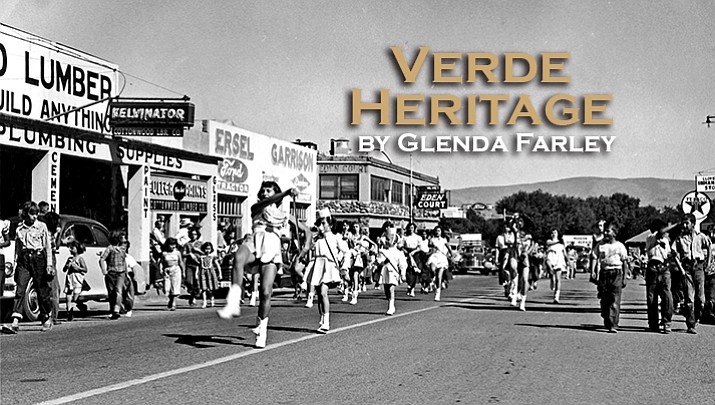 Originally Published: December 29, 2017 12:57 p.m.
"The New York Boys arrived in Jerome late in the 1870's. They were A. W. Whitaker, Jim Kennedy, and William Richards, who came west to grow up with the country. Their camp was brought from Prescott over the trail, their hauling being done by Tom Sanders. They were all workers. There was nothing of the tenderfoot about any of these men who prospected in the Black Hills. The lure of gold gripped them and then worked on and on. Finally they located a promising prospect, the Mescal group, which later came into possession of the United Verde Company through George Hull, to whom they sold their holdings."
"'Old Man Whitaker' today tells stories of the past, of those first few years in the district. He tells them with real enjoyment and best of all, he loves to describe his last interview with F. F. Thomas, who was superintendent of the United Verde when it closed down after a period that bordered on financial failure, before it came into the control of Senator Clark" [during 1888].
"Thomas in a discussion relative to the future of the camp, emphatically declared that there would never be another Jerome. He confidently drew Whitaker aside and advised him to leave. 'The camp is dead,' he asserted. Whitaker, who was the first man to put a pick in the Glory Hole, was closely associated with many of the best remembered pioneers."
"There was Captain [John] Boyd, said to be the first white man to enter the country and one of the locators of the United Verde. Captain Boyd disappeared for a time after he concluded his mining operations, and came back years later for a short time. There were rumors that he had been engaged in writing an historical sketch of Jerome, but there is no record of such a book. The captain died in the Pioneer Home."
"Another one of those old timers, Mr. Whitaker recalls, was a man by the name of [Lucius Marcus] Olden, who 30 years ago, with Whitaker and [William "Bill" W.] Nichols, located the Dundee. Olden also located a claim 6 miles below Camp Verde and worked it in a mild sort of a way. It is now known as the Squaw Peak, and Olden is said to have refused an offer of $25,000 for the prospect, firm in his belief that he had a big mine. Late one afternoon as he made his way over the precipitous bluff from Jerome to his camp, he fell. The accident [on February 1, 1905,] proved fatal and there were not enough funds in the bank to Olden's credit to pay for his burial."
"George Hull, who was stricken in the court house of Prescott a short time ago when giving testimony in a civil case brought by the Hull Copper Company, was one of those early prospectors who left a large estate. Hull had a little store in Aultman [beginning in 1875], then he was attracted to Jerome by the mining activities. He took up practically all the claims surrounding the original group of the United Verde property. He sold many claims to the big copper company, and others he located later were taken over by the United Verde Extension Company, and still others he held. He put thousands in the ground and took out many thousands more."
"Mr. and Mrs. Ed. Kurmeier have probably played hosts to more distinguished guests than any other residents of the state. The Kurmeiers managed the Montana, the company's hotel, until it burned to the ground, and the habit of hospitality was so strong that when they were established in their home on the hill they made a point of entertaining Jerome's guests. Whenever Senator Clark is in camp he is to be found at the Kurmeiers' although he has apartments in the modern office building of the United Verde Copper Company. Mr. Kurmeier is president of the Business Men's Association, and his wife is an active club woman."
"John L. Sullivan's hobby is work. The man who staked out claims in the Black Hills in the early days and later netted a neat fortune from his realty holdings, hopes to work until the last day of his life. At first he labored that he might give his children an education, and the boy was sent to Georgetown and the girl to Mt. St. Mary's and both did their father credit. Sullivan by that time, had the habit, and now, when he can, he refuses to take life comfortably. He is doing his part toward making Jerome a billion dollar mining camp. He is the liveliest live-wire in his quiet little way. He has been instrumental in organizing many of the new companies in which he has great faith."
"The big boss of the United Verde mine is Carlos Miramos. Miramos, who has charge of the change room, bosses every miner on the place, and he does not stop at the miners. If, by chance, any of the office staff or the prominent officials cross his path, they in turn are bossed. For Miramos, in point of years connection with the mine, is the oldest employee. For 31 years he has worked for the corporation in one capacity or another. His ambition is to remain with it until he dies. He is now 67 years old, and is the recognized father of the community. To him come the Mexican maids and youths with their joys and sorrows, their good times and bad. It is his advise they follow in all their affairs, whether of love or speculation."
"Old Nels Olson is working for a stake. Old Nels, who was 77 years old on Monday, needs a bit more cash to develop his property, 6 miles from Jerome below the Copper Chief, so that he works day by day in the big change room of the United Verde. The old soldier from Denmark, at 77, is the youngest of them all in his enthusiasm. Suppose he did lose thousands in mines in the other mining camps, he doesn't see any reason for 'feeling right bad about it now.' His bright eyes flash with optimism as he discusses his prospect in the hills. In 1869 he mined in California and later went to Nevada. Still later he tried his luck in the mining districts in Arizona, in Tombstone, then Ray and Kelvin, where he dropped something like $5,000."
"Joe Larson is the kind of man pioneers like to see in the mining district. Larson has made good, and everyone in the camp is delighted at his success. He has sold the best new properties and cleaned up a neat fortune that was coming to him, according to all accounts. Larson worked with his hands. He carried mortar, he did any odd job that turned up, and every cent he earned went into his claim. He virtually drove a 500-foot tunnel himself, for he wanted to be able to bring the good men to look over his property. The development work was there and it was done by the master workman owner."
"Clarence V. Hopkins, chief engineer of the United Verde Copper mine, and the youngest man in Senator Clark's employ at the head of a department, has built a model of the mine which is cased in the general office of the company in Jerome. It is a remarkable piece of engineering and shows the entire workings of the mine. Mr. Hopkins has been connected with the United Verde for 13 years, and was engineer in charge when the 6,592-foot tunnel was constructed."
"The people who pass in the streets of Jerome are not all mine owners, mine promoters, or miners. A familiar figure in the district is T. A. Riordan, a millionaire lumberman of Flagstaff, who recently has passed considerable time in the busy little camp. Rumor has it that he has speculated heavily in stocks, and it is of course no secret that he is a large stockholder in the Green Monster. Mr. Riordan denies that his presence in the district last week was for any purpose other than rest. He stated that he came down solely to relax, to pass a few days in a different climate, a different atmosphere. He enjoyed shooting quail in the valley and golfing at the Clarkdale Country Club with Tom Taylor, manager of the United Verde smelter."
"Pat Callahan, a shift boss of the United Verde, has much to say in regard to the high cost of living. Although he has no fault to find with the wage scale, he declares it is simply impossible to live as well now, when he is making double the salary he used to receive, as he did a few years ago. 'How can I marry,' quoth he. 'I don't know what the wife would do. I spend with one hand what I make with the other. What do I do with the money? Why I speculate, of course.' And so Callahan speaks for every miner in camp. They all speculate. That is where the money goes that used to be spent on drinking and gambling."
(Arizona Republican; Phoenix; December 15, 1916; page 8.)
See: The Verde Independent; "1916: SQUAW PEAK & L. M. OLDEN;" December, 2016