Originally Published: December 30, 2017 12:40 p.m.
Bowl games ring in the new year
On Monday New Year's Day bowl games return and there's plenty of appetizers before the main course.
At 10 a.m. Michigan faces South Carolina in the Outback Bowl on ESPN2. Then at 11 a.m. the Citrus Bowl on ABC features No. 17 LSU and No. 14 Notre Dame.
At 3 p.m. the College Football Playoff begins when No. 2 Oklahoma and No. 3 Georgia play in the Rose Bowl on ESPN.
Then No. 1 Clemson and No. 4 Alabama play again, this time in the Sugar Bowl at 6:45 p.m. on ESPN. They have played in the young CFP three times, with the Tigers winning last year.
Alabama head coach Nick Saban is 10-2 against team he lost to the previous season since taking over the Crimson Tide in 2007.
New York rivals battle in NHL Winter Classic
If football or at least the Outback and Citrus bowls aren't your cup of tea or you just want to see the spectacle of the Winter Classic, it returns again.
The New York Rangers face the Buffalo Sabres in the 2018 Winter Classic, this time at Citi Field in New York City, home of the Mets. The New York state rivals face off at 11 a.m. on NBC.
The forecast as of press time was partly cloudy with a high of 26 and a low of 19.
It is the sixth Winter Classic to be held in a baseball stadium, following Wrigley Field in Chicago (2009), Fenway Park in Boston (2010), Citizens Bank Park in Philadelphia (2012), Nationals Park in Washington (2015) and Busch Stadium in St. Louis (2017).
Marauders, Cowboys return to action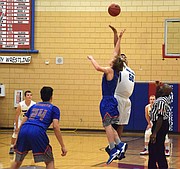 On Friday high school sports starts up again in Verde Valley.
The action kicks off when Mingus Union boys soccer hosts Lee Williams at 5 p.m. With an 0-1 region record, it is an important game for the Marauders, who haven't played since December 18, when they lost 2-0 at Mohave.
At 6 p.m. No. 6 Camp Verde girls basketball hosts No. 8 Glendale Prep as the battle for region supremacy begins. Then at 7:30 p.m., the resurgent Camp Verde boys host No. 21 Glendale Prep. The Cowboys are ranked No. 33 as a press time.
Tar Heels face Cavaliers
With the calendar changing to January, it's time for college basketball to heat up.
No. 9 Virginia hosts No. 13 North Carolina in the game of the week at 11 a.m. on Saturday on ESPN.
NFL Wild Card Weekend kicks off
With New Year's Eve landing on a Sunday, the NFL opted not to have a Sunday night game this week and they don't have Monday night games in Week 17, but the Wild Card Weekend is coming up.
On Saturday ABC and NBC will each broadcast a game from the Wild Card round. Game times and match ups won't be released until later in the week.
So far two AFC Wild Card game participants have been set, AFC South champions the Jacksonville Jaguars and AFC West champs the Kansas City Chiefs.
Jacksonville fans are so excited that the Jags felt compelled to remove the tarps covering up seats they normally can't sell. They sold out in 5 minutes.