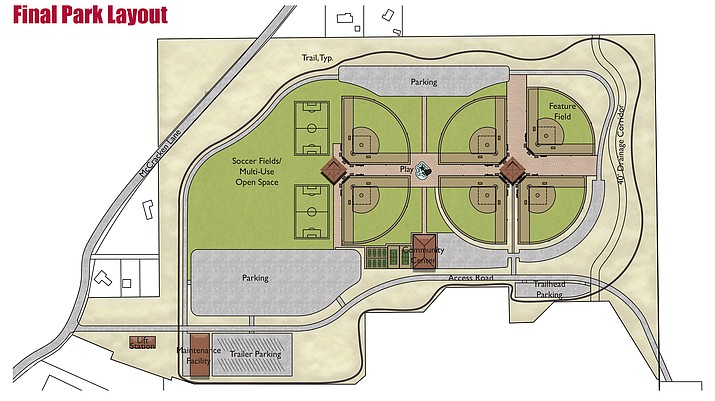 Originally Published: December 30, 2017 1:32 p.m.
CAMP VERDE – First you name it, then you build it.
In July, the Camp Verde Town Council decided that the planned 110-acre uber-complex off SR 260 and McCracken Lane would be known as the Camp Verde Sports Complex.
Earlier this month, after months of planning and design meetings, a master design and construction plan for the new park's grading, drainage, infrastructure and storm water was completed, says Mike Marshall, Parks and Recreation Division Manager.
Council approved funding for the park's construction, which is expected to begin in early 2018.
Design work for construction plans on the park's ballfields, ramadas, lights, play grounds and other amenities is also expected to begin in 2018, Marshall says.
"This promises to bring even more work for us and the rest of Public Works, but we are all excited by the opportunities presented," Marshall says.
Parks and Recreation endeavors to hold Camp Verde Little League baseball games in the new Sports Complex by spring 2019.
This year, Parks and Recreation Coordinator Shawna Figy earned her certification as both an Aquatic Facility Operator and as a Certified Youth Sports Administrator.
Along with other continuing education and professional development of department staff, the additional training "helps ensure that our programs meet national standards and allow us to improve our level of service to Camp Verde residents," Marshall says.
Figy, who was hired mid-year in 2016, "has allowed us to greatly improve both the quantity and quality of all our services," Marshall says.
In 2017, Parks and Recreation sought to both maintain and improve its existing programs for youth, adults and seniors, such as Grasshopper Basketball, adult volleyball, adult softball and pickleball, as well as bus trips to see the Arizona Diamondbacks and various Friday day trips.
And with end-of-year celebrations such as the Halloween Spooktacular, Christmas Craft Bazaar and Parade of Lights, Parks & Recreation staff remained "committed to doing our best to maximize the recreation opportunities for Camp Verde residents."
-- Follow Bill Helm on Twitter @BillHelm42