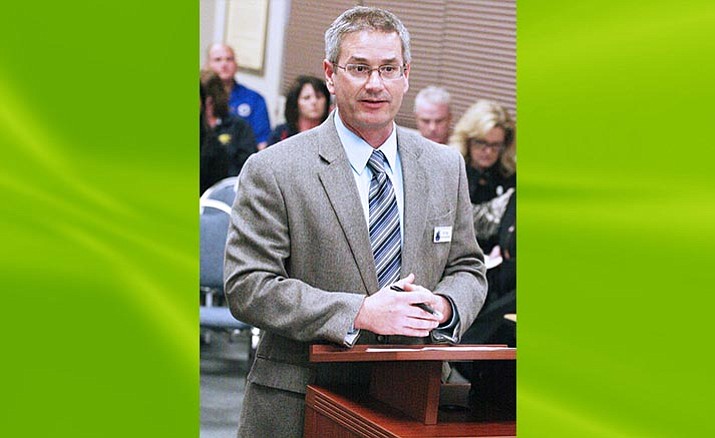 Originally Published: February 9, 2017 12:46 p.m.
COTTONWOOD – What goes on in executive session will stay in executive session.
By law.
Discussions behind closed doors between the Cottonwood-Oak Creek School District's governing board members and Assistant Superintendent Steve King were held Tuesday to negotiate a contract for school year 2017-2018 with King, who would officially become the district's next superintendent.
But King, who would replace Barb U'Ren as the district's leader, has not yet signed a contract.
"We decided to wait until the board's next meeting on March 7," King said. "We're still working on the details."
Those details – all contract details – will also be resolved in executive session, King said.
King called Tuesday's session with the board "great, very friendly, very positive."
"It was very encouraging," King said. "I'll come back with what I'm looking for in a contract. I'm new to this whole thing, a contract negotiation."
King said he "look[s] forward to getting everything finalized for next year, get everything in writing" at the district governing board's March 7 regular meeting.
"I'm not concerned at all. This district has always treated me right," King said.
One think that King was able to clarify is that Tuesday's discussions had nothing to do with recent efforts by Andy Groseta to see a merger of the Clarkdale-Jerome and Cottonwood-Oak Creek school districts with the Mingus Union High School District.
The former president of the Mingus Union High School Board of Education, Groseta recently stated in a Verde Independent commentary that "now is the perfect time to revisit this issue, because all three school districts are in the process of hiring three new superintendents."
With Scott Jacobson's resignation from Clarkdale-Jerome on Oct. 28, former CJSD superintendent Kathleen Fleenor was asked by the board to serve as interim superintendent.
On Jan. 11, the Mingus Union school board placed interim superintendent Eric Harmon on home assignment for 30 days, and began to search for his interim replacement. With the Jan. 24 decision to bring in Dr. Jack Keegan as interim superintendent, the Mingus Union board also announced four finalists to interview to become district superintendent.
-- Follow Bill Helm on Twitter @BillHelm42 and on Facebook at @CampVerdeBugle