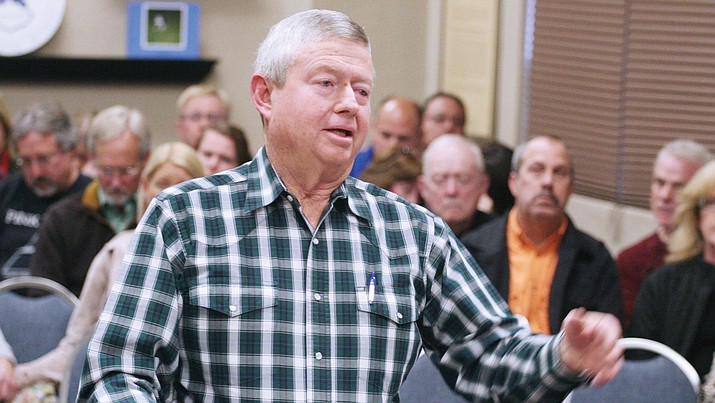 Originally Published: February 9, 2017 1:02 p.m.
COTTONWOOD – At this point, any suggestion that Cottonwood-Oak Creek, Clarkdale-Jerome and Mingus Union school districts will unite into one big district would be akin to planning a marriage without the benefit of a first date.
But that doesn't mean that talks aren't taking place. In fact, they're taking place out in the open.
Tuesday at Cottonwood-Oak Creek Unified School District's monthly meeting, Andy Groseta spoke in public forum of his interest in seeing the three districts join as one.
Citing a "substantial savings in the range of $1 million to $1.25 million," the former president of the Mingus Union High School Board of Education also said that "consistent management" and "alignment of curriculum" would prove beneficial.
"This is something that as community leaders, we want to put out there," Groseta told the COCSD governing board Tuesday.
In an email to Verde Valley Newspapers before Tuesday's meeting, Groseta stated that there are "several community leaders" involved in the effort to see the three school districts join as one.
"You will be seeing who they are as we proceed," Groseta stated. "At this time, I do not want to offer any names. A few of them have already written 'My Turn' articles" for the Verde Independent.
Since Groseta's published commentary on Jan. 27, retired COCSD Superintendent Julie Larson and current COCSD governing board President Jason Finger each have written opinion pieces in support of uniting the districts.
Does the recent talk mean that a marriage could happen? There's no way of knowing just yet. But according to Yavapai County School Superintendent Tim Carter, "this issue comes up every few years."
"I believe that some people see the fact that Clarkdale-Jerome, COCSD and Mingus are all in some state of change with their superintendent," Carter said. "Which might help the possibility to some degree."
Merger – unification – consolidation
If the three districts united as one, which would it be, a merger, unification or consolidation?
"In general, a consolidation occurs when two or more school districts with a coterminous (having the same border or covering the same area) boundary merge together," Carter said.
Carter also said that should the K-8 Cottonwood-Oak Creek district and the Mingus Union High School District – grades 9 through 12 – decide to become one district, then that would be a consolidation and a unification.
Unification, Carter said, can happen one of two ways. Either an elementary school district (K-8) expands its program to offer K-12, or an elementary school district can join with a union high school district (9-12) to form a new unified district (K-12).
Dollars and sense
Consolidating the three district's administrative teams, Groseta stated in his commentary, would result in only having one superintendent and not three separate ones.
"The consolidated district could have one human resource director, one business manager, one transportation department, one curriculum director, instead of having three of each as we do today," Groseta stated. Which factored in with savings on school insurance, classroom supplies etc. could result in "huge discounts and savings to the school district and ultimately the tax payers."
Though Clarkdale-Jerome School District's Kathleen Fleenor said that equalizing salaries "would cost districts more funds than are currently allowed by Arizona Department of Education funding."
Further, Fleenor, interim superintendent at CJSD, does not agree with Groseta's assertion that there would be a savings in administrator costs.
"A larger district would require more administrative support so what would be saved having one superintendent would be spent on additional district support," Fleenor said.
Fleenor also said that Clarkdale-Jerome would lose "all Title VII funds and our Small School funding."
"We use these funds to help our students with achievement," Fleenor said.
If combining districts were what's best for the students, money concerns should not get in the way of what's best for children, Finger said in his Feb. 8 commentary in the Verde Independent.
"I do believe that there are areas where money would be saved, but ultimately, even if it does not save a penny, I think it is worth it," Finger stated. "Aligning curriculum, programs, policies and calendars for our students should be a given and not something that we should have to fight over. Have we become too complacent in just accepting that the current system is the way that it is, instead of fighting for something better?"
Considering all the angles
According to Carter, a marriage of the districts could also affect the uber-district's joint technology district – Valley Academy for Career and Technical Education.
The career and technical education program – also known as V'ACTE – is a "separate and distinct joint technology district approved by voters that provides CTE courses to the local high schools," Carter said.
Carter said he is "not aware" of a unification or consolidation that "ever took place of JTED member districts."
Each of the five V'ACTE board members represent the geographical area of a member school district," Carter said.
"For example, a board member from Clarkdale-Jerome School District represents the exact same voters as the V'ACTE board member from the Clarkdale-Jerome School District represents," Carter said. "If any of those districts consolidated, that would directly impact their governance structure."
At this time, V'ACTE Superintendent Bob Weir said he is "watching the progress of it and will continue to look into the board structure issues."
To join – or not to join?
According to Fleenor, each town and each district has its own culture.
It's one reason why Fleenor – who left her 11-month retirement from CJSD to fill in while the district seeks a permanent superintendent – is not in support of the suggested change.
"One of the wonderful things about Arizona is that our various cultures are honored," Fleenor said. "I respect others opinions and their right to voice their opinions. However, the various districts have spent many years demonstrating that such a merger would be costly. To bring salaries to and equal level would cost districts more funds than are currently allowed by ADE funding."
Mingus Union High School District governing board President Anita Glazar said that in her 30-plus years serving the district, the "issue of consolidation has been researched, studied, debated and put forward in elections."
And she still appreciates the multiple district model.  
"Each district gains knowledge from partner districts," Glazar said. "Working together has never been a problem, as all of the local districts share a common goal – best education for every student. Always."
But Glazar's fellow board member Jim Ledbetter said that "anytime there's an opportunity to save money and consolidate services, I'm all for it."
Though Ledbetter acknowledged that "each district has different priorities, no issues are insurmountable."
-- Follow Bill Helm on Twitter @BillHelm42 and on Facebook at @CampVerdeBugle