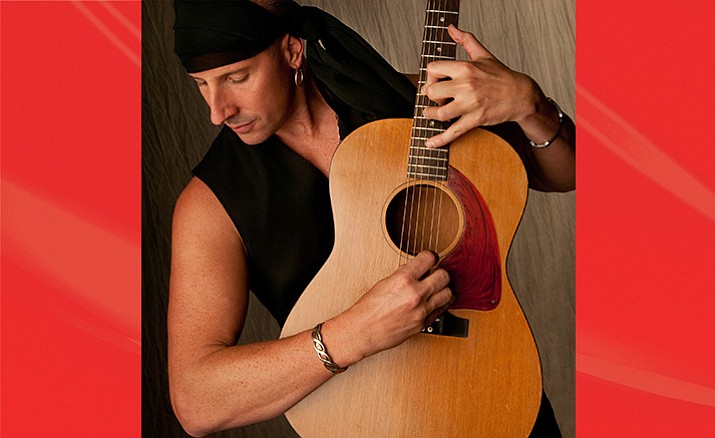 ---
---
Legends of Guitar is a tribute show to famous guitar players and their music. This Friday, Feb. 17 at 7 p.m. this show features world renowned guitar virtuoso Anthony Mazzella who plays it all live at Sound Bites Grill in uptown Sedona. Legendary guitarists whose music is featured in the show are Jimi Hendrix, Eric Clapton, Carlos Santana, Jimi Page (Led Zeppelin), The Edge (U2), Pete Townsend (The Who), David Gilmour (Pink Floyd), George Harrison (The Beatles), Dave Murray (Iron Maiden), Stevie Ray Vaughan, Segovia and more.
Legends of Guitar reaches a very broad audience given the diversity of artists it pays tribute to. People love guitar music and are fanatical about the bands they play in. This show features the technical skills of the greatest guitarists and the music from some of the biggest bands.
One thing is for certain, Mazzella is highly aware of the seductive relationship between the guitarist, his instrument, and its hypnotic effect upon the audience: "When I play, my guitar becomes an extension of my body. My movements during an epic song are a sensual visual, no doubt. I feel like a guitarist has to be passionate about playing, because it is the hardest instrument to play well." Mazzella should know. His skill ea
sily matches the legends he pays tribute to like Carlos Santana, U2's "The Edge," and David Gilmour of Pink Floyd - and like all the greats, he has labored since childhood to master his craft. The guitarist's storytelling is equally engaging. Ever wonder how a musician of this caliber got his original inspiration? As a boy, Mazzella's ear tuned out vocalists altogether. "I only listened to the guitar parts on my records. I often had no idea what the singer was singing about. Guitarists are the mad-scientist composers of the band, the rest of the band just kind of falls in behind them." From The Who's Pete Townsend to Led Zeppelin's Jimmy Page, Mazzella saw his destiny in his rock idols.
You might be surprised that his first group was a heavy-metal Iron Maiden cover band. Yes, you might get a taste of Iron Maiden, flamenco-style that is, but you'll also hear jaw-dropping renditions of Jimi Hendrix' like All Along the Watchtower and Little Wing, and classic tunes from Stevie Ray Vaughn, The Beatles, and Chris Isaak. The show lasts about an hour and a half and you may call 928-282-2713 for tickets and dinner reservations.
Saturday Night Feb. 18 at 7:30 p.m. it is a good time to recall the good old days of Sock Hops and Soda Shops with Juke Boxes playing 45 Records. Tom Tayback and the Daddy O's will guide you on a trip down Memory Lane with tributes to Rock 'n' Roll legends like Elvis Presley, Bill Haley, Chuck Berry, Jerry Lee Lewis, Buddy Holly, Ritchie Valens, The Big Bopper, Little Richard, The Coasters, Fats Domino, Sam the Sham and more. Times were never better and the music was never better. You can remember when at this 50s and 60s Graffiti Gold Show.
Reminiscent of the old Supper Club days, this dinner concert features a three course meal option, followed by a 90 minute Stroll Down Memory Lane with Tom Tayback and the Daddy O's... If you're a fan of the golden oldies from the 50s and 60s, you'll love this genuinely authentic blast from the past. Get nostalgic and leave your cares at home, because the memories of those good old days will fly unchecked as you relive a time when music refused to let you sit still.
With an acting background in Hollywood movies and TV, and as the multi-award winning anchor of 780 KAZM's morning show "The DUO" in Sedona, Tom Tayback brings seasoned presence to his performances. This Graffiti Gold Show is reminiscent of American Bandstand and Alan Freed's traveling Rock n' Roll Caravan. It's always a great time to live, a great time to remember. Tom Tayback and the Daddy O's will be your tour guides on this trip down memory lane.
Reservations and tickets for either show may be purchased at SoundBitesGrill.com or by calling 928-282-2713 Sound Bites Grill is an entertainment restaurant located at the Hyatt Pinon Pointe Shops in uptown Sedona. They are open lunch and dinner daily from 11:30 a.m. – 9 p.m. and Friday and Saturday nights until 10 p.m. serving the entire dinner menu until closing. Best place to enjoy dinner and nightlife in one place.