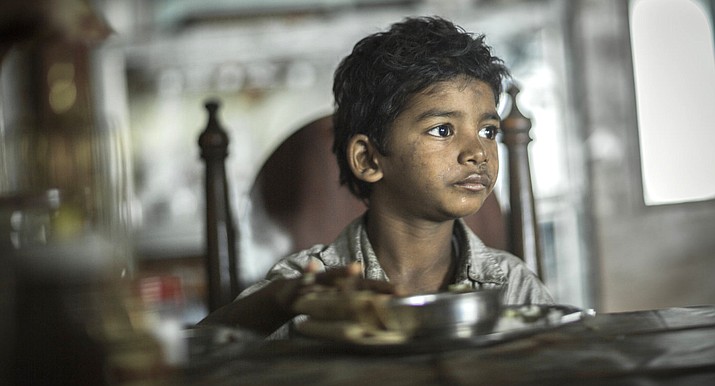 ---
---
Lion is the true story of a boy in India who undergoes various episodes that threaten his well-being or even his life.
His name is Saroo and he is 5 years old in the 1980s. He lives in a slum area in a hovel for a home, with his mother, a younger sister and an older brother.
His brother, Guddu, is a young teenager who is very devoted to the family and is especially close to Saroo.
Guddu and Saroo help out by swiping coal from a freight train and trading it for some milk for the family. Saroo's mother, Mum, collects rocks for pennies to feed the family.
Guddu gets an opportunity to earn a little money, but he has to be away for a few days. Saroo goes with him, but they get separated and Saroo climbs aboard a train to find a corner where he can sleep.
The train, tagged as 'decommissioned,' starts moving and Saroo is transported far across the subcontinent of India to Calcutta, some thousand miles from home.
In Calcutta, Saroo has no idea where he is and he cannot speak the language.
He tumbles from one perilous situation to another until he finds a foundling home where the treatment is more humane. There is emphasis on discipline and obedience, but without cruelty.
The film, up to this point is extremely well presented.
Saroo is silent much of the time, due to the language problem and because he does not want to say a wrong thing to authorities that are always present and listening. The visual aspect of the movie here is authentic and awesome as we see hordes of humanity crowded into every square foot of space. People — men, women, children and animals — living in the streets, scrounging for food from garbage containers.
Saroo is then adopted by a prosperous Australian couple, the Brierleys (Nicole Kidman and David Wenham), who seem very nice and kind and caring — and they are.
They raise Saroo to manhood and he becomes educated and assimilated into the Australian way of life.
He grows to love his step-parents, but the memory of his biological family always occupies a corner of his mind. Saroo registers in a college class to study for a career.
He becomes adept at using a computer and he is suddenly impelled to use it to locate the family he lost 25 years earlier. He has never been able to properly remember the name of the village he came from.
While he is struggling for the answer, he becomes obsessed and it causes estrangement from his girlfriend, Lucy (Rooney Mara), and even the Brierleys. He spends all his time, using his computer, trying to unravel the mystery about where he came from and where his original family can be found.
Saroo is played by a young Indian lad (Sunny Pawar) who was selected from a very large pool of candidates. He did not speak English when he started the film. His performance, as he dodges several dangerous encounters in Calcutta, is outstanding and will require some tissues to get through. Dev Patel plays the adult Saroo and he is also excellent.

The cinematography displays some very beautiful vistas in India and Australia to contrast against the squalor that so many Indian citizens inhabit. At the closing credits, photos of the real characters are shown as the Indian and Australian families get together. It is a touching scene, appropriate for a heartwarming true story.
Lion was shown at the Mary D Fisher Theater and it is expected to be available on TV streaming services in March.