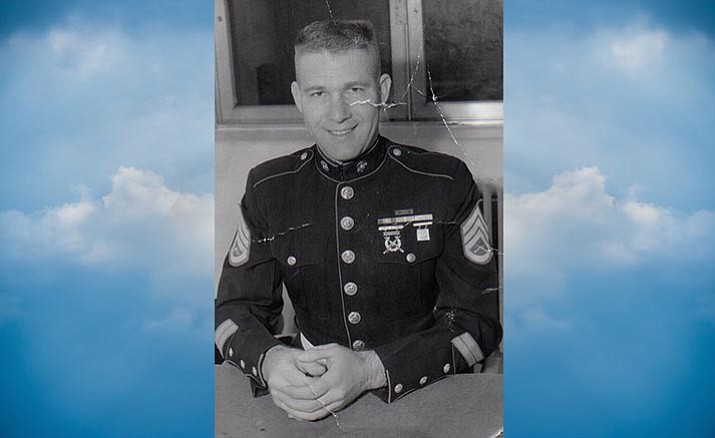 Originally Published: February 16, 2017 1:32 p.m.
Bobby Ray Stanfill, 83, of Cottonwood passed away Saturday, February 11, 2017. He was born September 16, 1933 in Enville, Tennessee.
He served his country in both Korea and Vietnam, obtaining the rank of Gunnery Sergeant.
Mr. Stanfill worked as a Glendale Police Officer, a security guard, a seasonal National Park ranger and did maintenance for Circle W rentals.
He was an avid reader who loved westerns and antiques.
He will be remembered as a Marine through and through who loved and took care of his family. A generous man, always willing to put others needs before his own; A man of great integrity who treated everyone with respect. He had a positive impact on the lives of everyone who knew him. He was preceded in death by his wife Mary Evelyn Stanfill and his mother Willie Stanfill.
His survivors include sons Thomas Wamsley of Cottonwood and Rodney Wamsley of Jacksboro, Tennessee; daughters Zana Lauer of Mt. Juliet, Tennessee, Rebecca Shumway of Prescott Valley, AZ, Laura Wamsley of Cottonwood, AZ; two brothers, Lea Stahr (Raquel) of Huntley, Illinois and Jerry Stahr (Judy) of Hoffman Estates, Illinois; a sister Wanda Brooks of Ellensboro, North Carolina; twelve grandchildren; fifteen great-grandchildren and one great-great-grandchild.
Private family services will be held.
Contributions may be made to Valley View Care, 195 N. Willard St., Cottonwood, AZ 86326
An online guestbook is available to sign at www.westcottfuneralhome.com.
Information provided by survivors.
More like this story