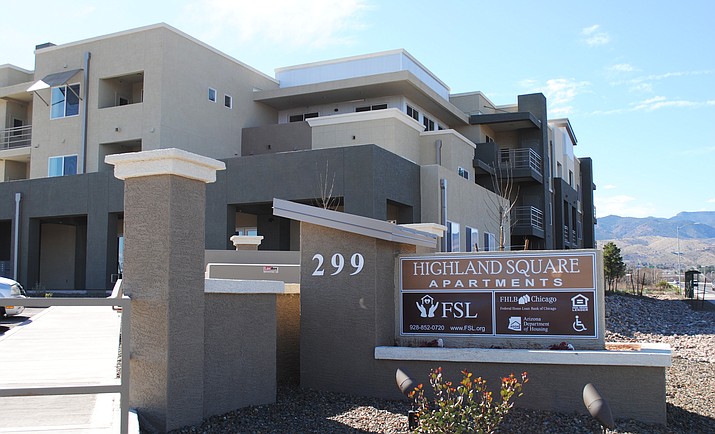 Originally Published: February 16, 2017 1:57 p.m.
COTTONWOOD – The 60-unit Highland Square senior apartment complex opened its doors to residents Feb. 8 after months of delay.
The three-story subsidized housing project was built for low-income seniors (age 62 or older) and those with disabilities. It offers both one- and two-bedroom apartments, and is located at 532 W. Mingus Ave.
Highland Square, which is managed by Guardian Management LLC, is a property under the Rural Development program.
The project was included among qualifying tax credit programs of the Arizona Department of Housing for 2014. The Highland Square development is one of 14-statewide projects to be included on the 2014 Low Income Housing Tax Credit Reservation list.
Community Manager Lisa Hinojosa for Guardian said Rural Development was the cause of the delay.
USDA's Rural Development program requires "lengthy and rigorous procedures," explained Debbie Engen, Senior Living Director of Operations for Guardian.
Everyone who applied to live at Highland Square had to be certified and provide all kinds of documentation to USDA proving eligibility, she said.
Paperwork prolonged the process further. Engen said the paperwork for Rural Development was only good for so long, and was originally gathered for an October 2016 opening.
Some residents were mistakenly moved in during October, said Engen, and the process had to come to a halt.
Other residents were expecting the apartments to be available by December 2016.
In February, Guardian had redo all of the paperwork.
"We're whipping through it as quick as we can," said Engen.
About 15 residents have moved in since opening day, she added. All apartments are currently leased, and there is a wait list that extends one year out.
"Everybody had a place to go," said Hinojosa, when asked about the residents who were planning to move in December.
More like this story