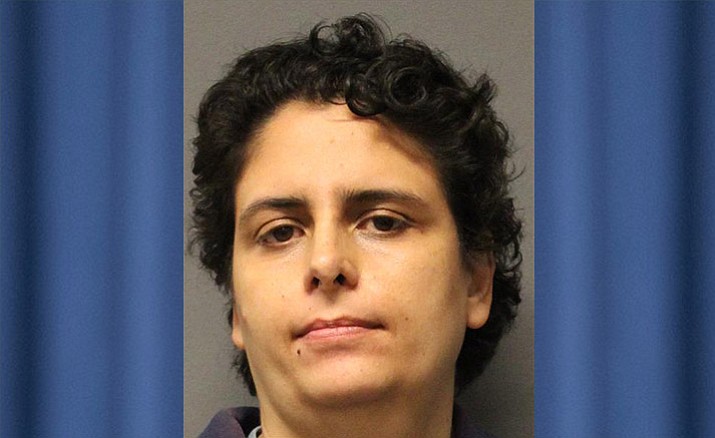 Originally Published: February 22, 2017 3:22 p.m.
VILLAGE OF OAK CREEK – Christina Rodriguez, a 42-year-old caregiver of Village of Oak Creek, was arrested after the Yavapai County Sheriff's office confirmed her as a suspect accused of stealing more than $100,000 from an elderly Sedona woman.
A family member of the legally blind 89-year-old victim contacted the Yavapai County Sheriff's Office last month to report concerns of caregiver theft. The caller indicated it appeared more than $100,000 had been stolen from the victim, according to a news release from YCSO.

After a deputy interviewed the victim and documented the allegations, the case was assigned to a YCSO detective, who confirmed Rodriguez used several of the victim's credit cards for personal gain, stated the release.
"A review of bank records, receipts, and details from the victim and other witnesses revealed nearly $190,000 in fraudulent, unauthorized charges by Rodriguez on the victim's credit card accounts between January 2014 and December 2016," said Media Relations Coordinator Dwight D'Evelyn of YCSO.
All the purchases were above and beyond what Rodriquez was paid as a caregiver, stated the release, and not for the benefit of the victim.
"Because the victim is legally blind, she needed her caregiver to pay bills and review financial documents. When the victim's family eventually discovered the unauthorized charges, they and Adult Elder Care personnel confronted Rodriguez and she resigned," said D'Evelyn.
YCSO said some of the unauthorized charges by Rodriguez documented during the investigation include $35,000 for the purchase of cameras, I-phones, drones, printers, computers, and flat screen televisions from an online retailer, according to the release, as well as a $20,000 charge from a local electronics retailer.
Additionally, Rodriguez spent $38,000 of victim's money to pay on her (Rodriguez's) personal credit card, $5,000 on a stereo system for her personal vehicle, and $8,000 for Apple Computers, stated the release.
YCSO said Rodriguez also wrote several thousand dollars on the victim's checking account payable to herself as cash.
The detective documented purchases by Rodriguez at gas stations, restaurants, building supply stores, retail stores, print and frame shops, furniture stores and retail shops all around the Phoenix area.
"In mid-2016, Rodriguez was able to convince the victim to sign over Power of Attorney for all financial and medical matters while continuing to misuse her authority until finally resigning," said D'Evelyn.

When interviewed, Rodriguez minimized the amount of loss and claimed the victim told her to spend the money or suggested it was payment for the extra hours she worked, stated the release.
Feb. 16, detectives served a search warrant at Rodriguez's Village of Oak Creek home and recovered thousands of dollars in stolen property, including cash and several high-end cameras and computers, said YCSO.
A search warrant was also served on storage units belonging to Rodriguez, stated the release, where additional stolen property was recovered including numerous empty boxes for electronics and smart phones. Those items are still being sought.

Rodriguez was arrested and booked at the Camp Verde Detention Center on charges including theft, fraudulent schemes, credit card fraud, unlawful use of power of attorney, and identity theft. She has since been released on a $20,000 bond, said D'Evelyn.
"This story should be a reminder to families who employ caretakers for their elderly loved ones that it is critical to closely monitor the condition of those under care and conduct frequent reviews of all finances. It is always recommended to restrict caretaker access to any accounts and financial records of the person being cared for – remove such documents and other valuables from the home to avoid such concern," said D'Evelyn.

FROM AARP: Here are six tips to guard against theft:
Use a reputable caregiving agency. Ask your hospital or doctor for home care agency recommendations. Make sure the agency is properly bonded, licensed, insured and accredited. Interview the agency's supervisor, find out how long the aide has worked for the agency and talk to any family that previously employed her. Always keep the lines of communication open with the agency.

Find out what actions an agency will take if there is a theft. Will the agency take full responsibility for any theft? Will it call the police to investigate? In order to file a successful claim for reimbursement with the agency's insurer, a theft must be reported to the police, and local authorities must interview your loved one. That could be emotionally difficult for everyone involved.

Be cautious about hiring an aide on your own. It may be cheaper hiring an aide independently, but you should inquire about the aide's background, talk to previous employers and pay a reputable firm to do a criminal background check if you decide to take this route. Make sure the aide is a U.S. citizen or legal resident, and pay the employer's portion of Social Security to be on the up and up.

Keep an inventory of valuables in the home. Compile a list and take pictures to document your parent's valuables, put them under lock and key, or remove them from the home. Don't forget about hidden jewelry or valuables, and think about removing any valuable memorabilia displayed in the house. There's no need to put temptation in front of anyone.

Don't invite petty theft. Your parent should keep only a small amount of cash at home. Don't leave money in obvious places, such as the nightstand next to the bed. Make sure your loved one keeps any checkbook, ATM and credit cards, and computer passwords in a secure place.

Watch your parent's bank account and credit card charges. Make sure a family member receives duplicate bank statements and credit card bills — or better yet, has online access to our loved one's accounts so financial transactions can be monitored. Look for unusual spending: a bank account that is suddenly bleeding cash, checks made out for cash, or unusual credit card transactions. There are plenty of stories about aides getting a power of attorney, putting their names on bank accounts or receiving expensive gifts from their ailing charge. Don't let this happen to your loved one.