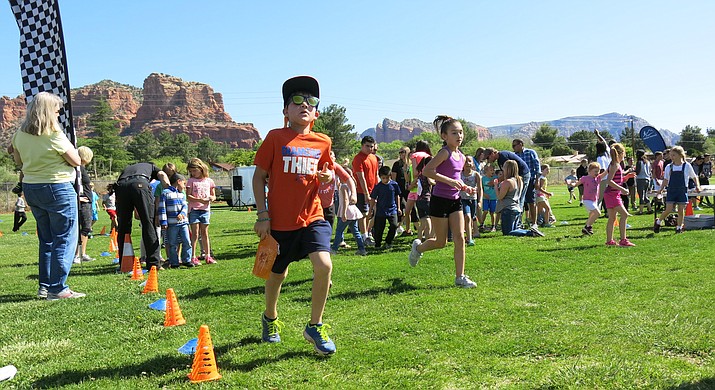 Wednesday, May 10, at 9 a.m., Big Park students, staff and parents, along with community members, will come together on campus to participate in our 2017 Big Park Community School Fun Run.
Fun Run participants will raise money for Big Park Community School by seeking monetary pledges in early May. On Fun Run day, runners will earn their pledges by completing laps on our school course.
In addition to raising funds through pledge support, Big Park is now seeking event sponsors. Our fundraising goal is $20,000 and, once again, we are thrilled and honored to have the Village of Oak Creek community join us in meeting this goal. 100 percent of event proceeds will be used at Big Park Community School, and will support our efforts to provide students with a world-class education, right here in the Village of Oak Creek.
The Big Park Community School Fun Run is much more than a "fun run." Big Park is taking first steps toward becoming an International Baccalaureate (IB) School and students will re-visit each of the IB Learner Profile Attributes as part of the multi-day program.

These qualities, outlined below, are a cornerstone of the IB program, and aim to develop students who embody these attributes and are therefore able to make exceptional contributions on campus and in the world.
Sponsorship Opportunities: Platinum, Gold, Silver or Bronze?! Sponsorship levels start at just $50 and offer a variety of fantastic opportunities for promoting your business or organization leading up to and at the event. This publicity ranges from mention in the school newsletter, local newspapers and event website, up to receiving your own event banner that will be displayed at Big Park Community School from the April 28th Pep Rally through the Fun Run.
Please visit www.bigparkfunrun.com to learn more about sponsorship opportunities.

To sponsor the event, simply pay online, or complete the sponsorship form and drop it off, with payment, at Big Park's front office, or mail to:
Big Park PTSA
25 W. Saddlehorn Road
Sedona, AZ 86351
The deadline for Big Park Community School Fun Run sponsorship is March 20, 2017.

You don't have to be a sponsor to support this event. We also need event volunteers and people to come out to the Fun Run on May 10.
Please contact info@bigparkptsa.com for further information.