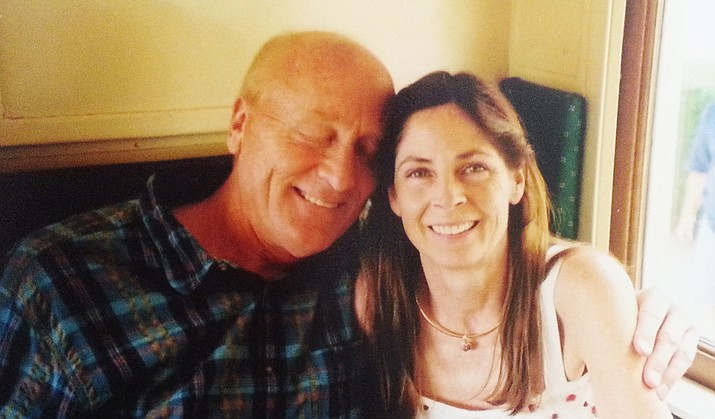 Dr. Jeff Miller, born and raised in Lancaster, Pennsylvania, said, "I don't have a bucket list. Since the age of 12, I've pretty much done everything I wanted to do." After graduating high school Jeff went on to flunk out of college. Not that he couldn't handle school ... let's just say his focus was on almost anything other than his studies (he prefers to not go into detail).
Due to his love for speed and thrill seeking, Jeff got into motorcycles about that time. Deciding he'd rather travel on his bike than waste his life in college, Jeff wandered across the U.S. and Canada, working a variety of jobs including the oil fields in the northwest corner of Alaska and a carnival in Canada. He said the carnies ware a pretty tough group and made the oil workers seem like they were soft.
Finding his way back to college, Jeff got his BA in Biology and began teaching. After only a couple years he felt the wanderlust and left to go live in a tent with the love of his life.
Dana and Jeff were together for 41 years, marrying three months after they met. He could never understand what she saw in him and was continually in awe of her. Dana was Jeff's world until she passed from cancer in 2015. She was intelligent, articulate, funny, artistic, classy, stunningly beautiful, lit up the room when she entered and yet was so down to earth.
When he talks about her, Jeff's face simultaneously lights up and saddens and his eyes fill with love and tears, "Dana was the person everyone wanted to know and every man wanted to be with. And for whatever reason, she picked me."
During the year in the tent, Jeff got his real estate license, but struggled with the ethics he saw in the business. He quit, telling Dana, "I'm not changing them; they're changing me." He began substitute teaching while working full time sorting potatoes in a potato barn.
After several more years of full-time teaching, Jeff pursued a lifetime dream and applied to medical school ... then went to truck driving school for the summer.
"I wasn't going to teach anymore. If I didn't get into medical school I needed something else to do."
He started medical school that fall, eventually graduating and working in Colorado (his favorite), Florida, Pennsylvania, Alaska and Arizona. He currently works at the Ft. Mojave Indian Tribe Health Clinic in Ft. Mojave, primarily caring for impoverished people who live on the reservation. He also volunteers locally with Verde Valley Caregivers and his church, VOC Nazarene.
Jeff's faith in God is the driving force of his life. In his 20's he turned his life over to Jesus and has been happy with that decision ever since.
But he said Dana's death caused him to get closer to God and increased his faith and his commitment. He said his passion is for "people to know that Jesus is Lord and makes a difference."
Jim Cunningham, Jr. is a pastor, husband, father, lover of people, friend, neighbor, counselor, teacher, book collector, and jack-of-all-trades. Meet him here each month to become acquainted with yet another Village resident.
More like this story