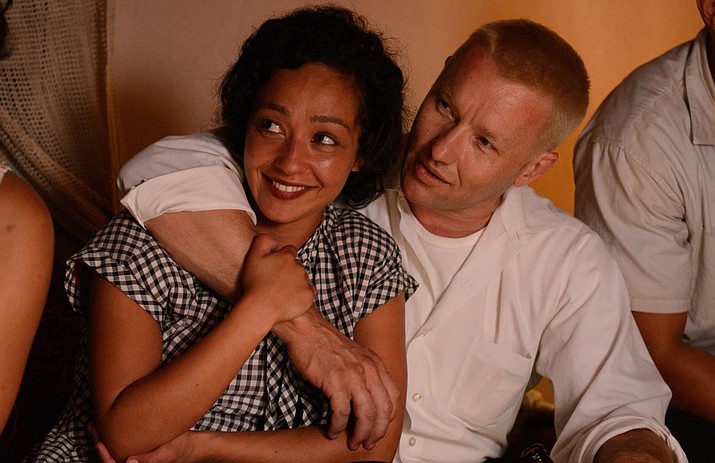 ---
---
I loved this movie. I hated this movie.
I loved it because it is a powerful exposé of a major problem in America — now and historically — and how slowly that is changing.
I hated it because it was so painful to see how a couple, a pair of honest, law abiding, hard-working, kind citizens were persecuted, 'lawfully,' because they did not adhere to the racial standards of their state, one of the United States of America.
Richard Loving is a talented worker in Virginia in the 1950's. He works as a mason, building homes and offices, and he sidelines as an auto mechanic.
Richard is strong, quiet and unassuming. He lives with his mother, who is a midwife for women of the underclass in their community. Richard and Mildred share a love that completely defines their world. When Mildred tells Richard she is pregnant, he is overcome with joy.
Of course, marriage is the next step and a happy one for them. Mildred is a black girl; Richard is a white man. So what! Here's what — in Virginia, at that time, interracial marriage is against the law. There is nobody among their families or friends who are not happy for the couple.
The state police are not interested and show how much they are not pleased. Richard and his wife are jailed. They hire a lawyer to plead their case in court.
In court, the judge is unsympathetic and tells the couple they must dissolve the marriage or leave the state. If they refuse, they will be sentenced to 25 years in prison. Each of them may return to Virginia to work or visit family, but they cannot be there at the same time. Over a period of about ten years, Richard and Mildred raise three children. Their filial attachment and devotion keeps them going, but they miss their real home and the closeness of family. Their case is reactivated, and eventually heard in the United States Supreme Court. They win, not only for themselves, but for all couples who were similarly persecuted. In the film, Joel Edgerton as Richard, and Ruth Negga (Oscar nominated) as Mildred bring the story of the Lovings into our hearts with quiet dignity and their desire to keep the family together above all considerations.
Richard stoically bears the torment of the pain being brought to his beloved wife and family. Not so, Mildred.
She writes a letter to the U.S. Attorney General, Robert Kennedy, and that starts the decade long struggle to secure their constitutional rights. Loving is a film that should be widely viewed. It is a fine piece of cinema art, and a look into the darkness of the civil right battle in the '50s and the '60s, a battle not yet fully won. Loving is scheduled to play at the Mary D Fisher Theater in Sedona at various times from March 3rd to the 9th.