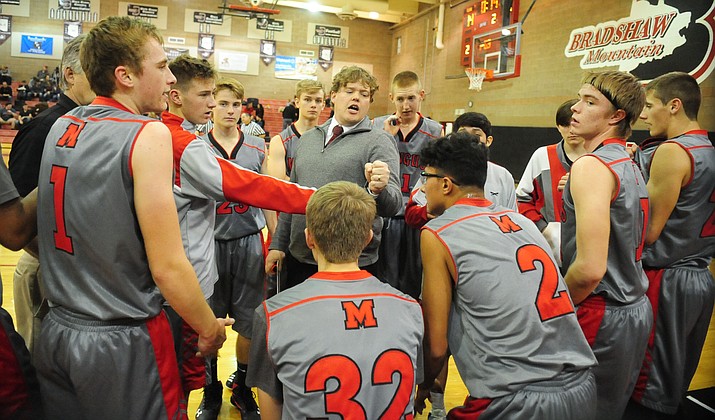 Originally Published: January 3, 2017 12:04 p.m.
COTTONWOOD – According to David Beery, Flagstaff High School is the "bully of the region."
"They've had really good teams the past few years," the Mingus Union High School boys basketball coach says. "So we've got to come out and compete, and not be intimidated."
Back at full strength with the recent return of senior guard Issac Escalante and junior forward Michael Bryan, Beery says his squad now has "enough talent" to compete with the school's regional rival.
"We need to be motivated, be competitors," Beery says. "We can compete with anybody."
Struggling to find their mojo much of this season, Mingus lost its first game of the Dec. 27-29 Sabino Holiday Tournament.
Staring down at the wrong end of a 4-win 10-loss record, Marauders head coach David Beery had a short talk with his squad following Tuesday's 67-64 loss against American Leadership Academy. Beery offered two simple questions.
"Who are we?" he asked. "And who do we want to be?"
Though much of the roster – including Beery – were either sick, getting sick, or recovering from being sick, Mingus was sick of losing.
The Marauders' next loss was two days – and five games later, as the marauders finished the tournament within 16 points of the championship.
With wins Wednesday against both Canyon del Oro (74-61) and Sabino (58-56), Mingus moved to the championship round where the marauders defeated Westwood (62-61) in the quarterfinals and Buckeye Union (78-69) in the semifinals.
Only Tucson Sahuaro High School stood in Mingus' way of a near-.500 record.
"The kids were exhausted," Berry said following the three-day competition at Sabino High School. "They had to play back-to-back" the final two games. "And Sahuaro is a class team. But we competed in every possession."
Ahead 13-12 after the championship game's first period, Mingus surrendered 19 unanswered points and went into halftime down 31-13 to Sahuaro.
"The guys were stunned," Beery said. "We played an awful second quarter. But I told them to just come out one possession at a time, that you can't hit a 17-point basket."
Despite a 25-19 third quarter run, Mingus was not able to get any closer despite the aggressive play of Escalante and Bryan back in the lineup.
"We played with a lot more energy, we played harder," Beery says.
Escalante played five of the tournament's six games, and averaged 15.6 points per game, including 27 against Buckeye Union.
Bryan, who played all six games, averaged 10.2 points per game, including 15 against American Leadership Academy in his first game back.
Beery says that Bryan "likes to score."
"When he's on the court," he looks to put the ball in the bucket," Beery says. "He's an energy player."
Mingus, now 8-11, hosts Flagstaff High School at 7 p.m. Jan. 6, then hosts Lee Williams High School at 7 p.m. Tuesday, Jan. 10.
-- Follow Bill Helm on Twitter @BillHelm42 and on Facebook at @CampVerdeBugle