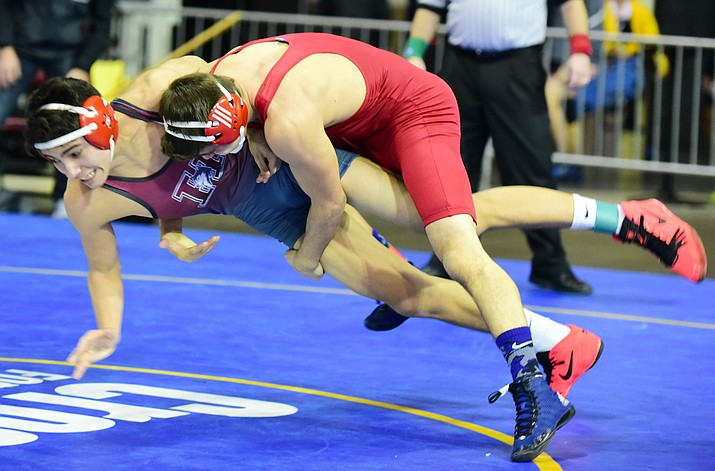 Originally Published: January 5, 2017 2:08 p.m.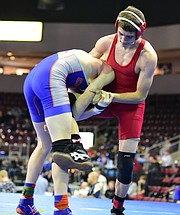 PRESCOTT – Facing off against some of the wrestling elite from Arizona and Colorado, Mingus Union 145-pounder Lucas Svoboda claimed the tournament championship in the Mile High Tourney at the Prescott Events Center.
Svoboda, who entered the two-day tourney as the No. 2 seed, was a perfect 4-0 in the two-day tourney. He won the tournament championship match with a 16-6 majority decision over Alexander Lutz of Horizon High School. In the process, he improved his seasonal win-loss record to 26-4.
In addition to Svoboda's impressive performance, Mingus entered the second day of competition with five wrestlers in competition; two in the semifinals and three in the consolation bracket.  
"After the first round," said Mingus Coach Kirk Waddle, "we only had two left, one going for 3rd and one going for 1st. Sophomore Trent Miller (138 pounds) took third and had to win a four-period overtime match in the consolation final.  
Junior Lucas Svoboda won all of his matches to win the championship at 145 pounds.  Both Miller and Svoboda were seeded number 2 in their respective brackets.
"Placing at this tournament makes a big statement because of the level of competition," continued Waddle. "The schools ranged from the large 5A schools to 3A schools.  I was very pleased to see six of the Mingus wrestlers win matches in this level of tournament.  All of them have worked extremely hard and I am proud of each of them."
Mingus Union Individual Performances
Mile High Tournament: Prescott Valley Events Center
Name Win Loss
106 Braden Arnold 0 2
113 Forfeit
120 Forfeit
126 Nick Lodico 0 2
132 MichaelThurman 0 2
138 Trent Miller 4 1
145 Lucas Svoboda 4 0
152 Nick Doerksen 2 2
160 Cody Wager 0 2
170 Zach Moreno 2 2
182 Charles Hardy 2 2
195 Ryan Griffin 1 2
220 Forfeit
285 Forfeit