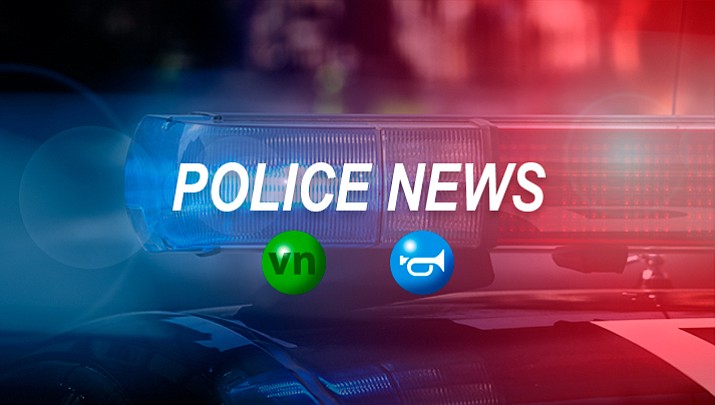 Originally Published: January 6, 2017 7 p.m.
May
Genaro Soto and Anthony Villalobos were arrested after a motorist told Yavapai County sheriff's deputies "he thought they were going to kill him" after allegedly firing a gun at his van and shattering the windshield. A fire raged on I-17, emergency were dispatched to milepost 280 for a fire in a pick-up truck pulling a 40' camper trailer. Jack Rider III was found guilty of killing a woman in Camp Verde almost decade ago. A head-on collision shut down traffic through Oak Creek Canyon and four are sent to hospital - two with serious injuries. The body of missing hiker Debra Schwartz was located in a slot canyon in Oak Creek Canyon. A man was impaled by a fence post during a crash; the driver was arrested for DUI. Cottonwood police arrested a kidnapping suspect in Anthem. Actress Vanessa Hudgens was ordered to pay $1,000 in restitution for carving a heart into a red rock wall during a trip to Sedona. A pilot escaped injury after he forgot to lower the landing gear on his Mooney M-20G aircraft. ADOT statistics showed that May is the most dangerous month for young drivers. A new trial was sought for Jack Rider. The Cottonwood Police Department announced "Neighborhood Officer Program." A motorcycle rider suffered head injuries from a crash. An online sex sting case headed back to Yavapai County for trial. Joshuah Whitley, charged with child molestation, says no to a plea deal and requested new attorney; the judge denied his request. A man was rescued after being trapped in a wrecked vehicle for three days on Mingus Mountain. Nearly two years after a 40-year-old Yavapai-Apache man was killed and dismembered, two of the three men arrested have pleaded guilty to lesser charges in the death of Dwayne Beauty. Two Cottonwood officers are injured during arrest of local man.
June
Motor vehicle crash deaths were up 15 percent statewide, according to ADOT. A wildland fire burned 1.8 acres in Page Springs. Three teenagers escaped injury after rolling a car on Sycamore Canyon Road. A wildfire burned on Mingus Mountain. A Rimrock man was arrested after threatening a sheriff's deputy with knife. Wade Dickinson received six more years in prison for his jail escape. A Camp Verde drug bust turned up five pounds of meth. Residents expressed frustration over Forest Service burn policies. SR 89 was closed due to the Tenderfoot Fire that had reached 1,237 acres. The two young men accused of firing a BB-gun at vehicle windows go to court. Jonathan Hodgson is accused of cutting officers with a knife during arrest. Two women suspected in trailhead burglaries are sought by police. The Cottonwood Chamber of Commerce and the City of Cottonwood held a community forum on Homelessness and Panhandling. One person died, five others were injured in a 10-vehicle crash on I-17. Two people are shot during an apparent family dispute in Lake Montezuma, leaving one dead. Sedona's Midgley Bridge is the site of yet another suicide. A 50-year-old woman suffered injuries after falling approximately 100-feet downhill while hiking Maxwell Trail in West Clear Creek. Sheriff's Office believes the shooting at Rimrock may have been a case of self-defense. The Sheriff's Office asked the public for help in identifying the second suspect in the Trailhead burglary case, and makes an arrest; Meissa Lynn Lomeli and Cory Lynn White were both in custody.
July
Sedona discussed a Midgley Bridge suicide prevention barrier plan. A report of a para-glider "down" sent emergency crews scrambling. Jack Rider was sentenced for a flat 18 years for drowning a woman. Cottonwood police arrested Nevada resident Clark Reber for luring minors for sex and drug possession. Jeremiah Gaver was declared mentally competent and returned to trial court. Mario Chagolla Jr. of Camp Verde was sentenced to an 11-year prison term after pleading guilty to voluntary manslaughter in the killing, dismemberment and burning of a victim. A human skull was found by three teenagers at Camp Verde's Black Bridge. Yavapai County toped the state in search-and-rescue. The Point Wildfire near Sedona/VOC expanded to 190 acres. A Cottonwood woman was arrested after her two young children ate some marijuana-laced candy. Johnathan Hodgson pleaded not guilty to charges stemming from a knife attack on police. Jeremiah Gaver demanded a new attorney, and the request was granted. Midgley Bridge got the OK for a suicide barrier, with ADOT taking action. A driver crashed her vehicle through the wall of the Plaza Bonita Mexican Restaurant and a vacant storefront. Missing hikers and dogs are found five miles from Bull Pen. The Camp Verde Maverik store was the victim of an armed robbery. The Coconino County Sheriff's Office Search and Rescue unit recovered the body of a 63-year-old Cornville resident who died while mountain biking a trail in Fry Canyon, just north of the Oak Creek Vista of SR 89A. Cottonwood Police arrest 24-year-old transient Harley Kipena II, on numerous charges of sexual exploitation of a minor after hundreds of pornographic photographs and videos were found on his phone.
August
An I-17 hit-and-run claims life of a man near Camp Verde. A rollover crash on I-17 sends eight people to the hospital. The 18-year-olds charged in the April Bb-gun car shooting pleaded guilty to three felony charges. Tanner Lee Parsons was sentenced to 25 years for numerous crimes; he had pleaded guilty to more than 28 felony charges against 10 victims. A fatality was confirmed in an aircraft crash just south of Forest Highlands, just above Oak Creek Canyon. An infant was found in a roadway at 2 a.m. wrapped in a blanket. A fire in Verde Lakes left one unidentified person dead and a home completely destroyed. DPS identified the man killed in a hit and run accident whose body was found off Interstate-17 July 31. A Jerome man was indicted for cattle rustling. An accident involving a YCSO deputy closes SR 260 on a Friday night in Camp Verde. A trial date was confirmed in Seth Collins' SR 260 highway crash case. A woman was rescued during a monsoon storm on Mingus Mountain. Genaro Soto pleaded guilty to two charges of shooting a firearm at an occupied structure and possession of drug paraphernalia. An autopsy officially identifies the man found after suppression of a house fire in Verde Lakes Estates. A Camp Verde man was arrested for a screwdriver stabbing in Village of Oak Creek. A Clarkdale woman was charged by federal agents with three counts of possession of child pornography. Clark Reber's attorney asked for a continuance in the Recreation Center trolling-for-sex case. The Cottonwood Police Department and the Partners against Narcotics Trafficking task force asked for the public's help in locating Summer Strawberry-Rose Sizelove. Cottonwood Police Chief Steve Gesell said the department was pleased with the response rate received from an online survey link. Camp Verde emergency officials responded to Hazmat assignment in Verde Lakes. Karrie Ann Funkhouser, Hope Olszewski, and Jermaine Shields - suspects charged in the death of a 27-year-old man during a home invasion robbery on South 2nd Street in Cottonwood eight months ago – consider pleas. Andre Alicen Caron faced a charge of reckless manslaughter for the March 23 head-on crash that killed a 53-year-old Minnesota woman. A fire raged through Seven Canyons Villas in Sedona. YCSO reported that IRS scams are ongoing in Yavapai County. Crosses memorializing highway deaths now require approval.
September
Thomas Dale Clarkson was arrested for a Camp Verde burglary and three other charges. Cottonwood Police Department conducted Crime Free Multi-Housing training. A child was safely returned to her mother following Amber Alert, and the non-custodial father was arrested. Diana Garcia, a Cottonwood caregiver, received 10 days jail time for stealing medication from patients at an assisted living facility. A travel trailer catches fire on I-17. Two men are arrested in Village of Oak Creek for a child molestation case. An armed Cornville man confronted a burglar; the suspect begged him not to shoot. A motorcyclist, not wearing a helmet, was seriously injured on SR 89A. A Yavapai Six member, Jeffrey Balys, admitted to probation violations. Anthony Villalobos was sentenced to one year of flat jail time and four years of supervised probation on charges related to an April BB-gun car shooting. Nathaniel Stubbs' settlement conference, possible change of plea, and Donald hearing was pushed into November. YCSO warned of epidemic IRS phone scam again. Seth Collins was scheduled for a trial. David Demers was arrested for allowing a 15-year-old coworker to take an intoxicating marijuana hit from his E-cigarette. Jeremiah Gaver returned to court with a new attorney. The Cottonwood Police Department continued to seek information regarding the Bank of America burglary that occurred in the early morning hours of Jan. 27, and raise the reward money to $40,000 for information that leads to an arrest or indictment.
October
A YCSO K9 deputy arrested two Mexican nationals for transporting more than two pounds of heroin concealed in duct tape inside the air filter of a Jeep. Seth Lawrence Collins accepted a plea deal and admitted guilt to charges that resulted from a serious head-on collision. The Alternative Sentence Program made headlines with a success story featuring a longtime homeless man named Jeff; he is now finding his way in the world. The driver of an 80s model Chevy Blazer lost control of the brakes and crashed into the bollards in front of the Jerome Fire Station. A loaded cement truck traveling southbound on SR 89A experienced a mechanical malfunction, causing part of the frame to break and emptying one of three containers of cement powder. The mother of runaway youth told the public that the teen possibly needed medical attention. Hope Olszewski is sentenced to three years in prison for her involvement in a fatal home invasion. The Camp Verde Marshal's Office looked for Phoenix resident Levi Jones in connection with a homicide at the Circle K in Camp Verde. Jones was arrested and brought back to Yavapai County. Detectives still searched for the suspect who was confronted by an armed elderly Cornville man. Clark Reber accepted a plea deal and admitted guilt to charges stemming from the recreation center trolling-for-sex. Robert Moore was arrested after an investigation revealed that he allegedly stole and pawned $10,100 worth of company tools. A reward was offered for finding the missing teen. A second arrest was made in connection to the deadly Circle K parking lot shooting in Camp Verde – Jill Buckley was booked. A 17-year-old Cottonwood boy in Prescott Juvenile Detention was booked on charges that include murder, armed robbery, burglary, aggravated assault and kidnapping. Karrie Ann Funkhouser appeared in court with a new attorney. Detective Sgt. Tod Moore was selected as investigator of year. Richard Henderson was arrested after he allegedly fired a gun at his family in Rimrock. A man reported being robbed at gunpoint in broad daylight at a Cottonwood business. Detectives found over a quarter of a pound of crystal methamphetamine during a search in a home in Rimrock. A Verde Livestock Transportation cattle hauler was involved in a 24-car wreck on I-17, with 17 patients being transported to hospitals. Jeremiah Gaver's court hearing is rescheduled. A Cottonwood man was accused of starting a fire in an apartment and stealing items. An altercation at Cottonwood Middle School occurred between two students and led to the discovery of an unloaded firearm on campus, as well as juvenile charges against the two minors. The Cottonwood Police Department launched a smart phone application to make it easy for residents to stay connected with local police. The Sedona Fire District responded to a fire at one of their stations. Francis Claude Klettke was accused of killing his father in Fossil Creek; detectives tracked him to Calif. for arrest.
November
One patient was flown to Flagstaff Medical Center following an I-17 crash involving a pickup truck and a semi hauler carrying a mixed load of hazardous materials. Daily Hicks Jr. was arrested after endangering motorists during a pursuit that involved Yavapai County Sheriff's Office deputies, Department of Public Safety troopers, and a Ranger helicopter team. Levi Jones and Jill Buckley - the two suspects arrested in connection to the deadly Oct. 10 Circle K parking lot shooting in Camp Verde - have case management conferences scheduled. Verde Valley Fire District responded to a residential fire around 1 a.m. were on scene for approximately two hours; the cats inside the structure did not survive. A plea deal for Nathaniel Leroy Stubbs was discussed for the three cases he faced that led to the alleged murder of his 61-year-old mother; if accepted, he could face up to 38 ¼ years in prison. Francis Claude Klettke, who was accused of killing his father in Fossil Creek, was extradited from California and booked at the Camp Verde Detention Center on a charge of second degree murder. Seth Lawrence Collins requested a new lawyer and a motion to withdraw from his plea deal. An outbreak of property crime in the vicinity of the Dollar General store at 1191 W. SR 89A was reported. YCSO warned the public of more scams that have occurred in the community. Joshuah James Whitley appeared in court pretrial conference and possible change of plea hearing for the child porn case; a mental evaluation was set. Michael Anthony Chavez accepted a plea deal on charges stemming from a weapon cache discovered by Clarkdale police; he faced a presumptive 4 ½ prison sentence. Michael Mraule was charged with felony charges for his involvement in a deadly shooting that occurred June 26 in Rimrock. An assault at an Old Town RV Park sent an elderly man to the hospital for numerous facial injuries; the confrontation was allegedly over skunks. Two people were injured, and one was flown to a burn center in Maricopa County, after an LP gas explosion at the Butterfly Garden Inn in Sedona. A two-vehicle head-on collision on SR 260 and Rio Mesa Trail – near Carl's Jr. - resulted in two people being transported to hospitals. The Cottonwood Police Department received a $30,000 in grant-in-aid funding from the Arizona Governor's Office of Highway Safety for DUI and traffic safety enforcement. Sedona Police arrested male masseur Aaron Orrica, 46, and charged him with several counts of sexual assault and sexual abuse. An Oak Creek Canyon rockslide brought traffic to a halt on SR 89A. A man was airlifted to an area hospital from a pedestrian-vs.-vehicle accident on SR89 in Cottonwood. Nathaniel Leroy Stubbs accepted a plea deal and admitted guilt for the three cases he faces, including one that stemmed from the death of his mother. Timothy Estling, of Cottonwood, was arrested for assaulting the elderly man at an RV park. 1-17 lanes were shut down after four-car collision near Camp Verde; traffic was backed up for two miles. YCSO and Verde Valley Fire District confirmed that one person was killed in a three-vehicle crash on Cornville Road; five were taken to the hospital. Cody Louis Bright, of Cottonwood, was arrested on multiple felony charges, including manslaughter, following the crash. The City of Cottonwood, Spectrum Healthcare, and the Cottonwood Chamber of Commerce came together to create "Cottonwood Cares," a program focused on reducing panhandling and helping those who need a hand up. Andre Alicen Caron pleaded guilty to manslaughter and was taken into custody after the conclusion of the hearing; the plea deal calls for no less than 5 years, no more than 20 years in prison. A single-vehicle accident on SR 260, east of Camp Verde, took the life of a 52-year-old Cornville man.
December
A woman reported to Camp Verde Marshal's deputies that she had been kidnapped and raped; the story was later reported as false. Michael Anthony Chavez was sentenced to 4.5 years for weapons misconduct. Jeremiah Gaver's court hearing for a case management hearing, pretrial conference, and a possible change of plea was asked to be continued for January before a new judge. In partnership with the City of Sedona, the U.S. Forest Service and Coconino County, the Arizona Department of Transportation will add protective fencing over the next few weeks to Midgley Bridge along SR 89A. DUI suspect Cody Louis Bright appeared in custody for a petition to revoke probation. Officials from multiple agencies work together on lengthy investigation regarding a Jerome jewelry heist; three suspects end up behind bars; Jessica Lash remains at large. The construction of the protective fencing on Midgley Bridge in Sedona's Oak Creek Canyon began with poles lining the west side of the bridge. The Cottonwood Police Department took several calls from citizens who were being targeted by phone calls threatening them with prosecution for failure to comply with jury service. Edward Maloney III appeared for a Donald hearing, but his defense attorney asked that it be continued until interviews are completed. Devon Shepard, who was accused of threatening officers, appeared for sentencing, but was ordered for a mental examination instead. Cody Bright appeared in custody for an arraignment for charges that root from the November three-vehicle crash on Cornville Road that killed his passenger and injured five others. Levi Douglas Jones appeared in custody for his first case management conference for charges stemming from an Oct. 10 shooting that took the life of a Camp Verde man; his defense attorney was still waiting for video disclosure. Officials responded to a single vehicle rollover on I-17; the vehicle fell 75-feet down an embankment. Emergency crews were dispatched to a residential fire in Rimrock; the mobile home was a total loss. Fugitive Summer Strawberry-Rose Sizelove was taken into custody in California where she waited for extradition to Yavapai County. A Camp Verde woman and her dog were displaced after losing their home to fire; two of her pet dogs were found deceased. Clarkdale Town Council approved a Professional Services Agreement between the Town of Clarkdale and Mikkel Jordahl, P.C. for prosecuting attorney and related services, with an initial contract term that is retroactive to Dec. 1, and a monthly compensation of $3,405 per month. Jill Buckley was denied modified release conditions. After 7 years of service and dedication, Jax – the Cottonwood Police Department's K-9 – was prepared to retire after the first of the New Year. YCSO was awarded a $250,000 grant from the U.S. Department of Justice, Bureau of Justice Assistance, for the Mental Health Collaboration Program: Planning and Implementation. Joel Frederick Deems was arrested by Clarkdale police for allegedly secretly watching - and possibly recording - his female roommates. Tabitha Teravella, who was on an arrest warrant for a murder in Yreka, California, was arrested in Village of Oak Creek. A motorist was rescued after he was stranded in his truck in Dry Beaver Creek at Kimberly's Way in Rimrock. A pedestrian was hit by a car on SR 260 at Dickison Circle; the driver was not at fault. A Yavapai County Sheriff's Office detention officer, James Jaeger, was arrested for using an inmate's debit card to obtain cash.